Carmelo Anthony: 10 Reasons You and The Knicks Need Each Other
January 17, 2011
Doug Pensinger/Getty Images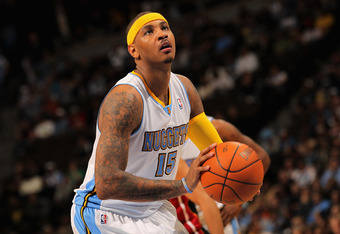 We keep hearing how the Melo trade to the New Jersey Nets is a done deal. There is only one problem. It is not a done deal. 
The key to this deal is whether or not Melo will agree to sign an extension with the Nets upon completion of the trade. Melo is not saying whether or not he will, so there is a lot of speculation.
In his last interview, Anthony gave us a little peek into his mindset, but he didn't tell us anything that we didn't know.
One thing I do know.
It makes no sense from what Melo has said for him to end up in New Jersey. 
It's his call, but here is why it makes the most sense for him to be married to the Knicks long term:
1. The Miami Heat, Boston Celtics, and Los Angeles Lakers
These teams know what the recipe is to be perennial contenders. You need at least two stars, and a couple of better than average supporting players to be in the title hunt. If Melo goes to the Nets, how long would it take for them to bring the necessary talent together for them to seriously contend? 
Too long I say.
Miami, Boston, L.A., and others are already ahead of the curve. For Melo to start over on his own, in a location other than New York, wouldn't gain him much.
Possible future team-mates, Stoudemire and Anthony have a laugh
Jamie Squire/Getty Images
2. Melo on the Knicks makes them contenders immediately.
The Knicks already have Amar'e Stoudemire and they are in position for a six seed in the playoffs.
Adding Anthony would add another guaranteed twenty five points per game they could count on. They are not getting that now and it would take a lot of pressure off of Amar'e.
Add a Marcus Camby type center to the mix and you may have a championship caliber team.
3. Melo's dream is to play for the Knicks.
If you are going to force your way out of Denver, it only makes sense to go to the destination of your choice.
Why go to your second choice?
Do it to play under the lights on Broadway, which you said was your dream.
4. It's about money, but legacy is important too.
What is Melo more concerned about? Missing out on millions because of the collective bargaining agreement expiring or playing where he wants to go after some rings?
If he took less money as a free agent to play with the Knicks, he would be able to recoup much of it just from playing on a winning/championship team that plays at Madison Square Garden.
In his most recent interview, Melo said he hasn't had a good night sleep since this whole process began. If you are already financially secure, you shouldn't be losing sleep over money.
Legacy means something to Melo, otherwise he wouldn't mention what his dream is.
5. This may be his last chance to do this.
If the Knicks don't get Melo, they are not going to wait around until his contract is up again to get another superstar.
They will find someone else with star power to run with Amar'e and get the Knicks to the next level.
Things have changed in New York.
Top players will want to play there now that they are winning again.
6. Mike D'Antoni's offense is perfect for Melo.
D'Antoni's offense has turned Raymond Felton into a potential all-star point guard. This would be a perfect fit for Melo and his game.
He would thrive in the open court system they have. 
7. The Knicks wouldn't have to gut the team in acquiring him.
New York could possibly acquire another draft pick, package one of their young forwards, and with a third team involved make an attractive package to bring Melo in.  Melo could force that by not signing an extension with anyone else.
The Nets would be gutting their team and starting over.
8. Playing in a new arena in Brooklyn is not the same as playing in the Garden.
No matter how you slice it, playing in a new arena in Brooklyn will never compare to playing in the same arena that legends like Walt Frazier, Willis Reed, and Earl Monroe played, and thrived in.
In Brooklyn, Melo would have his fans, but it wouldn't be the ultimate in terms of his dreams.
Avery Johnson may have a brand new team before the trade deadline.
Elsa/Getty Images
9. There is no guarantee that Melo could draw all-stars to play with him.
With the Knicks back in business I would say that there is a better chance that an all-star would rather play with New York. The culture has changed, they are winning and their young players are good.
And getting better I might add.
They will be good for a long time because they are young and will grow together. In New Jersey, Melo will be playing with an over-the-hill Rip Hamilton, and possibly Chauncey Billups.
Not the stuff dynasty's are built on. 
The Nets do have a couple of good young players, but for the most part you are talking about a semi-rebuilding job.
10. Why kill two years in New Jersey before you get to play in New York?
With the current trade scenario, the Nets may be good enough to grab a playoff spot, nothing more. There would be no chance of contending for a championship for Melo even though he is in his prime.
He would have to pray that he would be able to convince players like Chris Paul to come along for the ride, and he would have plenty of competition from the Knicks.
Let's see. 
Two years in New Jersey without knowing whether you will be on a top five team in the East versus paying the price to be where you want and being part of a good team on the way to becoming great.
It will come down to what is most important to Melo. If he doesn't want to lose out on the extension money then he is saying he wants to be a Net and that is good enough for him.
He may end up like Joe Johnson and the Hawks.
Joe got his max money, but the Hawks have no chance to be anything better than a four seed, at best. They have no hope of getting better in the near future. If Melo is not careful, he will end up the same way.
When all is said and done, I hope Melo will be happy and settled with his decision, even though many people will not be.