Report: Some Knicks Feel Spurs 'Crossed Lines' Before Kristaps Porzingis Trade
July 20, 2019
David Zalubowski/Associated Press
Some members of the New York Knicks organization reportedly believe the San Antonio Spurs "crossed lines of accepted behavior" in their efforts to pursue Kristaps Porzingis before he was traded to the Dallas Mavericks in January.
Ian Begley of SNY reported Friday unnamed Knicks executives felt the Spurs "operated outside of accepted NBA norms" while trying to land Porzingis, but exact details about their actions weren't provided.
In January, Kevin O'Connor of The Ringer noted San Antonio had "significant interest" in the 2018 NBA All-Star Game selection.
Although it's unclear what the Spurs did to get on the Knicks' bad side, it does add more depth to one of this offseason's top storylines: free-agent forward Marcus Morris' decision to back out of contract agreement with San Antonio to sign a one-year, $15 million deal with New York.
An NBA general manager told Frank Isola of The Athletic the Spurs are "pissed" about Morris' switch.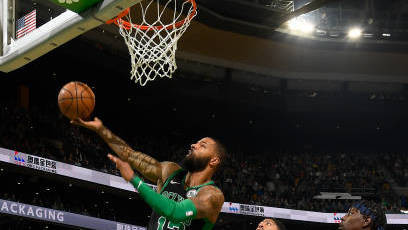 McCollum and the Blazers Snapped Postseason Losing Streak for "Jennifer"

Stars Invest in Plant-Based Food as Vegetarianism Sweeps NBA

The NBA Got Some Wild Techs This Season

Jarrett Allen Is One of the NBA's Hottest Rim Protectors

Wade's Jersey Swaps Created Epic Moments This Season

Westbrook Makes History While Honoring Nipsey Hussle

Devin Booker Makes History with Scoring Tear

29 Years Ago, Jordan Dropped Career-High 69 Points

Bosh Is Getting His Jersey Raised to the Rafters in Miami

Steph Returns to Houston for 1st Time Since His Moon Landing Troll

Lou Williams Is Coming for a Repeat of Sixth Man of the Year

Pat Beverley Has the Clippers Stealing the LA Shine

LeBron Keeps Shredding NBA Record Books

Young's Hot Streak Is Heating Up the ROY Race with Luka

LeBron and 2 Chainz Form a Superteam to Release a New Album

Wade's #OneLastDance Dominated February

Warriors Fans Go Wild After Unforgettable Moments with Steph

Eight Years Ago, the Nuggets Traded Melo to the Knicks

Two Years Ago, the Kings Shipped Boogie to the Pelicans

ASG Will Be Competitive Again If the NBA Raises the Stakes
That frustration is likely based on the fact that San Antonio's front office was forced to make other moves, highlighted by the trade of promising stretch 4 Davis Bertans to the Washington Wizards, in order to create the necessary cap space for the veteran forward.
Meanwhile, Morris and agent Rich Paul are "headed toward a breakup over the incident," as the former Boston Celtics star worked out his deal with the Knicks alone and signed with them despite Paul urging him to stick with the original Spurs contract, per Marc Berman of the New York Post.
It's unknown whether New York's displeasure with San Antonio's actions over Porzingis played a role in the team's late push to sign Morris away from Gregg Popovich, R.C. Buford and Co.