Why Baylor's Corey Coleman Will Dazzle Scouts at 2016 NFL Combine
February 22, 2016

Sue Ogrocki/Associated Press
The 2016 NFL Scouting Combine is taking place February 23-29, providing collegiate stars and NFL hopefuls with the biggest job interviews of their budding careers. Between the physical drills, medical tests and interviews, no stone will be left unturned for the 335 participants. Some players will have tremendous performances that will boost their values, while others will flounder and raise more questions about their projections.
Baylor University is expected to have several standout performers. Among its best athletes are wide receiver Corey Coleman and defensive linemen Shawn Oakman and Andrew Billings. Coleman is the one to watch because he has the elite production to match his ability to dazzle NFL scouts at the combine.
The combine is just one piece of the puzzle for evaluators. While film takes precedence over everything else, athletic outliers should raise questions about long-term viability. As Zach Whitman of Three Sigma Athlete found, athleticism doesn't always mean production, but better athletes are more likely to produce in the NFL.
Ultimately, the NFL draft is about giving franchises the best chance to find viable producers. Trait-based evaluation over collegiate production-based evaluation is the best way to predict how well an individual might transition to the next level. There are rare instances when individuals have excellent collegiate production and standout athletic traits.
Coleman built a strong resume over the course of his career at Baylor. The former 4-star prospect, per 247Sports' composite rankings, quickly established his ability to impact an offense. He started 16 games between 2013 and 2014 and then exploded in 2015.
Through six games of the 2015 season, Coleman had already broken Baylor's school record for touchdown receptions in a single season. He ended the year with a ridiculous 20 touchdowns in 12 games. His 33 career touchdown catches were also the most in Baylor history.
The two-time All-American was one of the most physically dominant players we've seen at the position in recent years. He's not an overpowering player, but he's incredibly slippery and has rare foot speed. His ability to turn defenders around and make them guess where he's heading is second to none.
YouTube
The Biletnikoff Award winner destroyed every opponent until he suffered a sports hernia before the last four games of the season. After his 11-reception, 216-yard, two-touchdown game against Kansas State, Coleman didn't get into the end zone again. Sports hernias cannot be taken lightly, so he will need to check out medically at the combine.
When he's healthy, Coleman commands significant attention from defenses. He puts defenders into binds with his acceleration and sharp cuts. Giving him even the slightest amount of space is a dangerous bet that stresses the rest of the defense to execute.
YouTube
Putting Coleman in the slot helps maximize his playmaking ability. Zone coverages can help give a linebacker room underneath and the threat of a punishing safety over the top.
But the pass rush must pressure the quarterback quickly, as Coleman can find the soft spots before other defenders can react.
Coleman is incredibly fast with his movement, making press coverage difficult to execute. While Coleman doesn't lack speed, he wins his routes within the first five to 10 yards and creates an insurmountable lead on his man. All he has to do is win with his feet or hands to beat the press, and he's off to the races.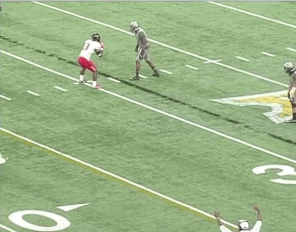 YouTube
This often forced defenders to play off-man coverage on Coleman. It was usually a mistake, but it served the purpose of preventing big chunk plays over the top. The justification was sound, but the execution was not.
Coleman is terrific in open space. He's capable of juking several defenders at once with little or no room to create. Plays like the one below are mind-boggling.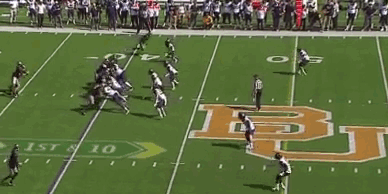 YouTube
It's worth noting Baylor played mostly bad teams with few NFL-quality defenders in the secondary prior to Coleman's injury. This not only affected Baylor's quest for a College Football Playoff berth the last two years, but it also helped its explosive offense post gaudy numbers against unathletic defenses. That's not to say Baylor couldn't have replicated this production against better teams, but injuries got in the way of those opportunities.
Coleman's jump to the NFL will also be drastic due to the scheme he's coming from. As Chris Brown of Smart Football wrote, Baylor's offense features the most basic of routes, and weak-side receivers will often forgo blocking or running a route at all. Blocking is a valuable skill that certain NFL offenses greatly value, but Coleman offers little experience or impact there.
The other concern with Coleman is his penchant for drops. According to NFL.com's Lance Zierlein, Coleman dropped 10 passes for a drop rate of 11.9 percent. That easily would have been the worst of any NFL receiver with at least 60 targets in 2015, according to Sporting Charts.
Regardless of what Coleman must prove on the field, he has the chance to absolutely dominate the combine. What he accomplished the past three seasons was impressive, but how he accumulated such production was jaw-dropping at times. His impressive skill set and traits will translate to incredible individual test results.
YouTube
As far as size goes, NFL.com's Daniel Jeremiah has been told that Coleman is closer to 5'9" than his listed 5'11" height. That would be a negative but shouldn't drop his value much. His game is not predicated on being tall, and height hasn't stopped players like Steve Smith Sr. from having tremendous careers.
All eyes will be on Coleman in the 40-yard dash, short shuttle, three-cone drill, vertical jump and broad jump. His excellent marks in these areas at Baylor led Mike Huguenin of NFL.com to name Coleman the most freakish athlete in college football for 2015. Prior to the season, he had this to say:
Our choice for Baylor is Coleman, who takes a back seat to no one: a time of 4.38 in the 40, a clocking of 6.62 seconds in the three-cone drill (that would've led all WRs at this year's NFL Scouting Combine), an incredible 45-inch vertical and an 11-foot-3 broad jump. His athleticism carries over to the field: He averaged 17.5 yards on 64 receptions and had 11 TD catches last season.
To put those numbers in proper context, let's compare Coleman's projected numbers to the positional averages of the previous combine participants. And for fun, we'll add where his projected numbers would have landed in the 2015 NFL combine. Even if Coleman were to see a slight decrease with laser measurements, he would still be an elite athlete among top competitors.
Corey Coleman Projected Combine Numbers
Measurable
Corey Coleman
Receiver Average
2015 Class Rank
40-yard dash
4.38
4.51
6th
Three-cone
6.62
6.93
1st
Vertical jump
45"
35 ½"
T-1st
Broad jump
135"
120 ⅛"
2nd
MockDraftable.com
In terms of deep speed, Coleman doesn't play as fast as he runs on a track. That's not a big issue, though, since he's plenty quick enough to be a legitimate deep threat. The film shows a fast but not elite burner who can play the slot or boundary with his rare traits.
As Coleman prepares to enter the NFL, I'd like to see him improve in several areas. He struggled with physicality in coverage. The few instances when cornerbacks tried to pin him to the sideline on deep routes in 2015, they succeeded. Physical NFL cornerbacks could use his limited frame and lack of elite deep playing speed to help neutralize his big-play potential.
YouTube
Coleman must refine his routes as well. He has the upside to be a fantastic route-runner, but his offense never had him run anything but the most basic concepts. He's playable until he becomes more refined because he can create so much on his own and has such immense physical gifts.
Some teams may be scared off by the undersized, raw athlete with considerable injury history. But it's not often this caliber of player enters the NFL with the pedigree Coleman has achieved. His value as a potential John Brown- or Emmanuel Sanders-type receiver should make him a first- or second-round lock if his medicals check out.
The momentum for Coleman will be at an all-time high after the draft combine. Expect to hear his name as the top receiver in the class when he dazzles scouts and fans alike with his performance.
All stats used are from Sports-Reference.com.
Ian Wharton is an NFL Featured Columnist for Bleacher Report.