Scouting Report: Did Roma Pull off Another Transfer Coup in Michel Bastos?
January 21, 2014

Getty
Serie A contenders Roma have signed Michel Bastos on loan from UAE Arabian Gulf League club Al Ain, as per Nadia Carminati at Sky Sports. So here is a scouting report on Bastos, who could be another transfer coup for Roma.
What Bastos Brings To Roma
Bastos is a heavily left-footed footballer who can play on either flanks and will be an emergency left-back should Dodo and Federico Balzaretti be out (Bastos was Brazil's left-back during the 2010 FIFA World Cup). 
When Bastos is playing on the right-wing, he is constantly thinking of how to evade his marker, cut in and shoot.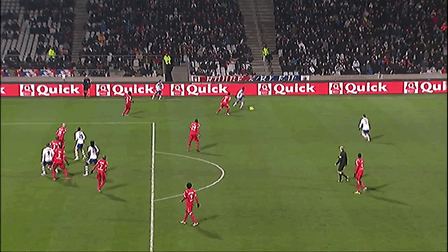 Source: Ligue 1
This was illustrated in a 1-1 draw against Nancy while playing for Lyon.
As he received the ball, Nancy midfielder Thomas Mangani came up to apply pressure.
Bastos made a simple pass to teammate Steed Malbranque, Mangani chased the ball, which left Bastos wide open.
Malbranque finished the one-two and Bastos drilled a low shot past Nancy goalkeeper Damien Gregorini.
One of Bastos' strengths, as outlined by Roma manager Rudi Garcia, is "a strong shot" (as per FourFourTwo).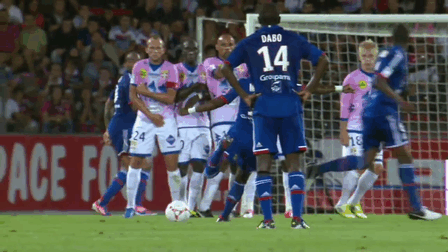 Source: Ligue 1
Evian defender Daniel Wass was certainly aware of that.
He was so afraid of being hit by Bastos' cannon-like shot that the wall broke because of Wass.
It created a sizable space and Bastos, who possesses exceptional shooting prowess, smashed the ball past Evian keeper Bertrand Laquait.
Roma's Thought Process In Signing Bastos
You are probably thinking, "Why would Roma, a club with intentions to win Serie A, sign a 30-year-old who has been playing in a lesser competition?"
Two reasons: It is a low-risk, high-reward type of deal, and you have to factor in the influence of Rudi Garcia, who managed Bastos at Lille. 
The loan will cost Roma €1.1 million with an option to extend the deal into a permanent transfer for €3.5 million, as per ASRoma.it (h/t Nadia Carminati at Sky Sports).
Should Bastos chip in with several long-range goals and a few assists as an impact sub, the loan is value-for-money at €1.1 million.

JACQUES BRINON/Associated Press
It's very unlikely the 2008-09 version of Bastos, who scored 14 Ligue 1 goals under Garcia at Lille and was awarded the Trophee du Meilleur Passeur for most league assists (nine), will show up at Roma. 
Why not?
Bastos' career is in decline.
He was forced out of Lyon because he could not live up to his salary. 
He was pejoratively labelled by Lyon president Jean-Michel Aulas as one of the "pharaohs and dinosaurs" at the club along with Aly Cissokho, Cris and Kim Kallstrom, as per Andy Brassell at ESPN FC.
Only Cissokho is technically still at the club (playing rights owned by Lyon) but is spending this season on loan at Liverpool.
"It was not possible to stay with Lyon. The problem did not come from me. I did not want to leave Lyon," Bastos said, as per RMC (h/t Callum Fox at SambaFoot). "It was the president [Aulas] who told me he had some difficulties keeping certain players."
Another dent to Bastos' confidence was Schalke balking at extending his loan into a permanent deal despite him wanting to stay at the Bundesliga club, as per Bild (h/t SBS The World Game). 
He started his loan spell with Schalke brightly, two goals in his first three league games, but scored one in his next 11. 
This is where Garcia comes in because prior to playing under him, Bastos' initiation into the cut-throat nature of European football was a bitterly unpleasant one. 

He was part of an Excelsior squad that were beaten in 12 of their last 15 Eredivisie games in the 2002-03 season. 
Garcia turned Bastos into a star at Lille, which led to the Lyon move and an opening into the Brazilian national team line-up.
Borussia Dortmund, Marseille and Napoli were some of the European clubs interested in Bastos' services (as per CalcioNapoli24.it; h/t Football Italia), but Bastos chose Roma because of Garcia.
With Bastos' career waning at this present moment, he has returned to play under mentor Garcia, a person the Brazilian trusts.
Conclusion
Bastos adds depth to the wide forward ranks. He will be rotating with Adem Ljajic, Alessandro Florenzi, Gervinho and Marquinho.
Expectations are low for Bastos.
Firstly, he comes to Roma devoid of form.
Secondly, he has a fractured left forearm (in "final stages of healing", as per ASRoma.it), so his match-fitness levels need improving.
Thirdly, there is no way he will be as anonymous as Marquinho (no goals or assists in Serie A this season). All Bastos needs to do is come off the bench, make a spectacular play on a semi-regular basis and no-one will have any problem with the loan.
Source: Ligue 1
Statistics via WhoScored, FFT Stats Zone, Squawka and Transfermarkt.