Carolina Panthers Quarterback Cam Newton Has Matured into an MVP Candidate
November 22, 2013
USA Today
Cam Newton looks different this year. He looks different the way some college kids look different when they return home for winter break. 
The Panthers quarterback, who already was 6'5" and 245 pounds, has done some growing up. And he has grown his way into being an MVP candidate.
Newton's passer rating is up to 91.8, the best of his career. Some of this can be credited to new coordinator Mike Shula's offensive plan, and to how the Panthers have tried to emphasize Newton's strengths. But more of it can be credited to the natural maturation of a young player.
Source: pro-football-reference.com
"I don't think the offense has changed as much as Cam has developed and his understanding of what we want to do has grown," Panthers coach Ron Rivera said. "The thing people forget about with Cam is he had one year of major college football. He came into the league—he had no OTAs or minicamps. So this is a guy who has gone through a developmental process. The expectations were so unfair his first two years. He's right where we hoped he would be given the circumstances he was faced with."
The NFL is a league that waits for no one, so impatience had become another opponent for Newton.
Others made smoother transitions last year, but they had advantages. Rivera points out Andrew Luck was a three-year starter at Stanford. Robert Griffin III started as a true freshman at Baylor. Russell Wilson put together four seasons of college football between N.C. State and Wisconsin.
Despite the handicap, Newton was historically productive, becoming only the second player ever, after Peyton Manning, to throw for 7,500 yards and 40 touchdowns in his first two seasons. But he wasn't doing enough well to turn around the Panthers.
That has changed this year. Part of his growth has been realizing he doesn't have to do so much. Newton isn't always trying to force the big play anymore. Rivera acknowledges he is checking down more.
According to Michael Bonzagni of ESPN.com, 77.9 percent of Newton's pass attempts have been fewer than 15 yards this season, the highest rate of his career. His completion percentage went from 57.7 last year to 63.2 this year. And his yards per attempt of 7.3 is the lowest of his three seasons.
He also is seeing the field better and using all of his weapons. Five different Panthers have led the team in receiving in games. In a win over the Vikings on Oct. 13, for instance, Newton went through his progressions in the third quarter. Steve Smith. No. Greg Olsen. No. Ted Ginn Jr. No. Brandon LaFell. Yes. Just like that, a 79-yard touchdown on what Rivera said was Newton's fourth read.
One way Shula has helped make it a simpler game for Newton is by streamlining the verbiage. Giving him less to memorize has enabled him to get in and out of the huddle quicker. Rivera believes it has been no small factor in Newton's success. "It's helped him a lot," he said.
If Newton is using less RAM on play calls, he's using more RAM on finding the best opportunity at the line of scrimmage. The Panthers have given him considerably more freedom at the line with packaged plays this year, and they have been pleased with his decision-making. When Newton saw how the 49ers were aligned defensively late in the first half, he changed a run call from right to left. The result was DeAngelo Williams rushing 27 yards to score the only touchdown in a 10-9 Carolina victory.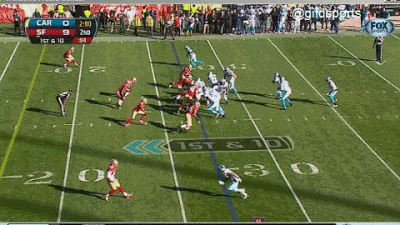 gifdsports
And on the subject of running, Newton is doing less of it. Last year he ran once for every 3.8 times he passed. This year, it's been once for every 4.2 times.
"We wanted him to be more selective when he runs," Rivera said. "We've encouraged him to get down, protect himself while he's running. Him running the ball is secondary. What we really wanted to do this year is not have that as the primary focus of our offense. We went into it with the approach we were going to run our backs more."
That isn't to say the Panthers haven't been prepared and willing to let Newton run it when defenses are laying for Williams, however. Against the Patriots' stacked boxes Monday, Newton led the team in rushes and accounted for 60 percent of the Panthers' rushing yards. That is exactly what was needed then and there.
What has stood out the most about the grown-up version of Newton is he can do whatever is called for to get the job done. And that might bode very well for the Carolina Panthers.
NFL Confidential
Howard Smith-USA TODAY Sports
• One of the reasons Nick Foles was a third-round pick and not a first- or second-rounder in the 2012 draft is many scouts thought he was not athletic enough for the NFL. After all, he is 6'5", 243 pounds. He ran a 5.03 40-yard dash. And at Arizona, he averaged minus-2.8 yards per rush. But in Philadelphia, he has looked like a different athlete. Foles has 30 rushes this year for 123 yards. He ran nine times for 47 yards, including a 4-yard touchdown, Sunday against the Redskins, outrushing Robert Griffin III. "We were a little low on him because of his movement skills, but he can move better than we thought," one personnel director said. "He's been underrated as an athlete. That system he's in needs a quarterback who can move, and he clearly can move."
• Here is what sources close to the USC coaching search tell us about the school's interest in NFL names: Broncos interim head coach Jack Del Rio is not a front-runner for the job even though he is the only known candidate to interview. The school did in fact reach out to former Bears head coach Lovie Smith, but he told them he was not interested. And there remains a fascination with Eagles head coach Chip Kelly. Should Kelly decide to bolt Philadelphia, don't be surprised if he ends up in Southern California. The front-runner for the job, however, remains Texas A&M coach Kevin Sumlin.
• The Bengals are in first place in the NFC North, but one front-office exec who has studied them won't be surprised if they don't finish there. His take? "They have had some significant injuries, and they aren't built to play well late in the year. Andy Dalton is not a cold-weather quarterback. His throws die in the air when it's windy and cold."
Stephen Dunn/Getty Images
• The draft stock of a number of prospects has fluctuated since the start of the year, but one player who has remained near the very top of almost every team's list is UCLA outside linebacker Anthony Barr. His consistent dominance over time has become very appealing to teams. Scouts love the fact that he's a good kid, smart and hard-working. One thing about Barr: He will appeal to some teams more than others because of his skill set. He will fit best in a 3-4, but also could be used similarly to how the Broncos use Von Miller in a 4-3 under defense. He won't fit as well in a 4-3 over, according to one scout. That being said, it will be a shock if Barr lasts past the fifth pick in the draft.
• Usually, practice squad poaching does not heat up until this time of year, shortly before teams courting players from other teams' practice squads can dangle the carrot of offering six games on the roster, which adds up to an accredited year. But this season, practice squad poaching has been going on all season. "Maybe it's because of all the injuries," one high-ranking exec said. "We had a player taken from us who can't even play." By my count, 23 players have been poached from practice squads this year. Six teams—the Eagles, Cowboys, Texans, Panthers, Bucs and Browns—have poached multiple players. And the players who have been poached are only the tip of the poaching iceberg. Many other practice squad players have been courted but haven't left their teams. Some have been promoted to their original team's 53-man rosters. And, the exec confirms, others have gotten massive pay raises to stay on the practice squad. So there are a number of practice-squad players who are being paid like rostered players.
Remember the Name: Tavon Austin
Pat Lovell-USA TODAY Sports
After seeing Tavon Austin's breakout game against the Colts two weeks ago, it's easier to understand why the Rams made him the eighth pick of the April draft. The Rams are expecting to see those kinds of games from Austin with regularity now.
"He's an outstanding player," Rams coach Jeff Fisher said. "He'll continue to make plays for us."
Austin has acknowledged the transition to the pro game was a little more difficult than he imagined. But the truth is he could have broken out much earlier. He had a 63-yard touchdown pass called back against the Panthers because of a tripping penalty and an 84-yard punt return touchdown called back against the Cowboys because of holding. Other big plays have been an eyelash away from happening.
Part of the reason that it's coming together for Austin now is he's getting comfortable in the offense, and the Rams are playing him in more positions and lining him up in different spots in an attempt to create matchup problems. "We're doing more things with him," Fisher said. "He has a better feel for the offense. You get the ball to him in space, he's a problem."
Draft Tip of the Week
Much has been made of the quarterback bonanza the 2014 draft should offer. Less has been made of the offensive tackle bonanza in the draft. But from the looks of it in November, the offering of offensive tackles will be no less spectacular.
In a tackle-needy league, NFL teams virtually are drooling over the big boys. A survey of front-office men indicated there could be seven offensive tackles with first-round grades, and another eight who could be chosen in Rounds 2 and 3.
Among the cream of the crop are three who could carry top-10 grades—Jake Matthews of Texas A&M, underclassman Cyrus Kouandjio of Alabama and Taylor Lewan of Michigan. None of them is considered in the Jonathan Ogden/Walter Jones category, but all three are projected to be Pro Bowl starters for years.
In addition to Kouandjio, three other underclassmen are highly regarded. They are Greg Robinson of Auburn, Cameron Erving of Florida State and Antonio Richardson of Tennessee.
Another potential first-round tackle is Zack Martin of Notre Dame. He also is considered a guard by some.
Each of the seven players is considered a potential left tackle by at least some teams, which adds to their value.
Hot Reads
• Jimmy Graham, who stopped a game Darryl Dawkins-style on Thursday, might want to try a layup or jump shot the next time he scores.
• When Rams defensive end Chris Long takes on Bears guard Kyle Long on Sunday, it will be like Peyton Manning versus Eli Manning, except with 200 extra pounds and considerably more testosterone.
• Most football historians would not place Fran Tarkenton in the discussion for the greatest quarterback of all time. None would place him in the discussion for most humble quarterback of all time (h/t to the Pioneer Press).
• Now that former Patriot Kyle Love looks better in a bathing suit (via The Kansas City Star), the Chiefs are banking he'll look better on their defensive line.
• Jason Pierre-Paul told The Star-Ledger the Giants game against the Cowboys on Sunday "is like a Super Bowl." It also is the closest the Giants will come to a Super Bowl this season.
• If Peyton Manning loses to Andrew Luck and Tom Brady in the same season, all those games he won won't look quite as impressive.
• Robert Griffin III and Santana Moss seem to be on exactly the same page. Each thinks it's the other one's fault.
• Redskins offensive tackle Trent Williams told CSN Washington (via The Huffington Post) that umpire Roy Ellison called him a "garbage-ass, disrespectful mother******" last Sunday. Who did Ellison think he was talking to, Jonathan Martin?
Dan Pompei covers the NFL for Bleacher Report.