Jazz and Hawks Reportedly Agree to Trade Devin Harris for Marvin Williams
July 2, 2012

Christian Petersen/Getty Images
The Atlanta Hawks aren't done making moves. 
Not long after reportedly agreeing to trade Joe Johnson to the Brooklyn Nets, the Hawks have shipped Marvin Williams to Utah for Devin Harris. 
The news comes from ESPN's Marc Stein:
Just going online and on SportsCenter: Hawks have agreed in principle to deal Marvin Williams to Utah for Devin Harris to shed even more $

— Marc Stein (@ESPNSteinLine) July 2, 2012
Let's take a closer look at this deal. 
What It Means
The Jazz are trying to make some noise in the West, and Devin Harris is coming off a terrible year in which he averaged just 11.3 points and 5.0 assists per game. They clearly weren't happy with him at point guard.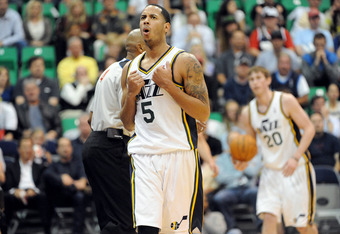 Steve Dykes/Getty Images
While they were obviously eager to get rid of Harris, this also means the Jazz are comfortable putting Mo Williams, who they just acquired from the Clippers, at the point guard position.
With Mo Williams at the 1 and Gordon Hayward at the 2, the biggest problem for the Jazz would have been small forward, so grabbing Marvin Williams makes sense. 
As far as the Hawks go, they already have a point guard in Jeff Teague, but this appears to be strictly a salary-cap move.
What Happens Next
With a formidable starting five, the Jazz now look primed to improve on their eighth-place finish in the West. 
Atlanta, on the other hand, is blowing everything up. Danny Ferry is not playing around.
After trading Joe Johnson's "untradeable" contract for a bunch of expiring contracts, the Hawks have now cleared some more space.
Marvin Williams and Harris make about the same amount in 2012-13, but Williams has a $7.5 million player option in 2013-14 while Harris comes off the books.
Yes, the Hawks are now far from being a threat in the East for this season.
But they are clearing tons of room to make a splash in the summer of 2013, when Dwight Howard and Chris Paul become free agents.