Taj Gibson or Carlos Boozer: Which One Deserves to Start for the Chicago Bulls?
July 3, 2012

Mike Ehrmann/Getty Images
Two years ago, LeBron James, Dwayne Wade, and Chris Bosh were all heading into free agency. All 30 teams in the league wanted at least one of them, but 29 teams ended up with none of them.
(curse you, Miami!)
The rest of the free agents immediately became afterthoughts, since the "biggest" big name players were already gone.
Since Chicago fans were so disappointed at the Bulls failure to land a star, the Chicago Bulls management decided to appease the loss with another well known player from Utah—Carlos Boozer.
Nobody expected Boozer to come to Chicago and develop a "big two" if you will, with Derrick Rose. That wasn't on the table; people expected Boozer to simply add a new dimension to the team—a scoring big man.
Fast forward to the present, and we find that Carlos Boozer has been pretty much just that, a scoring big man. Not flashy, not a bruiser like he was with the Jazz, just another role player.
After the failure of Boozer to step up in the absence of Derrick Rose in the playoffs this year, Chicago has to ask itself: why is Carlos Boozer being paid $80 million to ride the bench in the fourth quarter of the last and most important game of the season?
And more importantly, who is the guy being asked to step up in Boozer's failure to perform, coming off the bench with a sprained ankle? Oh, and did I mention that he got paid roughly 1/8 of what Boozer made in 2012?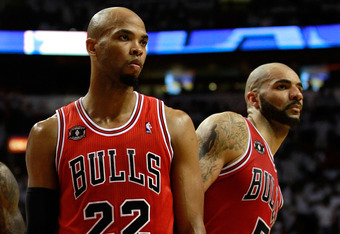 Marc Serota/Getty Images
That would be Taj Gibson, benchwarmer extraordinaire. All season long, Taj has been asked to step up in the fourth quarter—on account of his better defense, and being more capable of rising to the occasion than Carlos Boozer.
Out of the two, which one is the better player? Perhaps the better question would be—which player is a better fit for the Bulls system?
Scoring:
Out of the two, it's easy to assume that Carlos Boozer is the more capable offensive player. Boozer's offensive arsenal is stronger and more experienced than Gibson's, and it shows. Taj Gibson simply isn't as well-rounded in the offensive department.
It gets interesting when you find out that in the playoffs (when it actually matters), Taj Gibson's scoring numbers are better than those of Boozer's.
It's pretty much impossible for me to compare the two per game, since Boozer averaged nearly 11 minutes more than Gibson in the playoffs. So I simply did some math (using a calculator), and I figured out their stats per minute instead of per game.
Interestingly enough, Gibson earned .42 points per minute (PPM), and Boozer got .41. Not a huge difference at all, but it completely dispels the notion that Gibson can't score.
With field goal percentage, Gibson won that battle as well, averaging .457% while Boozer achieved a mere .422%.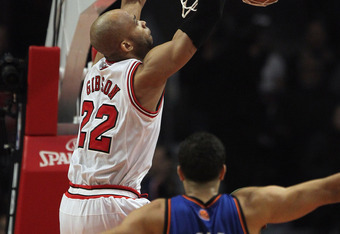 Jonathan Daniel/Getty Images
What this means is that Gibson shot less, made more of his baskets, and scored more PPM than Boozer.
Despite those victories, though, Boozer still has more experience, better footwork/moves, and distributes the ball better than Taj Gibson.
Offensive edge: Boozer (slightly)
Defense:
This really doesn't need to go into much detail. In the 2012 playoffs, Carlos Boozer averaged .3 blocks per game, while Taj Gibson averaged 1.7.
That number alone should tell you all you need to know; just by watching the two of them play you can tell that Gibson is substantially better on defense.
Defensive edge: Taj Gibson
Clutch Factor:
This is an interesting quality in players. Some have it, and some don't. Carlos Boozer is known as a choke artist, and has the reputation of someone who simply doesn't play to win in the playoffs.
Taj Gibson doesn't have that record, especially after last season when he stepped up in the absence of Derrick Rose and Joakim Noah.
If you compare the difference between playoff and regular season numbers, you see that Carlos Boozer's numbers dropped terribly; his field goal percentage went from .532% to .422%, and his points per game (PPG) dropped from 15 to 13.5.
Taj Gibson on the other hand, went from averaging 7.7 PPG to 9.5 in the playoffs, while playing less minutes.
I don't know if those numbers alone really qualify as "clutch," but it's obvious that Taj Gibson doesn't show the kind of weakness in the playoffs that Carlos Boozer is guilty of.
Clutch factor: Taj Gibson
When the 2012-13 season rolls around, the Bulls roster will look different. The team already drafted Marquis Teague to help fill in for Derrick Rose, and that's just the first addition/change. What I'm most curious about though, is whether Taj Gibson will take over as starting power forward?
The fact that Carlos Boozer is getting paid $80 million helps his cause, but it's undeniable that Taj Gibson isn't reaching his full potential by riding the bench.
Leave a comment to let me know what your choice for starter is, and your reasons why.
By the way, I'm very tired of reading/writing the same stuff over and over again. Seriously, I've read around thirty articles with the subject of "Can the Bulls succeed without Derrick Rose?" It gets old fast. In order to maintain my sanity, I'm trying to write about subjects that haven't been overused yet. If any of you have questions or ideas, inbox me or leave a comment below.