NBA Free Agent Rumors: Why Steve Nash Is Perfect Target for Toronto Raptors
June 29, 2012

Christian Petersen/Getty Images
With the 2012 NBA Draft over, the collective sights of the basketball world are now firmly fixed on the beginning of free agency. Though this summer's crop doesn't have a slew of elite talent, it does feature a perennial All-Star, two-time MVP and phenomenal playmaker who could be looking for a change of scenery.
That's right, the much ballyhooed summer of Steve Nash's courting is about to begin.
While predictable teams like the New York Knicks, Brooklyn Nets and Dallas Mavericks have all been courting the veteran facilitator, there is one team coming out of left field and making a hard push for Nash's services next season: the Toronto Raptors.
ESPN's Marc Stein reports that the Raptors are incredibly interested in bringing Nash into the fold, and the team is in much better position to do it than many fans think.
The team has struggled over the past few seasons since Chris Bosh's departure, but with the impending addition's of 2011 fifth overall pick Jonas Valanciunas and Washington scoring machine Terrence Ross, the future is looking bright.
In addition to their recent lottery picks, the Raptors also have scoring big man Andrea Bargnani, a legitimate 20 points per night threat when he is healthy, an athletic swingman in DeMar DeRozan who has improved every season in the league, as well as developing players like Amir and James Johnson.
With just over $41 million on the books for next season, Toronto has plenty of room to make Nash a solid offer. The team could send a three year, $30 million offer sheet his way without batting an eye, something teams like New York and Dallas simply cannot do. Nash has said he wants to sign a three year deal this offseason, and Toronto is only one of a few teams, along with Brooklyn and Portland, that can comfortably broker that kind of contract.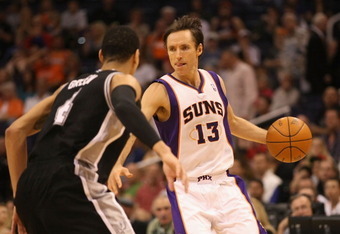 Christian Petersen/Getty Images
The Raptors have an interesting core of young talent that could mesh well with Nash, especially if they can turn current starting point guard Jose Calderon into a defensive minded big man, or even amnesty him and use the available money to sign an impact free agent.
Toronto made significant defensive strides last season after being one of the worst teams on that side of the ball in 2010-2011, but they would often struggle to score enough points. With Nash initiating the offense, scoring will never be the problem.
The team has a number of young athletic players, and even though Nash is 38 years old he is still extremely well conditioned and excels in transition. A fast break of Ross, DeRozan and Nash would be incredibly tough to stop. Nash's abilities as a shooter provide the team with an offensive weapon they have not had in the past.
He averaged 12.5 points and 10.7 assists last season while shooting 53.2 percent from the field and 39 percent from the three point line, proving he is the furthest thing from a washed-up veteran.
Many fans expected to see Nash looking to join a championship contender like the Miami Heat or Los Angeles Lakers, or stay with the Phoenix Suns until he retires, but Nash's ties to Canada make Toronto an enticing location. 
Born in Johannesburg, South Africa, Nash moved to Canada as a toddler and was raised in the country before going to college at UC Santa Barbara. Though his offseason home is in New York, Nash is still incredibly connected to his home country, returning frequently for visits and philanthropic work, receiving the Order of Canada, the nation's highest civilian honor, in 2007.
Nash's bonds to Canada were even more firmly cemented when he accepted the position of general manager for Canada's national men's basketball team. Though he hasn't played for the team since 2004, he remained closely tied to the organization and will now be in charge of putting together the team that he once competed on.
It is not uncommon for players at the end of their careers to play a few seasons in a location that is significant to them. As the NBA's most well-known Canadian, it certainly makes sense why Steve Nash would want to return home. In addition, his skill set has the capacity to turn the struggling Raptors into a playoff team.
While plenty of teams will be vying for the services of Steve Nash, the Toronto Raptors, a team with a bright future and a ton of cap room, should do everything possible to snag the 16-year-veteran and return themselves to NBA legitimacy in the process.