NBA Draft 2012 Grades: Which Teams Took Bait on Fool's Gold?
June 29, 2012

Kevin C. Cox/Getty Images
Sometimes it's easy to convince yourself that you've found a gem in the draft. In the 2012 NBA draft, there are a few teams out there who are sure they've found the diamond in the rough, the pot of gold at the end of the rainbow. 
However, those teams are wrong. Fool's gold, or pyrite, may look like real gold, but it's just a cheap imitation. 
As the teams continue to watch these prospects progress, they'll quickly realize the difference and regret not paying more careful attention during the scouting process. 
So which team's fell for it this year? 
Indiana Pacers
It's already been rather well-publicized that Miles Plumlee was a big reach for the Indiana Pacers at No. 26. 
He never put up big numbers at Duke and will have an even tougher time now that his size and athleticism don't stand out as much at the next level. Despite his 7'0" frame and ridiculous hops, he still only managed to average 6.6 points and 7.1 rebounds per game at Durham. 
Plumlee is a solid offensive rebounder and has some skill on offense, but he's inconsistent shooting the ball and his defensive presence is just about nonexistent. 
There are short bursts where Plumlee can convince you that he's going to be a solid NBA center, but then he disappears for an even longer time. 
Apparently, Indiana only scouted him during those quick bursts.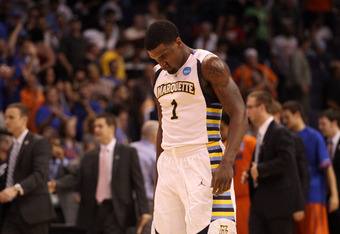 Christian Petersen/Getty Images
It's hard to hate on the Los Angeles Lakers too much because they only bought the No. 55 pick, using it to select Darius Johnson-Odom out of Marquette, and used the final pick in the night's festivities to select Gonzaga's Robert Sacre. 
I'm not even going to talk about what a big pick Sacre was, because selecting him left Scott Machado on the board. After all, that doesn't have to do with Sacre being fool's gold. 
DJO might play physically and aggressively on offense—much in the same vein as James Harden, according to none other than himself—but he's an undersized shooting guard without the playmaking skills necessary for a point guard to possess.  
Johnson-Odom puts his head down when he drives to the basket, limiting options and creating more turnovers than he should record. It's tough for me to see him cracking the rotation, especially over young guards Darius Morris and Andrew Goudelock from last year's draft class. 
As for Sacre, the Lakers were simply fooled by his height. He may be a true seven-footer, but his defense isn't all it's cracked up to be and he's too much of a rebounding and offensive liability to ever earn playing time. 
The Lakers aren't immune to criticism just because they didn't have a first-round pick. 
Phoenix Suns
The addition of Kendall Marshall to the Phoenix Suns gives them an NBA-ready point guard to run the show in the desert, but it also sets them up for disappointment. 
Marshall won't live up to the gold standard set forth by Steve Nash's time with the Phoenix Suns. Frankly, he won't even come close. 
While the lefty floor general from North Carolina has passing skills that are off the charts, his defensive play is off the charts in the other direction. If he couldn't stay in front of ACC point guards, it's going to be disastrous when he tries to do so in the NBA. 
Moreover, although Marshall's scoring ability is slightly underrated, it's still not anything to write home about, and NBA defenders are going to play well off him until he forces them to respect his shot. 
Marshall may get some playing time as a rookie, but I don't expect him to do much with it.