Dallas Cowboys: Is Tony Romo Under the Same Amount of Pressure as LeBron James?
June 27, 2012

Tom Pennington/Getty Images
Dallas Cowboys quarterback Tony Romo is beginning to be compared to the Miami Heat's LeBron James, but is it fair to mention both in the same breath?
Now that James has finally won an NBA Finals series, and brought home the Finals MVP Award to boot, the pressure to bring home a championship must switch to someone else in the sports world. 
Former Cowboys wide receiver and NFL Hall-of-Famer Michael Irvin believes Romo is now under the most pressure in sports to win a championship:
"Now LeBron's got the title, who do we turn the thing to and say, 'When are you going to get one?'"

"That noose has been put around his neck," Irvin said. "It better be soon. Jerry Jones has already said that. That's where it's going from here. It's going back to Tony Romo now."
Irvin is undoubtedly referring to Cowboys owner Jerry Jones' interview where he stated that the Cowboys' window to win a Super Bowl is closing because key players, such as Romo, are in the prime of their careers. 
Jones may be correct. Romo is 32 years old and playing the best football of his career. But comparing the pressure Romo is under to James' pressure does not make a lot of sense. 
James is arguably the best player in the NBA today and could already be considered one of the greatest of all-time. He placed more pressure on himself because of his egotistical attitude, his ridiculous departure from the Cleveland Cavaliers via The Decision and his joining forces with other superstars in Miami.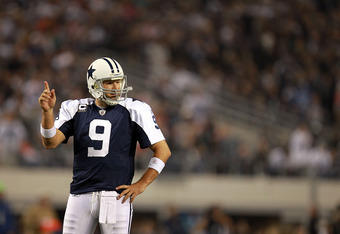 Ronald Martinez/Getty Images
James has been expected to dominate the NBA since his high school days, hence him being named "The Chosen One." He was expected to bring multiple championships to Cleveland and was most certainly expected to win one before his ninth season in the league. 
On the flip side, Romo is arguably not a top-five quarterback in the NFL and is not even close to being mentioned as one of the greatest of all-time. He has a quiet demeanor (unless you count dating supermodels and celebrities), and most NFL fans likely do not despise him the way NBA fans do with James unless they are fans of an NFC East team.
Romo was also never expected to win a single game in the NFL, let alone a Lombardi Trophy. Romo went undrafted in 2003 after playing collegiate football at Eastern Illinois and subsequently had to work his way up the food chain in Dallas.
Bear in mind, Romo can't control how his defense or special teams units play while he is on the sidelines, whereas James has to contribute heavily on both offense and defense. Football is the ultimate team sport, so to say Romo is facing as much pressure is flat out false. 
None of this is to say that Romo is not under extraordinary pressure; after all, he is the starting quarterback for "America's Team." The Cowboys have not made the playoffs since 2009, and as Jones astutely pointed out, Romo is aging. 
With the way Romo has been playing as of late, maybe Irvin should have said the team around Romo is now facing as much pressure as James did. Romo threw for 4,184 yards and 31 touchdowns last season with only 10 interceptions. His quarterback rating of 102.5 was one of the best in the NFL.
All of the pressure being suddenly heaped on Romo is unnecessary. With Romo's play and the way the Cowboys have improved the entire roster this offseason, Romo could be hoisting a Lombardi Trophy by season's end; then the comparisons to James could begin to make a little more sense.