Crucial Moves in This Year's Offseason to Bring LeBron James His Second Ring
June 23, 2012

Ronald Martinez/Getty Images
Poof! Suddenly we have awoken in a world where there are no more LeBron James no-ring jokes and where the preseason celebration in the Summer of 2010 does not seem like such a majestic and fantastical prediction.
We are in a world where James seems more like a prophet than an egotistical bastard blowing smoke up the hind parts of every former and current fan.
Did LeBron see the 2012 NBA Playoffs coming all along?
Was this development in his career just lurking in the shadows of his failures, waiting to be unleashed at the drop of a dime?
Dwyane Wade's knees have been an obvious factor in LeBron's crowning, but were we all just unknowing participants in a masterful equation set in motion by those deeply implanted in James' circle?
If you sat in front of your television watching the 2012 NBA Draft Lottery thinking that the New Orleans Hornets winning the first overall pick was one of David Stern's many manipulations, then the thought has probably dawned upon your mind.
However, no one, not even the most diabolically calculating minds of the world, would have foreseen a man so beaten by his own actions arrive at such a triumphant end in such an aristocratic fashion. Undeserving of the nickname he adopted on Twitter, King James can finally begin reaching for his crown.
How long will it take him to employ his throne?
Here are crucial moves the Miami Heat will need to make in order to thrust LeBron James into his third straight NBA Finals appearance and his second straight Finals MVP.
Sign Ray Allen
After watching Game 5 of the 2012 NBA Finals, everyone finally realizes how critical Miami's three-point shooters are to the advancement of the franchise in the most important moments of the season—the playoffs.
Mike Miller slowly but surely took the heart out of every Oklahoma City player, bench or starter, stroke after stroke as he hobbled down the court after every make.
With both he and James Jones contemplating retirement, the Heat have roster spots to fill expeditiously. Going into free agency this summer, there are a variety of options to chase down for a discounted price.
Most notably, Ray Allen has been on the Heat's radar for quite some time now, and after Miami's championship run, the franchise has become far more enticing than anyone could have predicted.
Allen is a veteran who is not in the hunt for a franchise on its way up, in the rebuilding phases. The Miami Heat are an immediate contender with a solid need for what he can offer any team in the league. Would Allen be an instantaneous rival of the organization he's called home for several years?
Yes. Still, the Boston Celtics are not going to be looking to glare into the past for far longer, and reserving the talents of someone on the downside of their career is not a priority.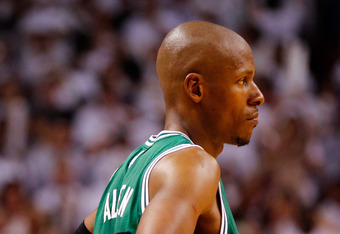 Mike Ehrmann/Getty Images
Especially when you are battling in a conference against a team geared to relish in dominance for seasons to come. It would be the perfect marriage for both parties.
Draft Big
The 2012 NBA Draft is loaded with big men. Well, kind of. In the first round, there will be about five potentially elite NBA big men, which include the somewhat controversial talent, Fab Melo.
Melo may have been dismissed from the Syracuse basketball team for academic reasons, but he's still a target that should be heavily weighing on Miami's mind. Looking at Melo as is, he seems like more of a project than a quick fix.
Why would Miami be led to believe they need some type of "fix-a-flat", superficial filler at the center position?
Playing Chris Bosh at the center position with Udonis Haslem or LeBron James occasionally playing the power forward position opened up the Heat for a lot of offensive possibilities that they never had before. It also forced James to explore uncharted territory that made him unguardable at the best position in the court—in the low post.
Fab Melo is more of a project than an immediate game-changer. Drafting him allows Miami to inject him into the game at different points throughout the season as a physical defender as well as mold his raw offensive skills so he becomes a broader threat around the rim.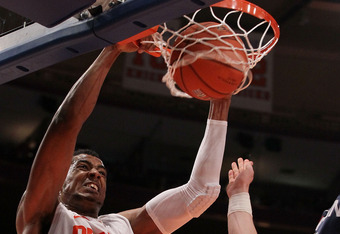 Jim McIsaac/Getty Images
The Heat are no strangers to molding the potential of raw, talented players into instrumental keys to the game. Did you see Mario Chalmers' impact on the NBA Finals after viewers repeatedly called him far too inconsistent to reach his potential?
Rookie Norris Cole is barely a fully-developed guard, but with the right mentality, he was able to make an instantaneous impact after being brought off the bench in the Finals.
Each player in Miami has a specific role, and as long as those responsibilities are righteously defined, the sky is the limit for any player drafted or signed into that situation.
Melo may be a project, but Miami would be ridiculous not to draft that type of talent if he is still hanging around in the first round.
Resist the PG Temptation
When you have some of the incredibly athletic point and shooting guards in the NBA Draft as there are in this year's draft, the opportunity to snatch one up is often too enticing to avoid. Catch the Detroit Pistons lately.
The franchise is so irresponsibly laced with guards that it is hard to predict the direction of the team. The Heat need to avoid making this same mistake.
There are other areas of the court that Miami needs to focus on before bringing along another "in-the-process" guard.
LeBron James has  crossed the most pivotal threshold of his career. To keep him climbing at a progressive pace, the Heat need to surround him with assisting pieces.
If Miami can achieve these three things in this year's offseason, fans can sit back and watch the Heat cascade to their third straight Finals Appearance.
LeBron can raise his second straight Finals MVP.