NBA Draft 2012: Thomas Robinson Should Be No. 2 Pick
June 22, 2012

Jeff Gross/Getty Images
In one of the deepest NBA draft classes in recent memory, Kansas' Thomas Robinson stands out as an elite talent.
The reigning Big 12 player of the Year, Robinson was one of the hottest names in all of college basketball last season. After a prolific junior year in which he was a Naismith Award finalist, Robinson's name is being mentioned as a possibility for the Charlotte Bobcats, who hold the No. 2 overall selection in the NBA draft.
This draft's most distinguished power forward, Robinson is the complete package for a team like the Bobcats who are in need of a major facelift. While prospects like Michael Kidd-Gilchrist, Bradley Beal and Harrison Barnes are all worthy of consideration for the No. 2 pick, Robinson is the player most capable of changing a franchise's fortunes.
With elite athleticism, surprising ball-handling skills and a developed low-post game, Robinson will enter the NBA with a world of experience and plenty of room to grow.
In his junior season at Kansas, Robinson averaged 17.7 points and 11.9 rebounds per game, all while shooting 50.5 percent from the field. He finished the season ranked second in the NCAA in rebounds per game, displaying his energy and tenacity on the defensive end in one of the country's toughest conferences.
An explosive athlete, Robinson is capable of taking over a game with his deadly combination of size (6'9'') and speed. While 6'9'' feels a bit undersized for an NBA power forward, Robinson will make up for any perceived flaws in his stature with the type of play that led his Kansas Jayhawks to the National Championship Game.
Although Kansas lost the national championship to consensus No. 1 overall selection Anthony Davis and the Kentucky Wildcats, Robinson did not go down without a fight.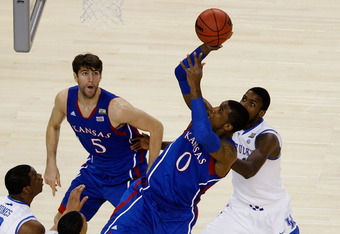 Chris Graythen/Getty Images
Robinson battled all night with a physical Wildcats frontcourt and still managed to post 18 points and 17 rebounds in 36 minutes of work. This sort of double-double consistency is the type of production that should be expected of Robinson at the professional level.
He showed tremendous determination throughout his three years with the Jayhawks, as he was surprisingly not named a starter until his junior season. Robinson's hard work and sustained effort led to his starting role with one of the nation's top teams, and that same level of effort will translate to success in the NBA.
Coming off a season in which they won an NBA-worst seven games, the Charlotte Bobcats are looking to build around the few, young, talented prospects they have.
Last year's first-round selection, Kemba Walker, still has plenty of room to improve after an average rookie season (12.1 points per game, 36.6 percent shooting from the field), and Gerald Henderson appears entrenched as the team's starting shooting guard.
With Walker and Henderson set as the Bobcats guards, their thin front line needs to be addressed.
Despite adding center Bismack Biyombo in the 2011 draft, the Bobcats lack serious skill and size in the frontcourt. While a prospect of Harrison Barnes' offensive caliber is intriguing, the Bobcats would be wise to solidify their most troubled area, and they could start by drafting Robinson.
Despite all of Barnes' offensive capabilities, Robinson is a more versatile threat both offensively and defensively. Able to defend small forwards, power forwards and undersized centers, Robinson could be a matchup nightmare for opponents at the next level. His sheer strength is enough to strike fear into opponents, but his polished post game adds a dimension that makes him one of the draft's true treasures.