Pekka Rinne: Locking Up Goaltender First Was Correct Move
June 20, 2012

Christian Petersen/Getty Images
On November 3, 2011, the Nashville Predators signed their Goaltender Pekka Rinne to a seven-year deal worth $49 million, which was also the largest contract in team history.
Despite looming concerns on the contract statuses of the team's top pair of defencemen— Shea Weber and Ryan Suter—the team and GM Poile handsomely rewarded their starting goaltender of the previous three and a bit years to solidify him as the team's defensive cornerstone.
Fast forward seven months however, and discussions about Pekka Rinne or his contract are the last things on people's minds when it comes to the Predators. 
The hot topics revolving around Nashville's hockey team are:
Will the team deal Suter ('s rights)/Weber?
Can GM Poile keep them both?
How will he sign all of the Predators' other free agents?
Considering Nashville's owners and their well publicised stinginess, it appears that GM Poile cannot offer max deals to Suter/Weber to stay in Tennessee.
Unless he can work some fantastic magic to convince them both to stay long term it's looking increasingly likely that one of, if not both Suter/Weber will no longer be Predator defencemen.
If that were to happen, questions will start to be asked.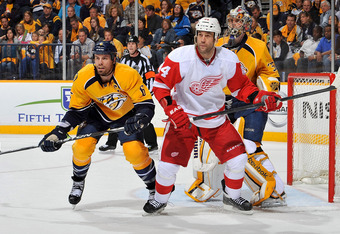 Frederick Breedon/Getty Images
Not only about why the team couldn't afford to offer them big-money deals, but also about whether or not the contract that Rinne received last year should've been used to keep Nashville's trio together.
Even if both Suter and Weber leave, I will maintain that GM Poile made the correct decision back in November.
Nashville are and have been now for the past five years give or take (cough 2008-09) a playoff team.
This means their aspirations (like every other team) of winning the Stanley Cup are actually realistic.
What's the most important piece to that championship puzzle?
Clue: The semi-finalists of this year's playoffs all had a top one.
That's right it's a top Goaltender.
So did previous Stanley Cup winners; LA had Jonathan Quick, Boston had Tim Thomas, Pittsburgh in 2009 had Marc-Andre Fleury, etc., etc.
Whilst a strong defence is helpful, it's almost impossible to win the Cup without strong goaltender play, be it from a career star or someone who's got hot at the right time.
And Nashville is not a team with the depth of the Red Wings in '08 especially on offense.
Since becoming Nashville's starting goaltender in 2008, Rinne has career averages of .921 save percentage and a GAA of 2.35.
If that doesn't say "elite" I'm not sure what does.
Rinne has a proven track record, playoff series victories under his belt (he'd have more if it wasn't for the Predators' anemic offense) and with the prime age for goalies being over 30, Rinne, who will be 30 later this year, has yet to hit his prime.
That's the type of player I want to build my team's defence around.
Your goaltender is the only player who plays all sixty minutes in a hockey game and even the best defence is permeable.
Locking up a Top-Five goalie in the league for his prime years is a great way to maintain that winning formula.
Elite goaltenders don't grow on trees, so Nashville did well to secure theirs.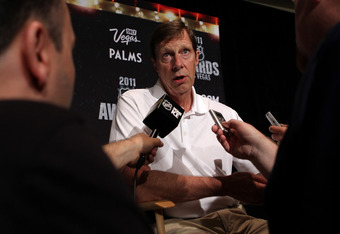 Bruce Bennett/Getty Images
Elite defenders in the mold of Shea Weber don't either and a loss like his to the team's defensive corps would impact the team a great deal.
Yet, Nashville boasts one of the league's deepest prospect pools in all areas and that (along with excellent scouting) means that a loss the size of Weber's/Suter's would be tough. However, the team does have a large number of NHL-ready prospects coming through to fill the gaps, see: Roman Josi, Ryan Ellis, Jonathon Blum.
Along with some solid free agency moves, a lot could be done to preserve the team's strength in depth if one of the two choose to leave.
That cannot be done for the players between the pipes however. Anders Lindback was unproven as is Magnus Hellberg.
The situation Nashville finds themselves in isn't remotely ideal. However, they have secured arguably the most important part of their defence in Pekka Rinne.
You cannot win hockey's greatest prize without someone of Rinne's caliber playing goalie and while losing Suter/Weber would be a huge blow to the team, losing Rinne would be even more detrimental to the team's success. 
If locking Rinne up means the team loses either Ryan Suter or Shea Weber, I'll stick with David Poile on his decision making.