Is Carmelo Anthony More Polarizing Than LeBron James?
June 15, 2012

Chris Chambers/Getty Images
The names "Carmelo Anthony" and "LeBron James" represent two of the three best small forwards in the NBA. 
They also represent two of the more hated or loved players as well, depending on one's allegiances. 
While it's always fun to root for or against teams and players, some of the vitriol that emerges about these two individuals is a bit over the top. 
After all, aren't we just talking about two law-abiding, extremely talented basketball players? Neither Anthony or James has any sort of rap sheet. No arrests, no legal complaints. The two of them have basically spent their entire lives playing basketball at an extremely competitive level, nothing more, nothing less. 
LeBron won a state title in high school and then skipped college. He entered the NBA and was the first pick in the 2003 NBA draft. 
Anthony was a top recruit of Syracuse University. He spent one year playing in the NCAA, in the Big East Conference. In that one year he led Syracuse to the only National Championship in their illustrious basketball history. 
Anthony went third in that 2003 draft. 
For the most part since they've entered the NBA, the two of them have performed at or near the very lofty expectations that are routinely thrust upon top draft picks. 
Neither has endured a bad season statistically. Neither has missed a considerable amount of time to injury. 
James has averaged 27.6 points per game and has won three league MVP awards. Anthony has averaged 24.6 points per game, and has been to five All-Star games. 
Yet because of a lack of postseason success, a trade to New York and an ill-advised public announcement about the destination of one free-agent player, both men find themselves as frequent targets of the media and the fans. 
It's bad for Anthony. It's worse for James.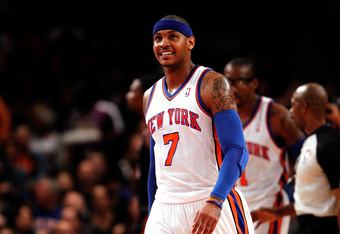 Jeff Zelevansky/Getty Images
Anthony's pitfalls are simple. They're also not entirely his fault. He didn't win in Denver, and when he expressed a desire to be traded to another team it was the New York Knicks who stepped up and pulled the trigger on a mega-deal. 
Anthony was merely operating within the sphere of how the NBA's collective bargaining agreement restricts player movement. What's wrong with wanting to play in a specific city? Is there anyone out there that would not, if given an opportunity, express an opinion about where they'd prefer to work and live? 
Yet from the moment the trade was consummated the "haters" emerged.
That's right, Anthony wanted a raise, and to live and work closer to where he was brought up. Criminal behavior, to say the least.
LeBron has actually made far more mistakes as far as ingratiating himself to the public goes.
Everything was fine and dandy while he was in Cleveland. He didn't win a ring, but he transformed the Cavaliers from perennial also-rans to annual title contenders.
It was his summer of 2010 free agency that really did him in.
While it's hard to logically be angry at someone for merely wanting to change addresses and play and work in a different environment, it was a bit much that LeBron chose to rub it in the face of the city of Cleveland by making his announcement a spectacle on national television.
"The Decision" was not well received by too many people outside of South Florida. It was a somewhat classless move. It was not a crime, he didn't really hurt anyone, but it wasn't the best way to handle a somewhat delicate situation.
It got worse, though.
LeBron doubled down on the bad public relations choices by participating in a pep rally with his new teammates just days after being united in Miami.
The trio's claim of being destined to win multiple NBA titles wasn't just a slap in the face to the teams that did not score LeBron in the free-agent sweepstakes. It was a bit disrespectful to the throngs of former, and current NBA players who have either been trying to win one ring, or have actually succeeded in winning multiple ones.
Even the most passionate Heat fans know that Michael Jordan, Magic Johnson, Larry Bird and Tim Duncan never told people how many rings they would win. 
They just went out and won them.
All LeBron did was make his own and his teammates' stated desire that much more difficult to obtain.
Anthony still hasn't won anything. He hasn't even made the NBA Finals. LeBron has, but he's never won them. Only one of them ever bragged about how much they would win. 
That's a big difference. It's the difference that makes LeBron James a more polarizing NBA player than Carmelo Anthony.