NBA Trade Rumors: Which Reported Players Definitely Won't Be Moved?
June 11, 2012

Stephen Dunn/Getty Images
With the 2012 NBA Draft rapidly approaching us, the trade rumors are flying around at a mind-blowing pace.
In 2011, we saw several big trades go down in June around draft time. The Bobcats and Bucks swapped Corey Maggette and Stephen Jackson in a three-team trade that also saw the Kings gain the rights to Jimmer Fredette.
There was the three-team trade of revolving point guards as Portland, Denver and Dallas each received Raymond Felton, Andre Miller and Rudy Fernandez, respectively.
We also saw a trade involving key 2012 Playoff pieces when the Indiana Pacers traded the rights to Kawhi Leonard to the Spurs for point guard George Hill.
With all of the trade rumors swirling around like a Midwest tornado, it is very difficult to decipher what is just talk and what is a legitimate possibility.
To help narrow things down for you, here are four widely rumored players who won't be switching teams this offseason. 
SF Rudy Gay, Memphis Grizzlies
For yet another offseason, Grizzlies' forward Rudy Gay has been one of the most talked about players on the trading block. Alex Kennedy at HoopWorld.com wrote an article detailing the availability of Gay and the teams interested in him, including the Warriors, Raptors, Nets and Magic.
However, Ronald Tillery at the Memphis Commercial-Appeal wrote that Memphis owner Michael Heisley has denied all rumors. "We're not looking to trade Rudy Gay," Heisley said. "We're not shopping him around. Period."
While the Grizzlies would probably be able to get back a pretty nice package for their star forward, Gay is one of the main reasons Memphis has been a perennial playoff team the past couple years. While the rumors will continue to swirl, it appears that for now, Rudy Gay is staying put in Memphis.
C Dwight Howard, Orlando Magic
According to this article over at SB Nation New York, the Brooklyn Nets need to trade for Dwight Howard to keep Deron Williams and that Howard is open to a trade happening. That was on June 1st.
Then, on June 8th, another article was published at SB Nation New York saying Howard is happy with Orlando and wants to stay with the team.
There is really no telling what to make of the bipolar rumors that come out about Dwight Howard and the Brooklyn Nets. It sounds like the same thing we heard right around the trade deadline earlier this season that ended with Howard signing on for another year with Orlando.
I don't think they fired GM Otis Smith and Head Coach Stan Van Gundy just to ship their star center right out with them. So I'm just gonna go ahead and say that the result this time around will be no different. Howard will be playing the 2012-2013 season with Orlando.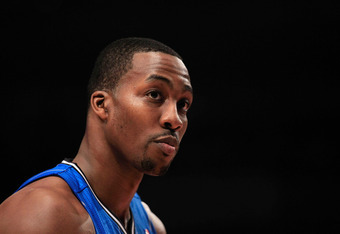 Chris Trotman/Getty Images
SF Andre Iguodala, Philadelphia 76ers
John Loomis of CSNPhilly.com published an article predicting big changes for the 76ers this offseason. A lot of the focus was on their star forward, Andre Iguodala.
The big rumor, as focused on here by HoopsRumors.com's Alex Kennedy, is a trade involving the Los Angeles Lakers. Kobe Bryant would be welcome to the idea of an athletic forward like Iguodala playing next to him, and he would provide some much-needed youth for an aging team.
However, I'm not sure the Lakers have all the pieces to pull off the trade, because I don't think the Sixers are entirely too interested in Pau Gasol, assuming Los Angeles would even include him in a deal.
Philadelphia was one quarter away from the Eastern Conference Finals, and they have an improving young team that feeds off of the energy and leadership Iguodala brings to the court. Although he will be one of the most talked-about players this offseason, expect Andre Iguodala to be back in Philly for the beginning of the season.
PF Carlos Boozer, Chicago Bulls
Bulls' fans have basically zero patience left for Carlos Boozer after his 1-for-11 disaster of a performance against the Sixers in Game 6 and his overall poor season. They have been calling for a trade for a while now, and ESPN.com's Marc Stein outlined this possible trade for Pau Gasol back in March.
However, as soon as Chicago's season ended, ESPNChicago.com's Nick Friedell outlined the impossibility of moving Boozer. Bulls' fans have to face the reality that no team is going to want to take on Boozer's contract, and his trade value is at its lowest point.
Don't expect the Bulls to use the amnesty clause on him either, because despite his poor production, Boozer is still an important piece to a team that revolves around 2011 MVP Derrick Rose.
Whether you like it or not, Chicago fans, Carlos Boozer isn't going anywhere and will be in a Bulls uniform by the time the 2012-2013 season tips off.