Stanley Cup Finals Schedule 2012: Dates and Times for Final Round
May 25, 2012

Justin Sullivan/Getty Images
The Stanley Cup finals are nearly here, and the schedule is already set.
Both the Eastern Conference's top seed New York Rangers or the sixth-seeded New Jersey Devils have the advantage on the Western Conference's last seed Los Angeles Kings.
As such, the home team for the Cup finals will be from the East. That suits the Kings fine, as they now hold the NHL record for most playoff road wins in a row.
Each contest will start at 8 p.m. EST.
Here is when the games will occur (via NHL.com):
Game 1: Kings at Rangers/Devils on Wednesday, May 30 (NBC/CBC)
Game 2: Kings at Rangers/Devils on Saturday, June 2 (NBC/CBC)
Game 3: Rangers/Devils at Kings on Monday, June 4 (NBC Sports Network/CBC)
Game 4: Rangers/Devils at Kings on Wednesday, June 6 (NBC Sports Network/CBC)
Game 5 (if necessary): Kings at Rangers/Devils on Saturday, June 9 (NBC/CBC)
Game 6 (if necessary): Rangers/Devils at Kings on Monday, June 11 (NBC/CBC)
Game 7 (if necessary): Kings at Rangers/Devils on Wednesday, June 13 (NBC/CBC)
Which team is crowned champions depends greatly on who reaches the finals to face Los Angeles.
Kings vs. Rangers
If New York moves on, the Rangers and Kings will play their first and last game of this season against each other.
The October 7 face-off ended in a 3-2 overtime victory for Los Angeles, but that was six months and different shifts ago.
The Kings have benefited greatly from a midseason acquisition, Jeff Carter, while the Rangers have enjoyed impact play from two standout rookies, Carl Hagelin and Chris Kreider.
Two parts of the matchup will be exactly the same, however, in the form of fellow Vezina Trophy finalists Jonathan Quick and Henrik Lundqvist.
Both have been essential to their team's playoff runs. Quick has been nearly unstoppable, and Lundqvist has come up big in big moments.
The goalie's efforts show best in their two teams allowing the least goals per game this postseason.
Perhaps Quick's greatest asset is Los Angeles' penalty kill, one part of their lackluster season which carried over to their playoff run.
Even during the year, the Kings were the fourth best at killing penalties. Since the start of Stanley's tournament, they've allowed just five goals in 58 times shorthanded.
More amazing, though, is that they've also scored five times while shorthanded—effectively making the penalty kill an equal opportunity situation for Los Angeles.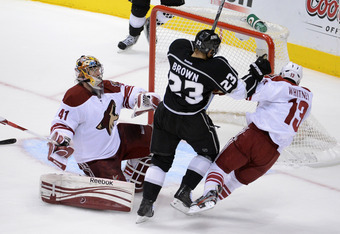 Harry How/Getty Images
Kings captain Dustin Brown helped on every one of those man-down scores, highlighting his ridiculously great play this postseason.
New York will have to rely heavily on Lundqvist to slow Los Angeles down. The netminder has been the team's top performer in seven of their 10 victories these playoffs.
Offensively, center Brad Richards and winger Martin Gaborik will be essential to whether the Rangers succeed.
Kings vs. Devils
Both of these teams are prime examples of teamwork, since each has had 15 different skaters contribute scores this postseason.
As mentioned above Brown has led the Kings throughout these playoffs, but Los Angeles has also seen forward Anze Kopitar flourish. The two are tops in plus-minus among skaters during the playoffs with plus-13.
But the rest of the team is also important, as five defenders have notched goals.
For New Jersey defenseman Bryce Salvador has been the most prolific blue-liner, also leading the Devils with a plus-10.
You could call New Jersey the All-Z's team, with huge contributions from center Travis Zajac, winger Dainis Zubrus and defender Marek Zidlicky.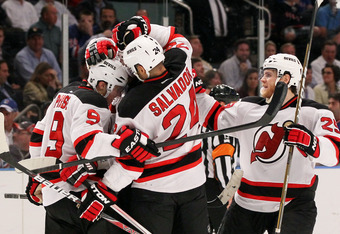 Bruce Bennett/Getty Images
Zajac and winger Zach Parise lead the Devils with seven goals, followed closely by stud winger Ilya Kovalchuk.
Each of these teams haven't been rattled by trailing first, with the Kings coming back to win five times and the Devils four.
The Kings lost both regular season matchups with the Devils. But both came in October, long before this Los Angeles team began to jell.
However, who is in net for the teams hasn't changed.
Quick has been on fire of late, but so has Devils' goalie Martin Brodeur. While Quick is still trying to make a name for himself, Brodeur is making a legend.
His three Stanley Cup finals are perhaps secondary to his NHL record number of wins and shutouts, among others categories.
Brodeur will have to outplay an upstart Quick for the Devils to take a fourth Cup in 17 years.