Aaron Rodgers, Adrian Peterson, Calvin Johnson: Who Dominates the NFC North?
May 24, 2012

Patrick Smith/Getty Images
The NFC North is blessed with three of the most dominant athletes in the modern NFL.
Well, if you face them, maybe you'd say cursed.
Adrian Peterson. Aaron Rodgers. Calvin Johnson.
All three are at the top of their game and the preeminent players at their respective positions.
But which one is the most dominant player of the three? That's a bit tricky.
Let's start by calling it like it is: It's very difficult to dissect which player is better when none of them line up at the same position. It's comparing apples to bazookas.
Still, you can like a bazooka and an apple for totally different reasons, and one more than the other because of that. They both serve a purpose, but which one might accomplish its purpose in the most dominant fashion?
I'd say the bazooka, but I'm open to argument.
So while comparing a quarterback, wide receiver and running back might be hard based on stats alone, we can look at their impact on the field at any time and see which one dominates a football game most completely.
All three can be stopped or contained. Peterson had four games under 50 yards in 2011 and suffered a season-ending injury in the last of those, while Johnson was held under 50 yards three times. In fairness to Peterson, one of his games was limited because he got dinged up, which is a problem we'll touch upon in a bit.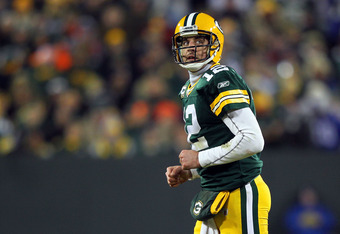 Jamie Squire/Getty Images
Rodgers probably had the fewest mediocre games relative to his position, with just three games of 250 yards or less.
He threw for four touchdowns in two of those games, though, so really, that's not exactly average.
It is, of course, far easier to take a a receiver or running back out of a game than the quarterback. The quarterback has multiple targets to throw to; the running back or receiver must share carries/targets with teammates.
However, the effect of having Adrian Peterson or Calvin Johnson on the field—even in their less productive games—is that the defense has to pay attention to them in a way that they don't with Rodgers.
Let me clarify—you have to worry about Rodgers. You have to hit him and knock his passes down. However, you can limit him in multiple ways. You can hit him or sack him. You can keep the pressure on him. You can focus on his receivers or tight ends. You can scheme to take away his reads.
With Johnson, if you want to shut him down (or try), you have to focus more of the defensive game plan on him. It is that simple, and yet the fallout can be tremendous.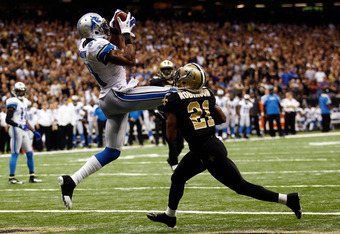 Chris Graythen/Getty Images
If you cover Johnson with one or two extra players, that means another receiver somewhere is open or in single coverage—which means Lions quarterback Matt Stafford uses Johnson to hurt you without throwing him the ball.
Peterson is very much the same in some ways. You have to stop Peterson, and to do so, you often have to sell out against the run. That leaves less of the front seven concentrating on the quarterback and the secondary covering more ground without help from the linebackers, or in some cases, losing a safety, so there is an extra tackler on Peterson.
The problem Peterson runs into at times is, if you don't respect his quarterback, you can absolutely sell out to stop him with low risk. Nobody respected Donovan McNabb last year, and Christian Ponder didn't do much to change people's opinions when he assumed the starting role.
There are times that doesn't matter, which is why Peterson is an elite talent.
The other issue with Peterson last year was he was banged up a lot. Whether this is a red flag that something else was going on—perhaps the large volume of carries was catching up—is something we will find out in the coming years.
So, both Johnson and Peterson affect the game in ways that Rodgers cannot. It's not easier to stop Rodgers, per se, but his effect is more direct than theirs, which also makes it easier to quantify at a glance.
Because both players can be removed from the chessboard in more direct ways than Rodgers, it also makes their direct impact easier to nullify. You can completely shut Calvin Johnson down, and while you've created more room for Nate Burleson, Titus Young and Brandon Pettigrew to cause damage as a result, you don't have to worry about Johnson.
None of those guys are in Johnson's league. If you were to choose your poison, you'd take the one with less chance of killing you.
With Peterson, right now, it's actually easier because the rest of the team is such a question mark. If you have to choose between him and Christian Ponder, Michael Jenkins, Jerome Simpson, John Carlson and two rookie wide receivers, you shut Peterson down.
Until those guys start hurting you as much as Peterson, he will always be the choice. And even if those guys suddenly get really good? Ninety percent of the time, you still shut down Peterson.
You cannot completely shut Rodgers down, short of injuring him (and none of us advocate that, right, Saints?).
Ultimately, this is the biggest difference.
Rodgers' position is active. Johnson and Peterson? Reactive.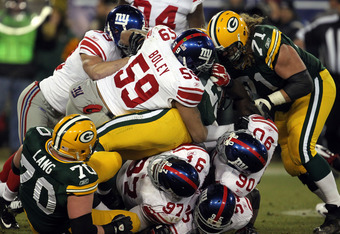 Jonathan Daniel/Getty Images
They depend on the ball coming to them. If they don't get the ball, they can only do so much.
Rodgers distributes the ball. He is in control. He isn't an option; he chooses the options.
So if you shut one of his options down, he finds another one. Covering Greg Jennings like a blanket? He'll throw to Jordy Nelson. Got Nelson taken care of? He passes to Jermichael Finley or Randall Cobb.
Despite the fact that both Peterson and Johnson dictate some terms to the opposition, a quarterback dictates almost all the terms. Defenses can scheme to take some of his options away, but he can always adjust, while Peterson and Johnson will always be hindered by other people's decisions.
People will take this as my saying that Johnson and Peterson aren't as good at their positions as Rodgers is at his. That's untrue.
However, due to circumstances beyond their control, neither of them are as dominant a player within a game as Rodgers is.
The quarterback in today's NFL is king. Long may he reign.