Andre Agassi, John McEnroe Agree: Current Tennis Stars Are Golden
May 15, 2012

Jeff Golden/Getty Images
It did not take much for two tennis Hall of Famers to agree on the question of the day that the current hierarchy of men's tennis—Djokovic, Federer, Nadal, as well as some of the sports other athletic rising stars—are part of a "Golden Era" of tennis depth and athleticism that the sport has maybe never seen before, and may not appreciate until well into the future.
"Those guys, their athleticism, their competitive nature, their skills, are something that fans may not truly appreciate until they are done, but what they have done for the sport is amazing," Agassi said on a conference call Monday.
The nature of the call was reflective of what is missing in the golden era of the sport today, something that was prevalent in the great times when McEnroe's era morphed into the one Agassi played in. Those two time periods—the 1970s into the 1980s and the 1990s into the early part of the 21st century—also had their share of personalities, flair and style that helped redefine the game of tennis for the next group.
But the difference, save for a Borg here or an Ivanisevic or Rafter there, was that those eras were defined by a large group of American players.
McEnroe and Connors, Agassi with Sampras, Chang and Courier. In this new era, nary an American name is mentioned, save for an occasional Andy Roddick mention or a reference to John Isner's size and style being a future model for stars.
Agassi and McEnroe were together to talk about a match they will play on July 19, as part of World TeamTennis—Agassi for the Boston Lobsters, McEnroe for the New York Sportimes, to raise money for the Johnny Mac Tennis Project, a foundation which will raise both money for scholarships and awareness for the John McEnroe Tennis Academy, which has already outgrown its capacity at the sleek Sportime Randall's Island Facility in the shadow of Manhattan and will be adding more young people to the program now in Long Island and Westchester.
It is that Academy style where kids lead a well-rounded life of training, playing tennis and living at home and going to school which McEnroe feels will lead American tennis back to the next golden era, with a style of training that he was raised on.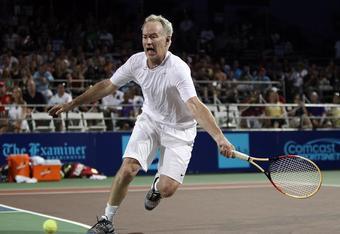 "I think the future of the game will be more of the athletes like John Isner that we are seeing today, guys who have come from other sports who are great athletes and have a passion for the game," McEnroe added. "Guys like John will be the model for what we will see in the future, and hopefully we can help get them there."
The Academy started in 2010 and already has had over 600 kids come through their doors, according to Sportime CEO Claude Okin, a number that is well beyond the original growth plan. It is because of the quick growth, and the fact that kids were commuting from as far away as the Philadelphia suburbs and well out on Long Island, that the Academy decided to open to annexes, one at Sportime in Bethpage, Long Island and the other at a facility being built in Eastchester, New York.
Both annexes, cautioned McEnroe, will have his hand-picked coaches (he also announced Lawrence Kleger, the coach of elite American and McEnroe Academy pupil Noah Rubin as the new Director of Tennis for the Academy), his style and his presence to make sure that things are being done with the vision he has portrayed to all involved and worked to develop with his brother Mark.
"I am not here just to put my name on something, that is not the way I want to do this," he added. "I grew up playing in Port Washington and being tutored by legends like Harry Hopman, and I intend to spend time with these kids, because that's the way I will teach and they will learn. I am committed to making this work."
It is that type of commitment which will bring Agassi, who has carved out an amazing legacy of his own in education and child development in his native Las Vegas to New York in July to support his fellow legend.
"John is helping change lives, and he is passionate about his system being the right way not just for tennis but to help young people, and if I can help further that drive, I will be here," he added.
That type of cross-generational support is what many feel is needed to move tennis back up the ladder on the professional side for the sport in the United States. While it is early in the process for the Johnny Mac Tennis Project, it looks like the signs and the numbers are already positive. And with that positive momentum could come a new era of stars when the current one's lights dim, some of which will again done the stars and stripes, just like the pair who will take to the court in July and who hailed from another amazing era not that far in the past.
Jerry Milani is a Featured Columnist for Bleacher Report. Unless otherwise noted, all quotes were obtained first-hand.