Pacquiao Loses Pound-for-Pound King Title, Now Shares No. 2 Spot with Mayweather
May 8, 2012

Al Bello/Getty Images
Pound-for-pound king Manny Pacquiao is no longer king in the latest ranking of Ring, the world's most prestigious boxing magazine.
Pacquiao, who is set to face Palm Springs star Timothy Bradley on June 9, is now No. 2 in the current Ring ratings, a spot he shares with future foe Floyd Mayweather, Jr.
The magazine's editorial board has decided to declare the No. 1 post vacant at least until after Pacquiao shows an impressive performance over Bradley.
Ring's Michael Rosenthal says that their  rating panel pushed for Mayweather to replace Pacquiao as the new pound-for-pound king on account of his good performance against Miguel Cotto last Saturday. 
They also argued that Pacquiao had a hard time with Juan Manuel Marquez in their most recent rematch considering that Mayweather has dominated Marquez prior to his rematch against Pacquiao.
Still, the panel took note of Pacquiao's impressive performance over Cotto in their recent fight while Mayweather failed to score a knock down over the Puerto Rican.
Initially the editorial board tried to consider putting the decision on hold until after the Pacquiao-Bradley fight, but in the end they finally pulled down Pacquiao to share the No. 2 spot with the unbeaten champion until after the Pacquiao vs. Bradley match.
Fans were divided on the Ring's decision. Some argue that Mayweather should have been installed as the new pound-for-pound king after his top performance over Cotto, while others say he should have no problem with the Puerto Rican as he was less impressive with Pacquiao in their last encounter.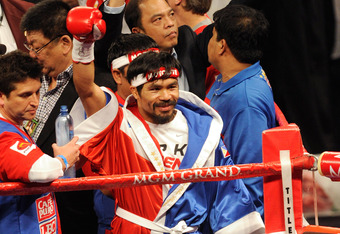 Ethan Miller/Getty Images
Ring's top commenter, Jeremy Foss, had this to say about the bouts:

I'm not sure that Manny getting a TKO against Cotto, while Floyd got a decision, means anything at all. They are two different types of fighters. I didn't expect Floyd to get a stoppage against Cotto, but it had nothing to do with how good I think he is. I didn't expect Floyd to get a stoppage because he's a boxer, not a puncher. At the same time, I don't expect Pacquiao to outbox anyone like Floyd can. I expect him to force his offensive arsenal onto them and overwhelm them with it.
With Pacquiao relegated to the No. 2 spot along with Mayweather, the Ring's top 10 pound-for-pound fighters now includes: No. 1 (vacant) Manny Pacquiao and Floyd Mayweather, Jr. (2), Sergio Martinez (3), Nonito Donaire (4), Andre Ward (5), Juan Manuel Marquez (6), Wladimir Klitschko (7), Timothy Bradley (8), Vitali Klitschko (9) and Chad Dawson (10).