5 Things Floyd Mayweather Must Do to Beat Miguel Cotto
May 1, 2012

Jeff Bottari/Getty Images
The days are nearing for the major junior middleweight clash between Miguel Cotto and Floyd Mayweather (did you ever think we'd one day be talking about these guys as 154-pounders?), and there are some things Mayweather will need focus on if he plans on beating Cotto.
Here are five things Mayweather must execute to beat what promises to be a head-strong rushing Cotto.
5. Stay outside
Mayweather will wear 154 pounds well. In all probability, he'll come in well under that limit, maybe at a comfortable 150 or 152 pounds. However, regardless of how in shape Mayweather always is, he's not strong enough to butt heads, literally and figuratively, with Cotto.
Cotto will own the inside game, so expect Mayweather to stay on the fringes and pick away. Then as the fight progresses and Mayweather builds a comfort zone, he will step in closer, and then closer.
Maintaining his punching distance early will be key to "Money May's" success.
4. Be patient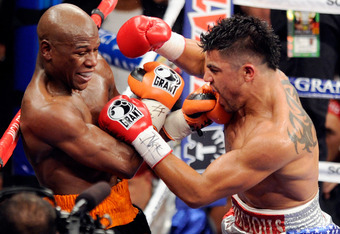 Ethan Miller/Getty Images
It's been a hallmark of Mayweather's career. Victor Ortiz had every intention of jumping Mayweather at the outset of their fight in September 2011. "Vicious Victory" may have had the right idea, but certainly
the wrong execution.
Ortiz wanted to jostle Mayweather early. Cotto may try the same tactic, and with his experience and ability he may even be able to pull it off and even land a punch or two on Mayweather.
However, over the course of a 12-round fight, it won't work. Not against Mayweather. He'll eventually find his punching range, stay in the pocket and be patient. There is nothing Mayweather has experienced in the ring that Cotto can do to unhinge him. Mayweather's professional approach and overflowing confidence enable him to sit back and dissect.
3. Be leery of Cotto's head
It could be a concern. Cotto banged heads more than a few times during his fight with Manny Pacquiao, and we witnessed the head-first tactic of Ortiz when he tried to lure Mayweather into an ugly slugfest.
Cotto is a clean fighter, but he will drop that head. It's a concern Mayweather should have. By the sixth or seventh round, it may be academic Mayweather will have the fight won (he should by then), and a
desperate Cotto may resort to extremes and use some roughhouse methods. Starting with his head.
Al Bello/Getty Images
2. Don't get lured into Cotto's game
Cotto may try to muck it up and make this ugly. Jose Luis Castillo gave Mayweather probably his most difficult fight, when they met on April 20, 2002. Castillo changed things up on Mayweather, sometimes coming forward, sometimes waiting for Mayweather to come to him.
Castillo's body attack made Mayweather feel highly uncomfortable. Cotto will try digging to the body, too, and it's a plan Mayweather needs to thwart by making this a hideous, defensive struggle. It won't be the most aesthetically pleasing fight, but Mayweather doesn't care about what his performances look like. He cares about winning—and winning this fight will depend on sticking with his plan and not being dragged into any of Cotto's ideas of what the fight should look like. 
1. Speed, speed, speed
This is what puts Mayweather in that rare realm with Muhammad Ali, Sugar Ray Leonard and Sugar Ray Robinson as an all-time great. His handspeed for this generation of fighters is unparalleled. It's what makes Mayweather special and is a leading reason why he should win this fight rather easily.
Mayweather's critics—and they are many—can point to this and to that, but the one thing they cannot deny is how fast and accurate Mayweather's fists are. He'll slice and dice Cotto as if his gloves were Ginsu knives. Cotto will try every previous tactic that failed against Mayweather. They will continue to fail until Mayweather is well into his 40s, should Mayweather choose to fight that long, because of his speed-of-light hands.