Bradley Beal to Wizards: Scouting Report, Video Highlights and Analysis
June 28, 2012

When Bradley Beal entered the draft after only one year at Florida, every NBA team in need of perimeter help got excited.
A natural-born scorer, the St. Louis native figures to compete for a starting spot as a rookie.
At 6'4" and 197 pounds, Beal is slightly undersized for playing today's 2-guard spot, but he's no average player—he makes up for it in a number of other areas.
What Bradley Beal Brings to the NBA
Beal is arguably the best shooter in the entire draft. He has tremendous range, can make all the tough shots and can play the one if needed.
Beal was once described to me as "Ray Allen with muscles." He has an NBA-ready body, rebounds extremely well and understands the game of basketball.
There truly isn't much that Beal cannot do.
He'll be an immediate scoring threat in the league and could develop into a legitimate superstar rather quickly.
What The Experts Are Saying
NBADraft.net's Jorrye Nixon isn't as high on Beal. Here's what he has to say:
Beal is a solid prospect with good ability on offense … His jump shot is outstanding, his ability to score off the bounce from mid-range is also great, he's got a pretty good body for a young SG, and he's a strong defender too … He's not a tremendous athlete or ball-handler though, and thus struggles some as a finisher and slasher, but he does have great upside as an off-ball scorer at the SG spot.
Solid doesn't truly do him justice though; he's a top-notch prospect who should star in this league for a long time.
Rookie Impact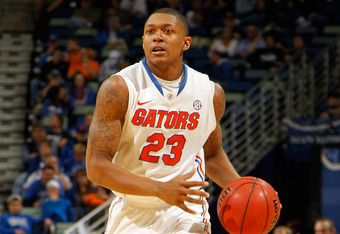 Chris Graythen/Getty Images
His shooting stroke will put him on the floor early in his career. If he gets the opportunity to play off the ball, unlike what he was forced to do at Florida, he'll be much better off.
Beal will excel as a two-guard, not at point, and should easily average double digits in his rookie season. He can play the point position in a pinch, so we could see some assists from him as well.
But as long as majority of his minutes are spent off the ball, he should be an All-Rookie performer and one of the best players in this entire draft class.