Floyd Mayweather Celebrates Cinco De Mayo with a Win over Miguel Cotto
May 6, 2012
Al Bello/Getty Images
Floyd Mayweather (43-0-0 26 KO) found his already lauded legacy boosted to a much higher regard on yet another Cinco de Mayo Saturday. In the MGM Grand Garden Arena in Las Vegas, he completed an utterly convincing rout of arguably the greatest Puerto Rican fighter of all time, Miguel Cotto (37-3-0 30 KO).
Following his knockout of up-and-coming young star and former WBC Welterweight title holder Victor Ortiz, the undefeated Mayweather was supposed to face longtime media rival, Filipino welterweight superstar Manny Pacquiao, for his 43rd professional bout.
However, despite Mayweather's highly-publicized attempts at making the Cinco de Mayo match against Pacquiao happen, negotiations between the two fell apart for the nth-time, and they once again found themselves on different paths.
Mayweather, being the marketing genius he is, quickly set up a bout against Cotto, who after three straight victories by way of knockout―including a tenth-round stoppage over his Mexican rival Antonio Margarito―finally looked to have returned to his fiery former self.
Coming into the bout, Mayweather was adamant on the stand that Cotto should be viewed as an undefeated fighter, stating on the fight's HBO promotional programs the facts that Cotto's only two defeats were to Antonio Margarito―who was suspected to have used gloves loaded with plaster―and Manny Pacquiao―who fought Cotto at a hugely disadvantageous 145-pound catch-weight.
In a play to heighten the stakes, the 147-pound champion Mayweather riskily submitted himself into Cotto's territory by moving up to the 154-pound Light Middleweight division, putting Cotto's twice-defended WBA Super Light Middleweight World Title on the line.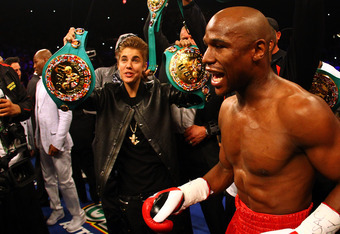 Al Bello/Getty Images
For the first time in a long time, Mayweather wasn't all too hostile towards his adversary in the lead-up to the bout. From press conference statements to his comments on HBO's 24/7 series, Mayweather gave the audience the impression that other than a few joking verbal jabs, he really respected the quality and heart of Cotto.
Mayweather and Cotto have long been pitted against one another amongst the mouths of the fans and the media, most especially in 2007-2008, prior to Cotto suffering his first career loss to Margarito.
In a slight surprise to start the night, Mayweather was the first to make his way toward the ring. In his previous fight against Ortiz, wherein Mayweather was also the challenger for the title, he was the last to enter the ring―a right usually reserved for the fighter in possession of the prize at stake.
Although entering in the challenger's order for the first time since his 2007 bout against Oscar De La Hoya, Mayweather made sure to outshine his competitor by bringing in the most surprising celebrity lineup to walk him into the ring.
All decked out in a flashy red and white sleeveless leather jacket with the shorts to match, Mayweather was flanked by members of The Money Team, highlighted by recording artist 50 Cent and two new additions in semi-retired professional wrestler Paul Michael Levesque (Triple H) and recording artist Justin Bieber.
Cotto came in a more simplified manner, donning his signature Ecko Unlimited Cotto apparel, with the colors black, silver and pink resonant in the mix. The entourage was lead by one of his sons.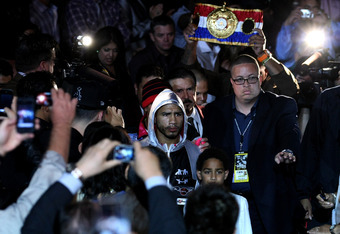 Al Bello/Getty Images
Once the formalities were done by Michael Buffer, the pay-per-view King and the WBA Light Middleweight King, were ready to make "Ring Kings" happen.
The first round started with Mayweather wasting no time in taking control of the fight from the get-go, with the use of his familiar right-hand lead and stiff left-hand jabs―both of which would play a consistent role throughout the entire fight. Mayweather was off to the races early, severely outpointing Cotto and making him miss.
It was a signature Mayweather round and one that would dictate the tempo of the match for majority of the night.
Entering the second round, Mayweather continued to go to work on Cotto, landing more of his earlier applied combinations in an even steadier succession. Unable to find a remedy to his early struggles, Cotto was caught in a message-sending moment as he lifted Mayweather unto the ropes as if to say that he was the stronger man between the two.
Cotto finally showed a little bit of rhythmic activity in Round 3, landing a few flush, straight shots on Mayweather's face, causing a slight nosebleed to ensue for the American. Mayweather, as per his custom, maintained his stance and seemingly took the round anyway as he kept his consistency from the two earlier rounds.
Rounds 4 and 5 were more classic Floyd Mayweather. Cotto played right into his signature shoulder-roll defense by coming right at him with multiple heavy hands that bore barely any fruit. Mayweather contained Cotto's aggression, continually tearing through the Puerto Rican's blocks.
Al Bello/Getty Images
Cotto tried to implement more of his strategy of backing Mayweather into a corner where he can be most effective, but quickly discovered that unlike the fighters he's fought in the past, Mayweather knew exactly how to get himself out of the sticky situation.
Mayweather simply used the confines of the corner combined with his evasive shoulder-roll to evade shots, make Cotto miss and eventually pay for each mistake by dishing out prolific combinations to slide out of the corners at will.
Cotto's fortune, however, changed come the final round of the first half. the reigning champion landed a couple of solid, clean shots on Mayweather's face and prompted the crowd to erupt into a frenzy. However, as can be expected from any Mayweather fight, Money May simply shook his head at Cotto with each significantly landed blow, saying that he wasn't getting hurt.
Mayweather would soon exact payback in the very next round, opening up his arsenal of stinging jabs, quick left hooks and right-hand leads in numerous fast flurries, completely shutting Cotto's offensive rhythm out for the rest of Round 7.
Cotto would have one final significant rally late in Round 8, where Mayweather controlled a portion of the first half. Though Cotto's attack was more expounded, Mayweather's early control made it a tough round to call.
The final four rounds were all Mayweather. The combinations and patterns that he used to take majority of the previous rounds were put on full exhibition, as Cotto looked completely outclassed on virtually every exchange.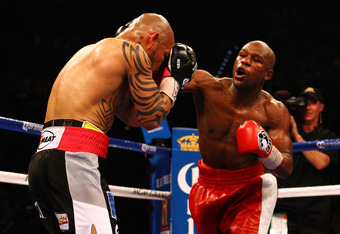 Al Bello/Getty Images
Mayweather's mastery of the ring was never more evident as he both adapted and took advantage of each situation Cotto attempted to put him in. Mayweather knew how and when to create space perfectly between himself and Cotto, making all of his efforts even more effective.
Cotto would later go for a desperate final hurrah at the beginning of the final round, but only found himself quelled by Mayweather's superior hand speed, accuracy and footwork. The match ended with Mayweather rocking Cotto with several huge leads and sneaky uppercuts, to secure for himself the confidence in having the judges' decision.
Both fighters took to their corners upon the bout's end with Mayweather celebrating on the ring post while Cotto was being reassured by his corner team. Mayweather eventually approached Cotto after thankful gestures towards the fans and the two fighters shared an embrace, thanking each other for the opportunity.
True enough, the judges did not upset with their fairly accurate decisions, as Patricia Morse Jarman and Glen Trowbridge both scored it 117-111 while Robert Hoyle scored it 118-110, all for Floyd Mayweather.
The fight was incessantly exciting with unpredictability written all over each round as both men performed at the top of their games.
Both Mayweather and Cotto were classic versions of themselves and did everything they could do to take claim to a victory.
This was simply one of those fights wherein the difference did not lie much on the number of wrongs as it did on the number of rights.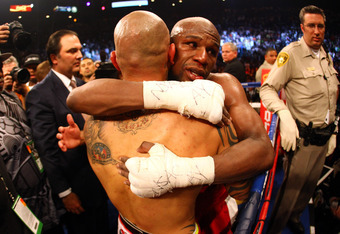 Al Bello/Getty Images
Cotto in no way had anything to be ashamed of about his performance in the fight, for at the end of the day, he wasn't lacking anything, Mayweather was really just that good.
Following the fight, Mayweather proceeded to have his interview with HBO's Larry Merchant, who he reconciled with regarding their previous confrontation in September of last year before the fight. Mayweather was prodded largely on what loomed ahead for him from his imminent incarceration to potential opponents.
Two significant names were brought to the table: the usual Manny Pacquiao―whom Mayweather acknowledged he preferred but would be difficult to orchestrate negotiations with due to Top Rank promoter Bob Arum―and Saul Canelo Alvarez, who won via unanimous decision over Shane Mosley in the first main event of the Ring Kings fight night.
Carlo's scorecard:   1     2     3    4     5    6     7    8     9   10   11   12    TOTAL
Mayweather:     | 10 | 10 | 10 | 10 | 10 | 09 | 10 | 09 | 10 | 10 |  10 | 10  || 118
Cotto:                | 09 | 09 | 09 | 09 | 09 | 10 | 09 | 10 | 09 | 09 |  09 | 09  || 110
Twitter:   @CarloHerrera