Mayweather vs. Cotto Results: Winner, Twitter Reaction, Recap and Analysis
May 6, 2012

Al Bello/Getty Images
Several unexpected things happened Saturday night in Las Vegas, but one constant remained: Floyd Mayweather is still undefeated.
The 35-year-old boxer tangled with Miguel Cotto at the MGM Grand Garden Arena in a crowd-pleasing 12 round brawl that looked nothing like most of Mayweather's previous fights. In fact, Cotto seemed to have the matchup going exactly how he wanted until "Money May" turned up the intensity over the final four rounds.
Cotto has always been a warrior, so we shouldn't have been surprised that he was game to go the distance with Mayweather. But he also roughed up the man many consider the best pound-for-pound fighter in the world, using a stiff jab to cause a lot of bleeding from Mayweather's nose and mouth. 
He kept the pressure up on Mayweather for the entire 36-minute clash and acquitted himself well, despite entering as a seven-to-one underdog.
Leading an entourage that included 50 Cent, WWE star Triple H and Justin Bieber, Mayweather made his way to the ring in his usual style. He was flashy in every aspect.
Cotto came out surrounded by family and close confidants, and it was clear from the beginning that he wasn't going to just be another victim for the undefeated Mayweather to walk over.
The two men traded shots for most of the first five rounds, with Cotto giving as good as he got. Mayweather landed more punches, but the bigger, stronger Cotto was landing the harder shots.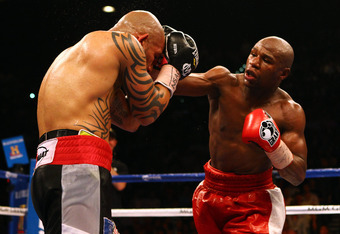 Al Bello/Getty Images
I had Mayweather ahead 67-66 through seven rounds, then Cotto unleashed a furious assault in the eighth to even things up 76-76. I haven't ever seen Mayweather lose a round that badly. It appeared that momentum was on the Puerto Rican's side, but looking back, it was a last gasp.
He came forward the rest of the way and tried to pin Mayweather against the ropes and into corners, but to no avail. Mayweather's punches were too sharp, and he continually found holes in Cotto's defense.
By the 12th round Cotto was clearly gassed. He expended a ton of energy in the early rounds hunting down Mayweather and that effort took its toll. In the final stanza Mayweather strafed him with two stinging uppercuts in rapid succession that were easily his best punches of the fight. 
Mayweather (43-0, 26 KOs) took the final four rounds on my card, the last three were lopsided. He took a unanimous decision with official scores of 117-111, 118-110 and 117-111.
I had scored the bout 116-112 for Mayweather. 
Cotto (37-3, 30 KOs) may have lost the fight and his WBA super welterweight title, but he gained even more respect than he already had in the boxing world. He went toe-to-toe with Mayweather and gave him his best fight in years. He looked fantastic and brought the best out of his undefeated opponent.
Twitter Reaction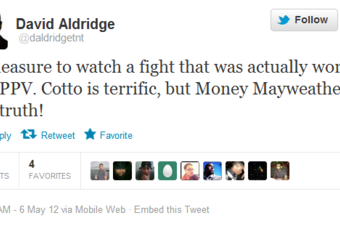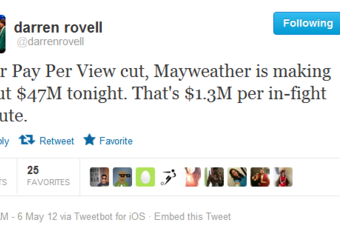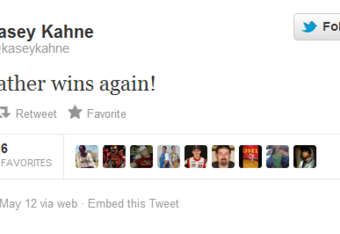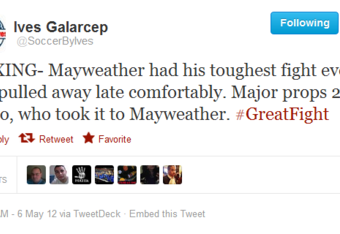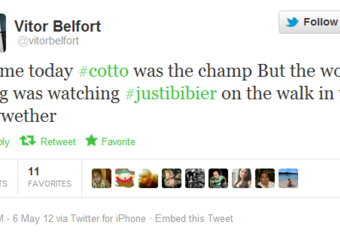 What fight outcome means
Mayweather's win is clouded a bit by the fact that he will serve an 87-day sentence at the Clark County Detention Center starting June 1 after pleading guilty to domestic violence charges. Meanwhile, on June 9, Manny Pacquiao will face the undefeated Timothy Bradley. If Pacquiao wins that fight, the chorus calling for a superfight between Mayweather and the Filipino fighter will grow even louder.
Following Saturday night's victory, Mayweather claimed that Top Rank promoter Bob Arum was the one preventing the mega-fight happening. He also claimed that Pacquiao needed to agree to unlimited drug testing before a deal could be made. 
In reality, Pacquiao has agreed to unlimited random drug testing. The holdup is the fact that Mayweather refuses to give Pacquiao a 50-50 split of the money. When top fighters face each other a 50-50 split is almost always agreed to. 
When asked by HBO's Larry Merchant about the 50-50 split, Mayweather evaded the question.
Given the kind of money such a fight would bring both guys, a 50-50 split of the take would be completely reasonable. Maybe Mayweather's time in jail will help him soften his position. 
Meanwhile, Cotto is still just 31 and showed that he can stand in the ring with the best in the sport. If anything Saturday night's crowd-pleasing fight increased his standing and should lead to more big-money fights.
One possibly opponent would be Saul "Canelo" Alvarez who tore apart a slow, old Shane Mosley for a lopsided decision victory in the co-main event Saturday night. The 21-year-old from Guadalajara is now 40-0-1 with 29 knockouts. He is a rising star with a huge following. 
Alvarez might not be ready to jump in with a guy like Cotto, but given that Mexican and Puerto Rican fans are fiercely loyal to each guy, it could be a big-money fight.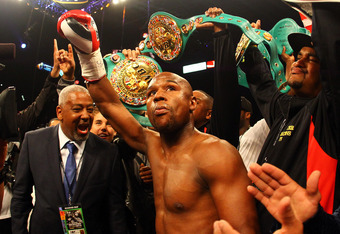 Al Bello/Getty Images
Final thoughts
Floyd Mayweather was challenged in a fight for the first time in recent memory and he rose the the occasion late to secure a victory. For fans of the sport it was the kind of performance we've been waiting for from one of the most skilled men to ever step into a ring.
It took a very game Miguel Cotto to bring the best out of Mayweather. Cotto entered the fight as a seven-to-one underdog, yet was in the fight the whole way. In fact, a few times it appeared that Cotto could have the momentum swinging in his direction, before Mayweather quickly worked to close those openings.
The reason fans have been clamoring for a Pacquiao-Mayweather fight is because both guys will likely bring the best out of each other. No one knows how either will react when in with the other best fighter in the world. It would be a rare opportunity to see two guys at the top of their games go toe-to-toe.
That fight has to happen. But for it to work, Mayweather is going to have to be more reasonable about the money. Hopefully he changes his stance.