New York Giants: Bold Predictions for the Giants Rushing Attack
May 3, 2012

Al Bello/Getty Images
The New York Giants finished last in the NFL in rushing during the 2011 season, averaging a dismal 89.2 yards per game and 3.5 yards per carry. Despite this, the Giants marched the way to an NFC East crown and then overcame the cream of the crop to claim their second Super Bowl trophy in five seasons.
The Giants placed their focus on that unacceptable rushing performance this offseason, cutting ties with veteran running back Brandon Jacobs and selecting one of the 2012 NFL draft's top rushers in Virginia Tech's David Wilson.
With what should be a healthy Ahmad Bradshaw combined with Wilson, fullback Henry Hynoski and a lethal Giants passing game, things appear to on the upswing for an offense coming off one of their best seasons of all time.
Bradshaw is ready to take New York's first-round pick Wilson under his wing as his "project" and turn it around in 2012. Here are some bold predictions for the Giants ground attack in 2012.
The Giants Will Rank Within the Top 10 in the NFL
The New York Giants have ranked within the top 10 in rushing yards in five of the eight seasons since head coach Tom Coughlin was hired in 2004.
Last season's last-place finish was the Giants worst since 2003, when they finished 28th in the NFL. In 2012, the Giants have much greater hopes for their rushing attack and have reason to believe so.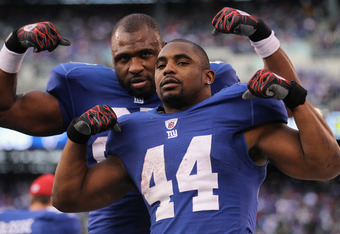 Nick Laham/Getty Images
Ahmad Bradshaw should be 100 percent healthy to start the season after a season marred by injuries in which the Giants running back fought to play despite them. The departure of Brandon Jacobs should actually alleviate much of the short-yardage difficulty the Giants have faced in recent years, as they will not be hard-pressed to give the opportunity to the big tank, only to be disappointed.
Rookie David Wilson will face some growing pains, but working under the guidance of Bradshaw, should find his niche and become a quality contributor in New York.
With much attention on the Giants passing game, Bradshaw, Wilson and company will push Big Blue back to the top of the league in rushing, helping to create a more versatile offensive onslaught.
Da'Rel Scott Will See More Carries
Seventh-rounder Da'Rel Scott saw just five carries in 2011 for the Giants, gaining 16 yards for 3.2 yards per carry. Despite the addition of rookie David Wilson, Scott will have his opportunity to earn some carries in camp.
Scott's biggest threat is his speed, and with the league changing like it is, he certainly has a place as a part of one of the NFL's most prolific offenses. He will get the chance to show off that speed—as well as his ability with the ball in his hands—as a part of the Giants rotation of running backs, which could also include D.J. Ware.
David Wilson Will Be in the Discussion for Rookie of the Year
With a plethora of must-watch players entering the league this season, David Wilson might not be the most eye-catching player from the 2012 NFL draft. However, he has the talent and potential to develop into one of the league's best rushers.
He will show glimpses of that this season with the possibility of chasing 1,000 yards rushing and being a vital target out of the backfield for Eli Manning. That production will garner him some attention for Rookie of the Year, but with all eyes on guys like Andrew Luck, Robert Griffin III and Trent Richardson, it will be hard for him to attain the precious hardware.
Ahmad Bradshaw Will Have a Career Year
Look for Ahmad Bradshaw to eclipse 1,000 yards for the second time in his career while posting better yards-per-carry numbers thanks to a Giants passing game that will require much of opposing defenses' attention this season and an improved, healthy offensive line.
Bradshaw is coming off the worst season performance of his career after tallying just 3.9 yards per carry, though he did score nine rushing touchdowns in just 12 games while battling injuries throughout the year. There is no doubt the former seventh-rounder has plans to step his game up in 2012 for the Giants while also filling the void as a leader left by veteran back and friend to Bradshaw, Brandon Jacobs.
The sixth-year back had his best season in 2010, rushing for 1,235 yards with eight touchdowns on the ground and 47 receptions for 314 yards. In 2012, Bradshaw will reproduce his stellar performance two years ago, posting career numbers as the trusted leader in the Giants backfield.
Louis Musto is a featured columnist for Bleacher Report. Follow him on Twitter here.