Undrafted Free Agents 2012: Best Available Players at Every Position
April 30, 2012

Kevin C. Cox/Getty Images
The days following the 2012 NFL draft are wrought with free-agent signings. The players being signed are not of the veteran variety. These are the players overlooked by NFL teams during the draft.
Undrafted free agents are potential diamonds in the rough. These players did not warrant a draft selection, but are intriguing enough to get a look at the professional level. 
Many players have already been signed. These players have not.
Quarterback
1. Darron Thomas, Oregon: Thomas threw for 6,000-plus yards and 69 touchdowns as the Ducks' quarterback. He has exceptional mobility as well. Thomas is not polished enough to start in the NFL, but he is an exceptional athlete with a notable track record at Oregon. 
2. Tyler Hansen, Colorado: Hansen threw for 2,883 yards and 20 touchdowns his final year as a Buffalo. His 11 interceptions and 6'1'' frame kept him his name from being called in the draft. He could be worth a slot on an NFL depth chart. 
3. Jordan Jefferson, LSU: Jefferson is in the same boat as Thomas, but worse. Jefferson threw for 700-plus yards and six touchdowns last year. He is a dangerous runner but his arm and decision-making need a ton of work. 
Running Back
1. Brandon Bolden, Ole Miss: Bolden ran for 472 yards and four touchdowns for Ole Miss last season. He lacks NFL speed but his 221-pound frame could provide goal-line assistance for an NFL team. 
2. Foswhitt Whittaker, Texas: Whittaker ran for nearly 400 yards and six touchdowns while splitting carries in the Longhorn backfield. He is not big and lacks elusiveness but could contribute in a zone-blocking scheme. 
3. Lennon Creer, Louisiana Tech: Creer started his career at Tennessee but left when Lane Kiffin arrived. Creer ran for 800-plus yards and nine touchdowns last season. He is 200-plus pounds but his speed hampers his potential.
Fullback
1. Chad Diehl, Clemson: Diehl is not a threat to run the ball, but he is a capable blocker. He weighs 258 pounds, and could provide punch for an NFL team's jumbo sets.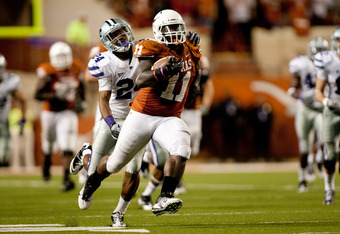 Darren Carroll/Getty Images
2. Ryan Houston, UNC: Houston is 240-plus pounds of athlete. He doesn't have a high motor, but could batter his weigh onto a practice squad.
3. Cody Johnson, Texas: Johnson is a capable ball-carrier from his lead blocker position. He is a squat 250 pounds, but quicker than you would expect. 
Wide Receiver
1. Jerrell Jackson, Missouri: Jackson only caught 17 passes last season and ran a 4.62 40-yard dash time at the combine. He does not have the speed to play outside but, with work, could contribute in the slot. 
2. James Rodgers, Oregon State: Rodgers is only 5'7'', but caught 45 balls last season for three touchdowns. He won't be an NFL wideout, but is a weapon with good speed.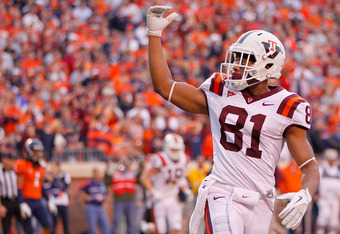 Geoff Burke/Getty Images
3. Nelson Rosario, UCLA: Rosario caught 64 passes for over 1,000 yards last season. He is not fast, but his 6'5'' frame could be enough for an NFL team to give him a look. 
4. Jarrett Boykin, Virginia Tech: Boykin's 4.72 40-yard dash time is worrisome but his 6'3'' frame is not. The Hokies' all-time leading receiver could get a few looks at the next level. 
Tight End
1. Beau Reliford, Florida State: Reliford only caught seven passes in his last year as a Seminole. He started 24 games over the course of his career, and could be a goal-line blocker on the right team.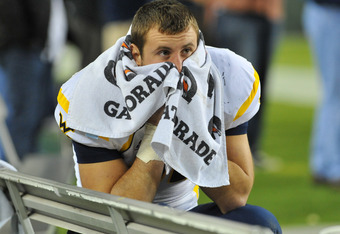 Al Messerschmidt/Getty Images
2. Tyler Urban, West Virginia: Urban caught 22 passes last season for the Mountaineers. Tight ends who stretch the field are always valuable, and Urban can do that. Someone will sign him. 
3. Josh Chichester, Louisville: Chicester's 6'6'' frame will intrigue an NFL team. He is not overly athletic but he did go for almost 400 yards this past season. 
Offensive Line
1. Dustin Waldron, OT, Portland State: Waldron could provide depth on the offensive line for someone. He is not strong, but is very athletic and fast for a lineman. He is a very raw prospect.
2. Antoine McClain, OG, Clemson: McClain's 6'6'' frame could prompt a move to offensive tackle. He needs to get stronger and work on his technique before he is ready to contribute anywhere. 
3. Paul Cornick, OT, North Dakota State: Cornick needs to work on his footwork and strength, but he has NFL size. Lack of competition in college is a concern.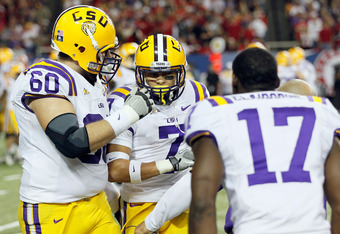 Kevin C. Cox/Getty Images
4. Will Blackwell, OG, LSU: Blackwell's college ties alone will likely earn him a contract. He was part of a solid rushing offense with the Tigers and could do the same with some work in the NFL.
5. Grant Garner, C, Oklahoma State: Garner played for a very good offense at Oklahoma State. He is not used to a pro-style offense and needs to work on his balance. He could provide depth on someone's practice squad. 
Defensive Line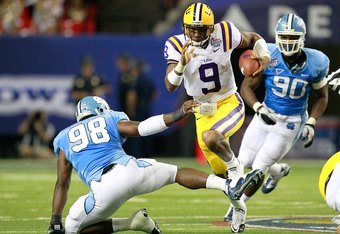 Kevin C. Cox/Getty Images
1. Donte Paige-Moss, DE, UNC: Paige-Moss played in every game for the Tar Heels last year. He recorded 29 tackles, four of which were for a loss. He is very athletic but very undisciplined. 
2. Justin Francis, DE, Rutgers: Francis had 6.5 sacks in his only year as a Scarlet Knight starter. He can fill multiple roles as has potential as a pass-rusher in third-down situations. 
3. Chas Alecxih, DT, Pittsburgh: Alecxih had 5.5 sacks from the interior of the Panther line last season. He would need to move to being a 3-4 defensive end in the NFL.
4. Derrick Shelby, DE, Utah: Shelby had 4.5 sacks using his power moves for the Utes last year. He is not athletic but could provide run support with some work. 
5. Micanor Regis, DT, Miami: Regis' 300-plus pound frame could be intriguing for an NFL team. He is a run-stuffing defensive tackle with a poor motor and limited athleticism. 
Linebacker
1. Alex Hoffman-Ellis, Washington State: Hoffman-Ellis had 87 tackles and two sacks for the Cougars last season. He struggles to shed blocks and does not have NFL size, weighing just 230 pounds.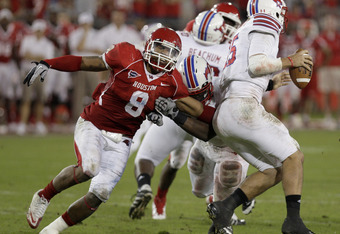 Thomas B. Shea/Getty Images
2. Shawn Loiseau, Merrimack: Loiseau's Division II school hurt his draft stock. However, he is a solid tackler with great football instincts. He will get picked up.
3. Sammy Brown, Houston: Brown was the leader of the Cougar defense last season. He is a quality tackler lacking in every other category.
4. Ryan Baker, LSU: Baker was productive as a Tiger but is very undersized at 5'11''. He could get picked up but would have to move to safety. 
5. Stefoin Francois, LSU: Like his college teammate, Baker, Francois must transition to safety. He is quick and explosive but does not have the size to play in an NFL front seven. 
Cornerback
1. Quenton Washington, South Florida: Washington played in every game last year but only intercepted one ball. He does not have adequate ball skills for the NFL.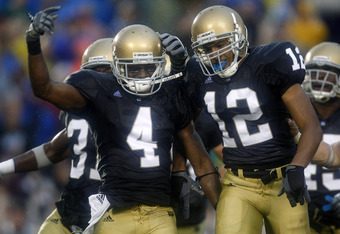 Gregory Shamus/Getty Images
2. Gary Gray, Notre Dame: Gray had two interceptions last year for the Irish. He provides solid run support but does not shadow receivers.
3. A.J. Davis, Jacksonville State: Davis had two interceptions in two games last season. He could move to safety because of his 6'1'' frame and lack of speed.
Safety 
1. Sean Cattouse, California: Cattouse is a former All-Pac-12 performer with experience at both safety positions. He could provide depth down the road because of his versatility.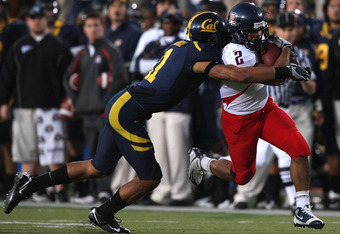 Jed Jacobsohn/Getty Images
2. Johnny Thomas, Oklahoma State: Thomas is a thumper in run support but struggles in pass coverage. He is only 5'11'' and his speed will hinder his NFL development. 
3. Eddie Pleasant, Oregon: Pleasant is a ball hawk. The 215-pounder has experience at linebacker and could provide a hybrid presence at the next level. 
Kicker/Punter
1. Drew Butler, P, Georgia: Butler was one of the best punters in the country last season. He averaged 44 yards per punt and will definitely find his way onto an NFL team.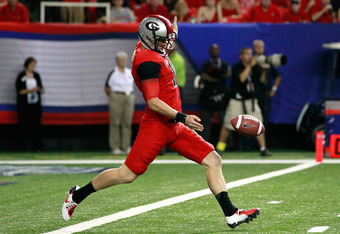 Kevin C. Cox/Getty Images
2. Philip Welch, K, Wisconsin: Welch had over 300 career points for the Badgers. He does not have a strong leg but his accuracy is reliable.
3. Kyle Martens, P, Rice: Martens averaged over 43 yards per punt for Rice last season. He has a strong leg, and could get a shot on an NFL practice squad before next season begins.