Miami Heat: Why Odds-on Favorite Will Remain Ringless
March 22, 2012

LeBron James is a viable MVP Candidate, Dwayne Wade is second in the league in player efficiency and hell, even Chris Bosh has shown up this season. Many of you may ask why, at second in the East and the notable fan favorite, I am proclaiming the Heat will go ringless for another year. The simple answer is THEY HAVE NO BENCH.
The "Big Three" can only carry this team so far, as they proved last season. The Big Three are the only players with above average player efficiency ratings on the team, while the majority of the Heat resides in the bottom two-thirds of the league.
Their bench is outscored by an average of 10 points, which is not true of any of the teams the Heat could be facing in the playoffs. Any one player can have an off game, get injured or just flat out have a bad series (*cough*LeBron*cough*), but other teams have players that can step up and fill the slot—the Heat do not.
Now let's get in depth and take a look at the man who puts this team on his back, leading them in every category except blocks. While James may be among the best to play the game (although Michael Jordan certainly doesn't think so), he may also be the biggest head case in the league.
James pays too much attention to his negative press and he lets it get inside his head; the man is more concerned about being liked than being the best player on the court. In addition, he doesn't have the "killer instinct" indicative of a winner. When the game is on the line LeBron doesn't want the ball in his hands. Players like Jordan, Kobe and Durant live for that moment, and they own the fourth quarter. James is simply not clutch when it counts.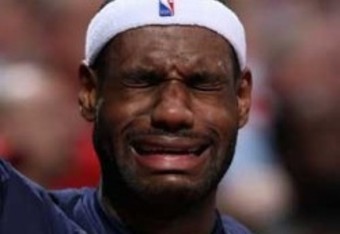 Moving on to what, or in this case who, is the Heat's biggest problem of all, Erik Spoelstra, and by extension Pat Riley. I'm not sure which genius thought Ronny Turiaf was the answer—it's similar to putting Tim Tebow on the New  York Jets—but now they have two bad centers instead of one.
They went out and got Eddy Curry, but he rides the bench. They have an amazing three-point shooter in James Jones (the highest adjusted field goal percentage on the team, and second overall), he rides the bench. They have Shane Battier having the worst season of his career, and he gets a ton of playing time. Can somebody explain that to me? I understand Battier plays good defense, but he throws up terrible shots way too often, shooting just over 38 percent on the season.
Jones averages one less point per game than Battier, but only plays half his minutes. Jones comes off the bench in the clutch and hits huge threes, meanwhile Battier constantly misses open looks. I don't know who has the final word, but somebody needs to step in and fix this.
Another glaring issue is Chris Bosh's inconsistency. Bosh shows up on occasion and is more than capable of dropping 20 or more points on any given night, however he is incredibly inconsistent. You never know which Bosh is stepping onto the court, whether it's the 29 points, eight rebounds Bosh, or the 10 points and three turnovers Bosh.
If the Heat expect to win Bosh has to supply more than just unyielding mediocrity, but that has yet to occur and it doesn't look like it's going to happen any time soon. For the Heat to have a successful playoff run Bosh needs to either boost his rebounds and average a double-double, or consistently drop 20-22 points per game, because we all know those points and rebounds are certainly not going to magically appear from the underperforming bench.
Finally, Dwyane Wade needs to cement himself as the team's rock. As much as you may or may not want to accept it, this is LeBron James' team. As I mentioned before, I don't believe he has the mentality to be that leader.
Wade needs to get back in his groove and return to that clutch player Heat fans know and love. He has shown flashes of that player lately, and if he can make a full scale return the Heat would cement themselves as playoff contenders, but for now they just don't have what it takes. If they want any semblance of hope, Wade has to become the mentally tough leader of this rag-tag group of a couple of superstars and a handful of benchwarmers.