2012 NBA Mock Draft: Austin Rivers and Players Who Will Shake up First Round
March 7, 2012

Streeter Lecka/Getty Images
Whether or not players stay in school will shape the first round of the 2012 NBA draft. Guys like Austin Rivers and Michael Kidd-Gilchrist could benefit from staying in school, but there is no question they would go in the first round.
The NBA trade deadline is approaching, and there is a good chance that some of these draft picks will be dealt. As of this writing, the draft order is in place via the team's current win percentage. 
Staying in school will not be accounted for. The Zeller family has a tradition of staying in school, but Cody Zeller will make this list. 
1. Charlotte Bobcats: Anthony Davis, Kentucky
No-brainer. Davis has more potential than anyone in this draft. He's an instant game-changer on defense and has an underrated offensive game. 
2. Washington Wizards: Harrison Barnes, North Carolina
Washington needs scoring (24th in the NBA at 93.1 points per game). Barnes will be able to step in and instantly provide a shooting threat from all over the floor. 
3. New Orleans Hornets: Andre Drummond, Connecticut
Drummond has potential, but his inconsistency in college leaves questions about his readiness for the NBA. He would be a work in progress, something that fits right in with what New Orleans is trying to accomplish. 
4. New Jersey Nets: Michael Kidd-Gilchrist, Kentucky
This offseason will be tumultuous for the Nets. Deron Williams may leave. Brook Lopez may get traded. What the franchise needs is something certain—and Kidd-Gilchrist would provide that stability.
MKG leads by example and hustles on every play. His outside shooting needs work, but his effort is second to none. He's got the athleticism to finish at the rim through contact and with authority.
5. Sacramento Kings: Thomas Robinson, Kansas
Sacramento could go numerous ways with this pick. DeMarcus Cousins, Tyreke Evans and upstart Isaiah Thomas have the makings of a solid core, but they have yet to establish success in the NBA. Robinson stepped into a major role in Kansas and performed, and he could do the same here.
6. Toronto Raptors: Cody Zeller, Indiana
Toronto needs upgrades across the board. Zeller fits here because of his ability to score efficiently (63.5 percent shooting), and he plays solid defense. Chances are he'll stay in school, but he's got the potential to be drafted very high.
7. Detroit Pistons: Jeremy Lamb, Connecticut
Detroit fills a need on their perimeter here with Lamb. He'll be able to step right in and score. His length may not be comparable to Tayshaun Prince, but he plays above-average defense to go with his scoring prowess.
8. Cleveland Cavaliers: Bradley Beal, Florida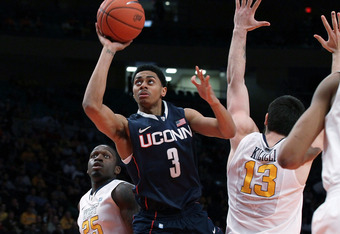 Jim McIsaac/Getty Images
Cleveland would benefit greatly from drafting Beal to join Kyrie Irving in what would be one of the more exciting, young backcourt tandems in the league. Beal can shoot and would fill a huge need on the wing for Cleveland.
9. Milwaukee Bucks: Jared Sullinger, Ohio State
Sullinger would provide Milwaukee with an excellent scoring big man to accompany the outside shooting of Brandon Jennings. A frontcourt containing Ersan Ilyasova, Andrew Bogut and Sullinger could be dominant.
10. Utah Jazz (From Golden State): Damian Lillard, Weber State
In what has become a fairly weak point guard class, Lillard has solidified himself among the top tier. He's one of the best pure scorers in college basketball, a skill that can translate to the NBA with relative ease.
Lillard has played in Utah at Weber State since 2008. Look for the Jazz to keep his talent in-state.
11. Phoenix Suns: Austin Rivers, Duke
Rivers won't be the best player available in this situation. He's still very inexperienced, and he won't overwhelm you with his athleticism. But he's got enormous potential. He works hard, knows the game and has that "it factor" that will bring people into the arena. 
There's a chance he stays in school, and that may be best for his game. But his future is bright, and he'd definitely be drafted in the first round.
12. Houston Rockets (From New York): Tyler Zeller, North Carolina
Houston has youth at every position except center—unless you think Jordan Hill or Hasheem Thabeet are the answer. Zeller would establish a post presence beside Luis Scola and Patrick Patterson. His height, effort and skill are intangibles that he would bring to the table from the start. 
13. Utah Jazz: Quincy Miller, Baylor
Utah's needs are not on the inside. Paul Millsap, Derrick Favors, Al Jefferson and Enes Kanter are all capable frontcourt players. Miller would give Utah a lengthy perimeter defender who has the potential to develop into a stud.
14. Portland Trailblazers: Meyers Leonard, Illinois
Leonard, like Greg Oden, would be a work in progress. He's raw offensively but could instantly provide defense alongside LaMarcus Aldridge. Portland needs youth at center, and Leonard would provide. 
15. New Orleans Hornets (From Minnesota): Perry Jones III
New Orleans is in limbo. So is Perry Jones III. Questions about the franchise are just as frequent as questions about Jones III and his game. He fits in New Orleans because the franchise is rebuilding and he has the potential to be a star.
Potential is the critical word here, as Jones III could easily falter. He doesn't always show up to big games and his work ethic has been questioned. But his upside is there.
16. New Jersey Nets (From Houston): Kendall Marshall, North Carolina
Regardless of what Deron Williams does, New Jersey would benefit greatly from adding Marshall. His court vision is extraordinary, and his court vision would be a perfect complement to New Jersey's budding talent on the perimeter.
17. Boston Celtics: Arnett Moultrie, Mississippi State
Moultrie would be a steal for Boston at No. 17. His size and skill on the inside are well above average, and he would contribute for the Celtics immediately. He isn't consistent on offense, but his defense and rebounding are NBA-ready.
18. Denver Nuggets: John Henson, North Carolina
Henson would be a perfect fit in the up-tempo system of the Denver Nuggets. He's an athletic big man that can run the floor extremely well. His emerging mid-range game would be a benefit on offense, and he would be a huge addition on defense because of his length and ability to alter shots.
19. Philadelphia 76ers: Fab Melo, Syracuse
Melo fills a need in Philadelphia as a center. He won't help on offense, but his defense is premium and he can get much better. His improvement in one year has been astronomical on defense. Questions about his ceiling are still there, but his physical stature is unquestionable.
20. Los Angeles Lakers (From Dallas): Jeffrey Taylor, Vanderbilt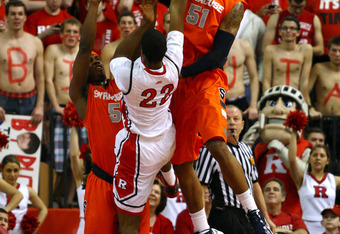 Chris Chambers/Getty Images
With Mike Brown as head coach, the Lakers will always need extra offense. Taylor fits the bill. He can score from anywhere and has an underrated defensive game. He would be learning from some of the best in the game and could evolve into a star. 
At the very least, though, Taylor provides pure offense. He is a streaky shooter that feeds off of a crowd's energy, something Los Angeles could certainly provide.
21. Memphis Grizzlies: Terrence Ross, Washington
Ross would provide great depth behind Tony Allen and O.J. Mayo at shooting guard for Memphis. Although he won't match Allen's defense or Mayo's offense, he may be the best of both worlds. He's got range and length but lacks thickness and penetrating skill.
22. Atlanta Hawks: Terrence Jones, Kentucky
Jones could fit almost anywhere because of his versatility. He can score inside and out. He rebounds well and has great length. However, his inconsistency in the last two years at Kentucky leaves questions about his ability to play at the next level.
23. Los Angeles Lakers: Tony Wroten Jr., Washington
After filling a void at small forward in Taylor, the Lakers could use an upgrade at point guard. Wroten is a tall point guard (6'5") and has court vision second to only Kendall Marshall in this draft. He needs to improve his decision making, but he could turn out to be the best point guard from this draft.
24. Boston Celtics (From L.A. Clippers): Patric Young, Florida
What Young lacks in height he makes up for in his ability to use his body. He is excellent at creating space and has an emerging post game. His effort on the boards would be a relief to the worst rebounding team in the league.
25. Indiana Pacers: John Jenkins, Vanderbilt
Jenkins doesn't have the size of his teammate, Jeffrey Taylor, but he's a better shooter. His smooth stroke from the outside is uncanny, and his polished offensive game would be welcomed in Indiana. 
26. Orlando Magic: Marquis Teague, Kentucky
Teague is a raw point guard that can attack the rim. He's struggled adapting to the college game, but the talent is there. His jump shot and decision making leave something to be desired, but he has the build and athleticism to do well in the NBA. 
And who wouldn't want a brother-versus-brother rivalry in the NBA Southeast? 
27. San Antonio Spurs: Tony Mitchell, North Texas
Mitchell is one of the lesser-known players who could come out in 2012, but he has notable athleticism and hustle on the court. Mitchell could mature into a great player under the veteran leadership in San Antonio.
28. Miami Heat: Mason Plumlee, Duke
Plumlee has the athleticism to fit perfectly in a system like Miami. He can run the floor and finish well around the rim. He rebounds well on both ends of the floor, and he can finish through contact. He needs to improve his strength and can't shoot from the line, but he would provide depth to Miami's frontcourt.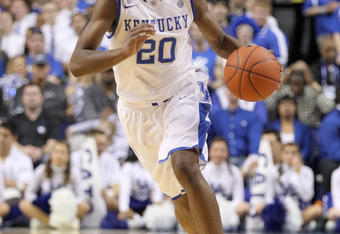 Andy Lyons/Getty Images
29. Oklahoma City Thunder: Doron Lamb, Kentucky
Lamb would be great for Oklahoma City in that he can space the floor as good as any shooting guard in this draft. In his two years at Kentucky, Lamb has shot over 48 percent from beyond the arc. He lacks size and athleticism, but his shooting ability could be used from the onset.
30. Chicago Bulls: Kris Joseph, Syracuse
What Joseph lacks in size he makes up for with his motor. He's an athletic wing that can get to the rim and score. He follows shots and scores on second-chance opportunities very well, and there's a chance that he still improves.
The 2012 NBA draft will continue to evolve. Trades will be made, reshaping team needs and draft picks. College players will decide to stay in school or leave in the hopes of being drafted.
From now until then, enjoy these players as they dominate the college game.