NBA Trade Rumors: The L.A. Clippers Are Searching for Their Missing Piece
March 1, 2012

Lisa Blumenfeld/Getty Images
There are so many ways to win a championship.
Some say you win on defense, so you go draft and sign guys who don't mind playing tough defense for long stretches of minutes if need be.
Others say you have to have a dominant center; that's why the trade circus has followed Orlando's Dwight Howard since the end of last season.
Still, others say you must have an elite point guard. That's why the Lakers and their fans are still complaining about the trade for Chris Paul that didn't happen.
Whatever your formula, the process has to be continuous until that special concoction is finally in place and the team seems to flow together like a river going downstream. Many think the Heat have done that, and the way they are beating teams—whether at home or on the road—it's hard to argue otherwise.
The Clippers have added some great ingredients to the base of what they think is a championship formula. In this case, the base is Blake Griffin. The important ingredients are Chris Paul, Caron Butler and Chauncey Billups. Now that one of those ingredients is no longer available this year (Billups is out with a torn Achilles), the Clippers have continued to add pieces to what they think is a championship potion.
When the season began, it was evident that the Clippers needed help rebounding, especially off the bench. To fill that void, they signed Reggie Evans, whom many regard as a rebounding machine. He gives them instant energy off the bench and is a very good defender. At 6'8", he is able to guard players two and three inches taller than he is.
Although the signing of Evans filled an obvious void, it didn't fill all the holes. The Clippers still needed more toughness in the low post, and a low-post player who could score from off the bench. They believe they found that in Kenyon Martin, who began the season late due to his contract in China.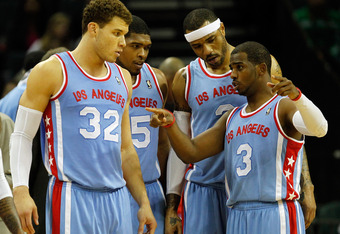 Streeter Lecka/Getty Images
You would think that with all the people they've acquired since the NBA lockout ended, the Clips should be finished adding pieces, right?
Not so fast.
The Clippers realize that even though they have signed big names, a few of those names aren't quite what they used to be. Butler is no exception to this fact.
Butler started the season on fire, hitting corner shot after shot; because teams focused more on the shooting of Billups and the inside play of Griffin, Butler was often left alone. Now that Billups is no longer available for the season and Randy Foye—who is currently starting in Billups' shooting guard role—has not quite put the same pressure on the defense, this allows for the defense to play Butler a little tighter and takes away some open jump shots.
Butler does not have the knees he once did, which shows in his lateral mobility. He goes forward to the basket pretty hard, but when he is supposed to change directions or go around someone with great intensity, he just can't do it.
It goes the same on the defensive end. Butler has trouble after one or two defensive slides or if the offensive player he's guarding changes directions. His surgically repaired knees just won't let him move as fast as his brain tells him to.
So now, to help fill the void of an athletic small forward to come in when Butler isn't having a great game, the Clippers have signed Bobby Simmons to a 10-day contract.
Simmons is expected to be a good team defender off the bench and knock down open shots, especially three-pointers. Simmons played two seasons with L.A. in 2003-2005 before signing a huge contract with the Bucks. In his second season with the Clippers, he averaged a little more than 16 points, six rebounds and shot 45 percent from beyond the arc.
The Clippers are hoping that Simmons can return to this form. They don't expect him to average the same amount of points, but hopefully he can be as efficient from the three-point line. He may be asked to come in late in games and guard athletic small forwards who give Butler problems—this couldn't have been more evident in the Clippers' most recent lost to the Timberwolves.
This was a game that the Clippers seemingly controlled until rookie forward Derrick Williams had a career night off the bench and small forward Michael Beasley continued the onslaught by combining with Williams to score 75 points off the bench. Most of Beasley's points came while attacking Butler. It was painfully obvious that Butler couldn't keep up with the more athletic Beasley, and a more game ready Simmons may have contributed to a better outcome.
The Clippers seem to be the team that is never satisfied with their ingredients, so don't be surprised if someone is traded or another player is signed just before the trade deadline—which is in about two weeks.