NBA Slam Dunk 2012 Video: Dunk Contest Failed Miserably on Big Stage
February 26, 2012

Mike Ehrmann/Getty Images
The 2012 NBA Dunk Contest was an epic flop. They may have the best All-Star weekend compared to the other major sports, but boy did they look foolish on Saturday night.
It failed miserably.
Jeremy Evans—a guy who scores 1.7 points per game—won the Sprite Slam Dunk Contest. He had one really good dunk. One was decent, even though he jumped over little Kevin Hart, and his first one was absolutely awful.
Evans' first dunk should have disqualified him from the contest.
Budinger performed one good dunk as well. I don't buy his "no-look" routine at all. He was so off on his first attempt, there is no way he could have made that much improvement on the next. I'm sorry.
George may have been the best dunker in my estimation. I really liked his "lights-out" dunk. I couldn't really tell if he made it until the replay, but it impressed. His third dunk was less than desired.
Derrick Williams, my pick to win the contest, failed to execute in his third dunk, costing him an opportunity to win the award.
I had two big beefs with the contest this year:
1. Who are these guys? NBA and basketball fans know these four contestant, but still, I didn't get hyped to watch Evans, Williams, George and Budinger.
2. The format was the worst. They didn't have judges. Fan voting determined the entire competition?
Anytime fans vote you know that the competition is about who they like the most. There is no objectivity when you have fans vote.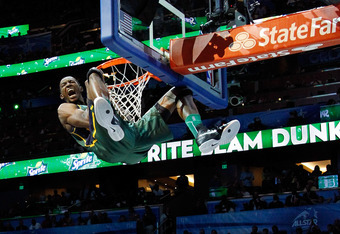 Mike Ehrmann/Getty Images
Evans may have had the best dunk of the night, but does that mean that his resume was the best? Did people forget just how awful his first attempt was?
How about the fact that he used Hart in his third dunk? The guy dominated All-Star weekend and was a trending Twitter topic on Friday and Saturday night. People that don't even watch the NBA but like Hart probably voted for Evans just because of the comedian. 
Is that the reason why Evans won? I think so.
Finally, and maybe most importantly, the format was atrocious. I would have liked to have seen the intensity and pressure rise by having two dunkers at the end like we have seen before, but we were robbed in that aspect.
It was just an awful showing by the NBA. There were stoppages of the clock so players had more time, missed attempts (which I hate the most), players who didn't deserve to be at the All-Star Game this year and a format that lacked in creativity.
This year's annual event was an absolute disaster.