LeBron James' Cleveland Return Plans Won't Cure His Homesickness
February 17, 2012

Kevin C. Cox/Getty Images
LeBron James wants his cake, to eat it and then he would like some of what you are having as well. Nothing is ever good enough for King James, who is acting like a princess. 
Yahoo! Sports' Adrian Wojnarowski reported Friday on Miami Heat star LeBron James and some comments made recently about returning to the Cleveland Cavaliers. 
James stated, via the report: 
I think it would be great. It would be fun to play in front of these fans again. I had a lot fun times in my seven years here…I'm here as a Miami Heat player, and I'm happy where I am now, but I don't rule that out in no sense. And if I decide to come back, hopefully the fans will accept me.
You see, just about anyone with a brain cell saw this as nothing more than James playing nice to the Cavaliers fans. It was pandering that any politician would be glad to have spewed. It was James' way of saying, "I still love you, Cleveland. Now stop booing me."
Ah, but this story is far deeper than that. 
Wojnarowski issues that the statements made by James this week come after a secret message was sent from James to Cavaliers owner Dan Gilbert that he would like to return at some point in the future. 
Wojnarowski writes: 
This was no accident, no misspeaking, nothing out of context. Before mentioning Thursday his openness to playing in Cleveland again, James months ago had an emissary or two carry that message to the Cavaliers' front office, league sources told Yahoo! Sports. His camp wanted the message delivered to owner Dan Gilbert, sources said, but so far, the response has been silence.
The prodigal son would like to return, but that makes things messy for both the Heat and Cavaliers. As Wojnarowski states, the obvious fact is Cleveland would have to halt their rebuilding process to make sure there is room for James when he is up for free agency in two years. 
The end of the 2013-14 season looms in the not-so-distant future, and James is already setting the table for "The Decision II."
This sad tale of self-centered behavior is wrong on so many levels. With one small, seemingly innocuous comment, James is starting a small fire.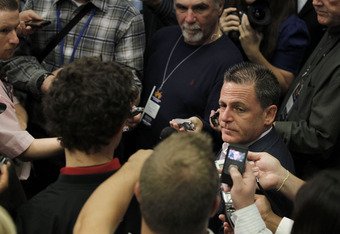 Gregory Shamus/Getty Images
The melodrama that drowned the Cavs organization for two years before James bolted is about to take over South Beach. 
Pat Riley and the Heat are enjoying an amazing start to the year, where they are dominating just about every team. They are 23-7 and first in the Association in scoring 103.5 points per game, but now, a question looms in the air that will threaten to sink the ship. 
By Friday, James was speaking out of the other side of his mouth, via the report: "The fans of Miami shouldn't be worried about anything at this point."
James would love to return home, but wanted his chance to play with the star-studded Heat. He wants the aplomb and adoration that can only be received from chanting fans in your own hometown. 
He wants to give them a title and become the biggest superstar Cleveland has ever known, but he just wanted to sow some oats in Miami first. 
James is throwing up an MVP performance this season with 28 points, 8.2 rebounds and 6.8 assists per game. So there is no question the Cavs or any other team would die to have him. 
Essentially, James would like you Cavs fans to hold up a hot minute while he gets wacky in Miami for a couple of seasons. Don't start the championship parade without him, because he will return. 
In fact, stop rebuilding and adding young talent that would all but kill any chance he will ever return while in his prime. 
He wants his cake in Miami, in Cleveland, and he wants everyone to wait with bated breath as he devours every last morsel.