Jeremy Lin: For This Asian-American, New York Knicks Star Is an Inspiration
February 10, 2012

Jeremy Lin isn't my hero. 
Nor is he my savior. 
But what he does do is inspire me.
Growing up as a Taiwanese-American baller, I had no one to look up to.  As a sports journalist for the past six years, I had no one from a similar background who could relate to what I was going through as I tried to find my career path, especially when it came to experiencing racism. 
Jeremy was an outlet for my feelings. That's why he and I clicked when we met as reporter and subject. 
I first learned of Jeremy when I was at UCLA and he was tearing it up on the California high school courts. When I later found out he had gone to Harvard, my initial thought was, "Well, he gave up on sports, and he's concentrating on academics like the rest of us Asians."
But he was still playing ball when I first met him in 2008 while reporting for the San Francisco Chronicle. 
I was writing an article about the dearth of Asian-Americans in college and pro basketball. It started like this:
Jeremy Lin has seen it and heard it.

Too short. Too skinny. Picked last. Asian.

Those tags stick to Lin wherever he goes, even as the starting point guard for Harvard's basketball team.

"It's a sport for white and black people," Lin said. "You don't get respect for being an Asian American basketball player in the U.S."
Despite his stature on the court at Harvard, Lin admitted it was "nerve-racking" playing against older, more experienced players in the San Francisco summer league. To them, Jeremy was a novelty. Maybe even a joke.
"We even have an Asian kid from Harvard," a summer league rep told me in previewing the rosters.
As a fellow ABC (American-Born Chinese) with Taiwanese roots, Jeremy was very open to me about his story. After all, I could relate.
Jeremy told me of his ongoing battles with racism playing for Harvard in front of Ivy League crowds. 
"I hear everything: `Go back to China. Orchestra is on the other side of campus. Open up your eyes,' " Lin said at the time.
I shared my battles with racism—the "ching-chong" and "the Chinaman" I heard as a journalist.  
Mine, however, paled in comparison to Jeremy's. I respected him for not lashing out. I respected him for not letting it faze him. Most of all, I respected him for pursuing his dreams. I felt if he could go through a barrage of verbal assaults with a ball in his hands, then I could handle a few instances with pen and notebook in hand.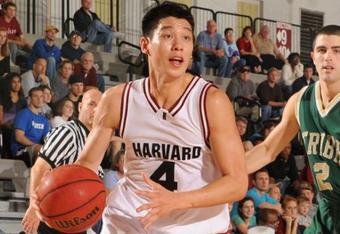 Even for me today, it's difficult to escape being targeted. But I think of Jeremy, and I know I should just block it out. 
Funny enough, I remember ending our 2008 interview by telling him that we both needed to represent and that I hoped we'd cross paths in the NBA one day. 
From there, my relationship with Jeremy consisted of texting, but we were both on our way to that meeting. He had a breakout year his senior season at Harvard. I got a gig working at NBA.com to cover the Lakers. 
I didn't see him until Oct. 31, 2010. He'd signed with the Warriors after being passed over in the draft. 
I can still remember his spooked expression when he saw me come into the visitors' locker room as a Los Angeles-based reporter for NBA.com. I congratulated him and he me. We both had made it. We both got to our dream: the NBA. We both believed. 
"I'm on my own mission and there aren't many people that can relate to me," Jeremy had told me in 2008.  "(My parents) try to tell me to plan ahead and they tell me basketball isn't going to feed you for the rest of your life, but they don't put pressure on me to become a doctor, lawyer, computer engineer. 
"I feel like I have something to prove to everyone out there. I'm trying to be the best player and reach my potential." 
Later in the 2010-11 NBA season, I spoke to Jeremy about how it was going. He admitted being a bit annoyed over answering questions about being Asian-American and in the NBA. He admitted that it was a bit much to have a contingent of reporters interviewing him after games in which he barely played. 
Sure, he was humbled by and appreciative of the Asian community looking up to him, but he didn't want it to seem as if that's all he had to offer. He wanted to move on from that chapter. 
I learned from his determination. I learned to block out the noise. I learned to always question if you can do better and to push harder toward your potential. Now, I'm taking that to heart in my pursuit of an MBA at Indiana University. I want to make an unusual leap myself, from sports journalist to brand manager.  
It's been more than a year since I've contacted Jeremy. But I and other Asian-Americans are living vicariously through his success as a Knick.
Some might say, why didn't Yao Ming evoke this type of emotion in you?  
The difference is that Jeremy is one of us. He was born in the U.S. He was that kid who got straight A's in school. He was the one that worked at his high school student newspaper. He has a bit of an Americanized accent when he speaks Mandarin. He had a pipe dream of making it to the NBA. He's humble and sometimes misperceived as a shy, Asian kid who shows flashes of brilliance and then finally explodes on the scene when he's given a chance. He's the guy friend who, if he needs a place to crash, will be thankful for a couch.  
Most of all, he's accomplished what all of us want to be able to do on the big stage—succeed. 
I'm planning on catching a Pacers game when the Knicks come to town in April. I'm looking forward to catching up with Jeremy and telling him about my latest chapter in life.
But until then, like everyone else in the Asian-American community, I'll keep believing.