Tennessee's Tauren Poole: Thankful for Past, Working for Future
January 31, 2012

Kevin C. Cox/Getty Images
Nothing about Tauren Poole's college football career was ever easy.
The running back from Stephens County High in Toccoa, Georgia did not come to Tennessee with 5-star accolades, a top positional ranking or a Parade All-American plaque.
Poole started out as a fourth-string running back behind senior Arian Foster, junior Montario Hardesty and sophomore Lennon Creer in the 2008 season.
The Vols offense struggled mightily during Poole's first season in Knoxville. Tennessee finished 5-7 that year and longtime head coach Phillip Fulmer was fired. 
With the staff who recruited him long gone, Poole was forced to watch as two highly-touted true freshmen and Hardesty carried the football ahead of him in '09. Poole ended up with just 86 yards rushing in each of his first two seasons in Knoxville. 
Another coaching change followed Poole's sophomore season. 
Two seasons into his Tennessee career, Poole had just 172 yards on 23 carries despite the fact that he looked as explosive as any of the Vols other options in his limited time carrying the football. 
To hear Poole tell it, however, he wouldn't have had it any other way. 
"Working from the bottom up at UT made me appreciate the game more," Poole said in a recent interview. 
Playing for the Vols during one of the most tumultuous eras in Tennessee football history is part of what made Poole who he is today—a regarded NFL prospect with high character on and off the field.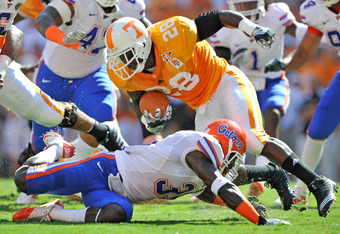 Grant Halverson/Getty Images
"I learned a lot about unexpected adversity and the things you can't control in life. It made me a better person," Poole continued. 
Poole's character has been a well-documented aspect of his career. Given the NFL's recent upward trend in promoting character guys, Poole should fit in well when the time comes. 
A recent recipient of the Pat Tillman Award given to the player "who best exemplifies character, intelligence, sportsmanship and service," Poole is well aware of the fact that the NFL places a premium on that sort of thing. 
"I think it (character) plays a huge role," Poole stated. He continued, "The NFL is looking for high-character guys who add value to their program."
Poole's perseverance on the football field is another key to a bright future in the NFL. The Georgia native did not give up after his first two disappointing seasons with two coaching staffs. 
After being used sparingly as the fourth-string running back in '08 and '09, Poole became the starter for the first time under his third coaching staff at Tennessee.
Not only did Poole start, he excelled. Rushing for 1,034 yards in 2010, Poole finished sixth in the SEC in total rushing yards. His 5.1 yards per carry were third-most of any rusher with at least 200 attempts in the SEC. The two guys who finished ahead of him in that category were Cam Newton and Arkansas' Knile Davis. 
In his senior year, Poole finished 10th in the conference in rushing, but he had nearly 20 less carries and ran behind a line that regressed in nearly every aspect. 
Following his senior season, Poole stood out as the top running back at the East-West Shrine Game in January. Experts and scouts in attendance raved about his ability during the practices leading up to the game.
Since the Shrine Game Poole has continued working on his game.
"I'm working on speed, pass protection and reading defenses," Poole said. 
As far as his plans for the remainder of draft season, Poole says he'll continue working until April's draft.
"I'm just working out the kinks, eating healthy and running the correct way. The great running backs focus on the mental and the physical," Poole continued. 
Based on everything Poole has been through in his college career it seems the 5'10", 215-pound running back has both the physical and mental ability to be an absolute steal no matter where he's picked in the later rounds. 
Poole is projected anywhere from the late third round to a fifth-round pick in April's NFL draft.
(All quotes were obtained first-hand unless otherwise noted)