Novak Djokovic: Why the Djoker Is Guaranteed to Repeat at 2012 Australian Open
January 15, 2012

Mark Dadswell/Getty Images
Novak Djokovic, otherwise known as the world's No. 1-ranked men's singles tennis player, has burst onto the scene in the tennis world over the last several seasons.
After former No. 1 Rafael Nadal had his time as the best player in the sport, slowly but surely the Djoker made his move to the top, as he looks ready to stay there for quite some time.
Last season was easily his best year as a professional, winning three of the four Grand Slams including the 2011 Australian Open.
Despite the respect that myself and others around the sport have for Nadal's game, and the belief that soon enough he will be back in the mix of things, the 2012 Australian Open is just as good as Novak's when it's all said and done.
Djokovic, for one, put together an impressive tournament run in last year's Australian Open. En route to his 2011 Aussie Open championship, Novak took down Viktor Troicki, Nicolas Almagro, Tomas Berdych, Roger Federer and Andy Murray.
Talk about some talent in that group.
Djokovic was able to take down three of the top-six tennis players in the world in his last three matches at the open, which undoubtedly gives Novak a significant edge in the 2012 Aussie Open.
Not to mention, Djokovic took the tournament in dominant fashion. For the entire tournament, Djokovic gave up just one set, which came at the hands of Ivan Dodig in the second-round. This is to say that in matches against Berdych, Federer and Murray, three of the world's best, Djokovic gave up not a single set.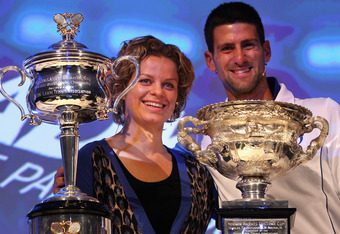 Mark Dadswell/Getty Images
Impressive to say the least.
The other key for a Djokovic title is his ability to dominate the game's best players. Last season against Federer, Nadal and Murray, the Djoker went an impressive 12-2. The two losses came to Federer at the French Open in a four-set thriller and Andy Murray at the ATP Masters Series in Ohio.
With Rafael Nadal still in a recovery process from his mentally and physically draining season in 2011, expect Djokovic to take full advantage of the edge in the 2012 tournament and repeat as Australian Open champion.
As his recent success at Australia and against the world's best suggest, Djokovic will continue to roll on and pick up momentum to start off the 2012 season.