NFL Week 17 Predictions and Storylines: Playoffs?! Playoffs!? Playoffs?
December 29, 2011
Ronald Martinez/Getty Images
Note: The quotes in this article are fictional.
Washington @ Philadelphia (-10)
The Eagles knew before last Saturday's game in Dallas that their playoffs hopes were dashed. Nevertheless, Philadelphia whipped the Cowboys 20-7, and with a win over the Redskins, will finish the year 8-8.
"Interestingly enough," Andy Reid said, "we were out of the postseason before we started on Sunday, as opposed to the beginning of the year, when we were in the postseason before we started.
"But 8-8 is nothing to be ashamed of. It's a reachable goal and, more importantly, our first attainable goal of the year. We didn't make the Super Bowl, but I've been there, which should be enough to keep my job."
The Redskins are 5-10 and, regardless of Sunday's outcome, will finish last in the NFC East.
"Rex Grossman predicted the Redskins would win the East," Mike Shanahan said. "Nearly everyone else predicted the Eagles would. With all these 'great expectations,' it's no wonder both teams had a 'Dickens' of a time fulfilling them."
Philadelphia wins 24-17.
Indianapolis @ Jacksonville (-5)
The Colts shocked the Texans 19-16 last Thursday in Indianapolis, giving Indy its second consecutive win. The Colts could make it three in a row with a win in Jacksonville—but doing so could jeopardize their chance to select Andrew Luck in April's NFL draft.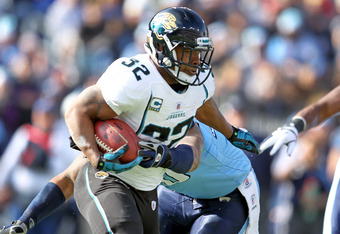 Andy Lyons/Getty Images
"We can win for losing," Jim Caldwell said, "and can lose for winning.
"A win would be an historic moment in Indy football lore. In years past, we've basically rested starters for the final weeks of the season. Who can remember the last time the Colts had three meaningful wins in December?"
Jacksonville's Maurice Jones-Drew leads the NFL in rushing with 1,437 yards and has been one of the few positives in a dreadful year for the Jaguars. Jones-Drew holds a 128-yard lead on Philadelphia's LeSean McCoy.
"Mo Jo' is one bad mofo," Mel Tucker said. "It even says so on his wallet. We plan to make sure Maurice wins the rushing title. And if we have to run up the score to do so, then it won't be the first time this year we've done that to get a Drew a record."
The Colts get their final win of the year at the opening coin toss. They wisely elect to "receive" Andrew Luck and play like a team possessed—of the No. 1 pick.
Jones-Drew rushes for 141 yards, finds holes aplenty in the Indy defense and easily wins the rushing title.
Jaguars win 27-17.
Baltimore @ Cincinnati (+3)
The Ravens built a 20-0 lead last week before surviving a Cleveland rally to win 20-14. With a win in Cincinnati or a Pittsburgh loss to Cleveland, the Ravens would lock up the AFC North title and a first-round bye.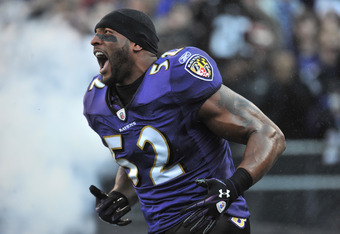 Larry French/Getty Images
"Right now," John Harbaugh said, "we don't scare anyone—except Ravens' fans. Our defense no longer commands the respect it once did. Heck, we don't intimidate, we intimate that we scare people."
The 9-6 Bengals currently hold the AFC's last playoff spot and can secure a postseason berth with a win over the Ravens.
"Jerome Simpson's incredible somersault into the end zone is all the rage," Marvin Lewis said. "Unfortunately, that got people out of their seats, which is a big problem here in the Jungle. Hopefully, fans will make this game a sellout, so it can be broadcast. Thus the game, like Simpson, will be 'air' borne.
"Amazingly, had Jerome flipped after scoring, he would have been flagged for excessive celebration."
If the No. 2 seed (and possibly the No. 1 seed, should New England stumble against Buffalo) isn't enough to motivate the Ravens, then they don't deserve the win—nor the catcalls of a sold-out Paul Brown Stadium crowd, much of which resembles empty seats.
The Baltimore defense shows up, makes a statement and Baltimore eats the clock with their running game.
Ravens win 23-17.
NY Jets @ Miami (-1)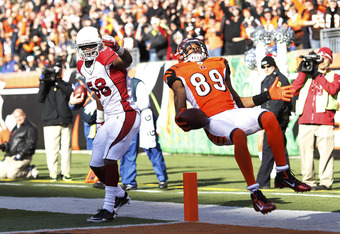 Joe Robbins/Getty Images
The Jets flopped in last week's "Battle of New York," falling to the Giants 29-14, a loss that seriously damaged the Jets' playoff hopes. Now, the Jets need a win and lots of help to take the AFC's No. 6 seed.
"Brandon Jacobs and I had a heated conversation after the game," Ryan said. "He called me 'fat.' I called him some things, but 'liar' wasn't one of them. But I deserve all the criticism coming to me. I've talked up the Jets from the start. The problem is no one's buying it—not even my team.
"As for the playoffs, we're quite uneasy. We're sweating bullets, and that's not good, especially for Plaxico Burress."
Miami blew a 17-0 lead in New England last week and lost 27-24 to the Patriots. The Dolphins are 5-10, having gone 5-3 since an 0-7 start.
"It's the year of the interim coach," Todd Bowles said. "Or should I say it's the month of the interim coach.
"From what I hear, there's a lot of interest in the Miami coaching job. That is, until general manager Jeff Ireland makes his spiel—then the interest wanes. Nobody wants to work for him. The Dolphin front office, much like the Dolphin team, knows how to blow a 'lead.'"
In a pregame motivational speech, Ryan red flags his own team and finally, after a season of rousing everyone but his team, challenges the Jets to perform to their capabilities. He then quickly corrects himself and challenges them to perform above their capabilities.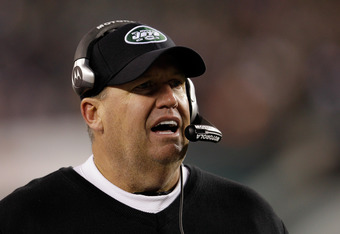 Rob Carr/Getty Images
New York wins 24-20.
Carolina @ New Orleans (-10)
The Saints blitzed the Falcons 45-16 on Monday night, sewing up the NFC South crown as Drew Brees broke Dan Marino's 27-year-old record. New Orleans holds the No. 3 seed but could take the No. 2 spot with a win and a 49ers loss in St. Louis.
"We meant no disrespect to the Falcons by running up the score to get the record," Brees said. "But they got it anyway."
Cam Newton made history in his own right, breaking Peyton Manning's rookie passing record in the Panthers' 48-14 win over the Buccaneers last week. With 107 yards through the air on Sunday, Newton would reach 4,000 yards passing.
"There's a 'No. 1' on my jersey," Newton said, "and an NFL passing record in my pocket. Just call me the 'Uno Bomber.'"
New Orleans plays the percentages, and the odds of the Rams beating the 49ers are as low as the chances of the Falcons converting a fourth and one from their own 29.
Brees throws for two scores in the first quarter, then the starters sit.
Panthers win 31-24.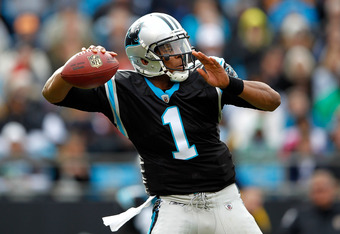 Streeter Lecka/Getty Images
Tampa Bay @ Atlanta (-11)
The Falcons lost big to the Saints in New Orleans on Monday night, 45-16, as Drew Brees passed for 307 yards and broke Dan Marino's single-season passing record of 5,084 yards. Atlanta currently holds the NFC's sixth seed, and if the seeds hold, would face the Saints in New Orleans again in a wild-card playoff game.
"Did the Saints run up the score on us to get Brees the record?" Mike Smith asked. "Of course they did, but we diplomatically said it didn't bother us. We lied. The Saints will find out that revenge is a dish best served cold—with a side of 'beef.'"
Tampa is 4-11 and has lost nine in a row, the NFL's longest active losing streak.
"I've been unable to right the ship," Raheem Morris said. "Soon, though, I'll be able to say I have left the ship. I'm not sure where I'll be next year, but I'm sure I'll have to walk the plank to get there."
Falcons win 38-17.
Detroit @ Green Bay (-5)
Aaron Rodger passed for five touchdowns in Green Bay's 35-18 win over the Bears last week, clinching home-field advantage throughout the playoff. Rodgers will also likely clinched the MVP award with his performance.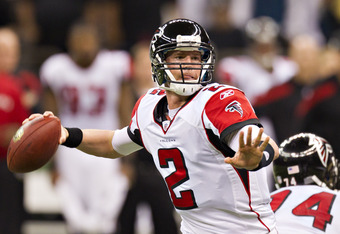 Wesley Hitt/Getty Images
"Three of those five touchdowns were two-yard passes," Rodgers said. "What does that say about our running game? Nothing. That's also the same thing we get from our running game. They say you have to run to set up the pass. That's quite apparent in Green Bay—because second and long is a passing down."
The Lions have clinched a wild-card spot and would secure the No. 5 seed with a win or a Falcons loss. Last week, Detroit whipped the Chargers 38-10 after a pregame scrum between Lions center Dominic Raiola and San Diego's Antwan Barnes.
"Barnes head-butted me," Raiola said. "I'm already a little 'touched in the head;' that just sent me over the top."
The last time the Lions and Packers met, it was Thanksgiving. Turkey was being served, and so was lion, in a 27-12 Green Bay win. In that game, the Lions didn't show up.
This time, the Packers don't, as they rest their starters.
Detroit wins 34-24.
San Francisco @ St. Louis (+10 1/2)
David Akers kicked four field goals last week in the 49ers' 19-17 win in Seattle. Akers, the NFL's scoring leader, set an NFL record with his 42nd field goal of the year, breaking Neal Racker's 2005 record of 41. At 12-3, San Fran could clinch the NFC's No. 2 seed with a win in St. Louis.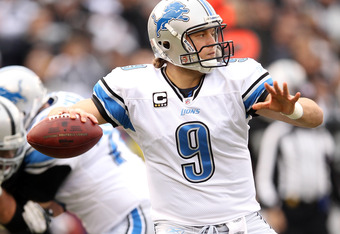 Ezra Shaw/Getty Images
"We could sure use that bye week," Jim Harbaugh said, "so Akers can rest his leg. He's one of only two players in the league monitored with a 'kick count.' The other is Ndamukong Suh. Akers kicks left-footed. Suh kicks right arms."
The 2-13 Rams are tied with the Colts for the worst record in the league. The Colts hold the No. 1 pick in next year's NFL draft, but an Indy win and Rams loss would give St. Louis the top pick.
"Either way," Steve Spagnuolo said, "we'll have the No. 1 or No. 2 pick. That's been the case in four of the last five years. I guess it's true what they say: 'St. Louis is known for its 'draft.'"
With a bye week hanging in the balance, the 49ers aim to make quick work of Rams, thus allowing their starters a lengthy, second-half rest. For San Fran, "quick work" is taking a 12-0 lead on four Akers' field goals. That's called getting off on the left foot.
49ers coast the rest of the way.
San Francisco wins 22-9.
Buffalo @ New England (-13)
With a win over the 6-9 Bills, the Patriots would clinch home-field advantage throughout the playoffs. Last week, New England spotted the Dolphins a 17-point lead before storming back for a 27-24 win.
"It's important we're home for the playoffs," Tom Brady said. "Our defense seems to play better at home. And judging by the NFL's team defense statistics, our defense has 'stayed home' all year.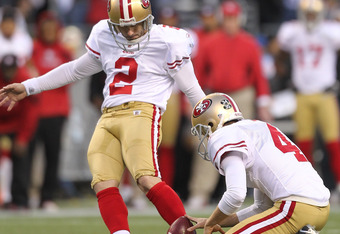 Otto Greule Jr/Getty Images
"I fully expect us to beat the Bills and secure home field throughout the playoffs. This year, the AFC championship, much like opposing offenses, goes through New England."
The Bills whipped the Broncos 40-14 last week, intercepting Tim Tebow four times. Tom Brady and the Patriots will be looking to avenge a Week 3 loss in Buffalo.
"We weren't intimidated at all by the Tim Tebow mystique," Chan Gailey said. "No, that's not Tebow's new cologne. Tebow's new cologne is 'Heaven Scent,' and it smells divine."
New England wins 34-27.
Chicago @ Minnesota (-1)
Chicago was eliminated from playoff contention in Sunday night's 35-18 loss in Green Bay. The 7-8 Bears have lost five in a row.
"We obviously can't win without Jay Cutler," Lovie Smith said. "We're not the same team without him. Jay left Kristin Cavallari at the altar, and he altered us when he left . If your depth chart consists of Caleb Hanie and Luke McCown, you're by no means 'two-deep.' In fact, you're 'too deep' to get out."
The Vikings lost Adrian Peterson to a devastating knee injury in a 30-23 win over the Redskins last week. Peterson tore his ACL and MCL, and quarterback Christian Ponder suffered a concussion.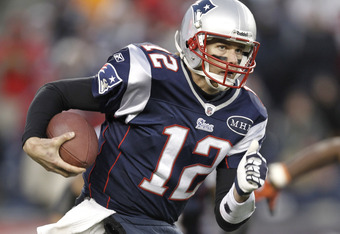 Winslow Townson/Getty Images
"The sky is falling," Leslie Frazier said. "No, that's not a commentary on our injury situation. The sky is falling, or rather the roof of Mall Of America FIeld is caving in. The white stuff is falling. That's a sure sign that winter is here, or we just found Sam Hurd's stash."
Minnesota wins 24-15.
Tennessee @ Houston (+1)
The Titans beat the Jaguars 23-17 last Sunday to keep their playoff chances alive. To get in, Tennessee must first beat the Texans, who have clinched the AFC South and the No. 3 seed. The Titans also need the Bengals to lose, and either a Jets win or both a Broncos win and Raiders win—but not all three.
"You could say our playoff hopes are 'faint,'" Mike Munchak. "In other words, if we make the playoffs, I'll faint. I think we have the most difficult road to the playoffs. Why? Because either the Jets have to win, or two AFC West teams have to win."
The Texans have nothing to gain by a win, and will likely rest the majority of their starters on Sunday.
"This is virgin territory for us," Gary Kubiak said. "Resting players during the season is a concept that's foreign to me. It's usually after.
"We secured the AFC South division title quite early. Hopefully, nerves won't be an issue once the playoffs start. I don't want our sphincters clenched nearly as tightly as our playoff spot was clinched."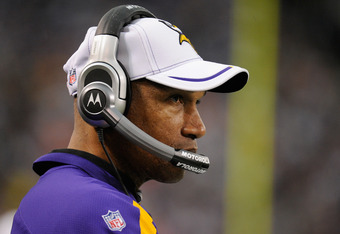 Hannah Foslien/Getty Images
Tennessee wins 28-17.
Pittsburgh @ Cleveland (+7 1/2)
The Steelers have clinched a playoff spot, but could still win the AFC North and a first-round bye with a win and a Baltimore loss in Cincinnati. In Week 14, Pittsburgh beat the Browns 14-3 in Cleveland behind a dominating defense.
"James Harrison is coming to town," said Mike Tomlin. "And, if the long list of Browns KO'd by No. 92 is any indication, Harrison will be going to town, as well. Harrison is a unique individual. He's the only player to openly mock Roger Goodell and the only player to trash talk a team's medical staff."
The Browns are 4-11, with three of their four wins coming at home. An upset of the Steelers would end any chance of Pittsburgh winning the AFC North.
"If I feel froggy," Colt McCoy said, "I'll jump. If I feel groggy, I'll sit. You've just born witness to the Cleveland Browns concussion test."
McCoy passes the Browns lenient concussion tests, and is cleared to play, but decides to sit out, citing "daddy" issues.
Pittsburgh wins 22-13.
Kansas City @ Denver (-3 1/2)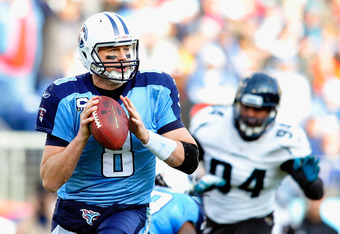 Grant Halverson/Getty Images
The Chiefs, who ended Green Bay's bid for a perfect season in Week 15, could knock the Broncos out of the playoffs with a win in Denver. Kyle Orton, who was waived by the Broncos in November, could knock his former team out of the postseason.
"Nothing would please me more than to 'wave' back," Orton said. "I could come back to haunt the Broncos, but that's only if you believe in ghosts. I'm not sure if Broncos fans believe in ghosts, but they do believe in holy ghosts."
The Broncos were demolished 40-14 in Buffalo last week, suffering their second consecutive loss. Tim Tebow threw four second-half interceptions in a mistake-filled game that left the door open in the AFC West.
With a win or a Raiders loss, the Broncos clinch the division.
"I don't think we devised a practical game plan for Tebow," John Fox said. "That's our fault, not his. We, as coaches, have to do a better job. If there's one thing Tim believes in, it's 'intelligent design.' I expect improvement on our part as well as Tim's. But, for Christ's sake, don't tell him he's 'evolved' as a quarterback."
Chiefs win 24-22.
San Diego @ Oakland (-3)
Oakland could win the AFC West with a victory over the Chargers and a Denver loss to the Chiefs. The Raiders could also clinch the final wild-card spot with a win and either/both a Titans loss and/or a Jets win.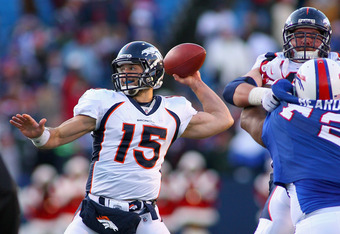 Rick Stewart/Getty Images
"The AFC playoff implications are confusing," Hue Jackson said. "Ask Sebastian Janikowski and he'll tell you they're difficult to wrap his head around. But, by golly, he's going to give it a try."
The Chargers were eliminated from playoff contention with last week's 38-10 loss in Detroit. At 7-8, and after yet another season that failed to meet expectations, many consider Norv Turner's time in San Diego limited.
"That's not true," Philip Rivers said. "We're all 100 percent behind Norv—and pushing."
Raiders win 27-21.
Seattle @ Arizona (-3)
While the playoffs are out of the question, Sunday's contest in Glendale gives the winner second place in the NFC West and an 8-8 record—and the always-wrong assessment as "next year's breakout team."
"Kevin Kolb was supposed to be the answer in Arizona," Ken Whisenhunt said. "Au contraire, he's been the 'question.' He's only played in nine games this year. It appears his status as 'doubtful' or 'questionable' is 'probable.'"
The Seahawks beat the Cardinals 13-10 in Week 3 and could complete the season sweep with a win in Glendale.
"We'd like to finish the season on a high note," Pete Carroll said. "Reggie Bush once started a season on a high note—with a suitcase full of 'C' notes."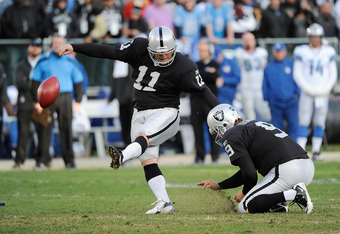 Thearon W. Henderson/Getty Images
Seattle wins 23-20.
Dallas @ NY Giants (-3)
It's winner-take-all at MetLife Stadium on Sunday, as the victor in the Cowboys-Giants clash wins the NFC East and secures the NFC's No. 4 seed. The G-Men beat the Cowboys 37-34 in Dallas in Week 14.
"Unless Dirk Nowitzki suits up for the Cowboys," Brandon Jacobs said, "I don't think the Cowboys have what it takes to win it all. In Dallas, it's the Mavs, and the 'Mav-nots.'
"This one's for all the marbles. We're in luck, because the Cowgirls don't have any marbles."
Dallas lost Tony Romo to a hand injury early in their 20-7 loss to the Eagles last week. Romo banged his throwing hand off the helmet of Philadelphia's Jason Babin and the hand quickly swelled. Romo is expected to play on Sunday night.
"I'm getting a lot of treatment," Romo said, "although Jerry Jones' constant 'hand-wringing' is making no improvement whatsoever. I'm not sure who has a greater influence over this team—Jones or Jason Garrett. I think those two need to switch positions for a day, so they both can see how useless the other is."
One team will win; the other will choke. And since Dallas is coached by "Garrett," which sounds an awful lot like "garrotte," I'm guessing the Cowboys will choke.
New York wins 30-22