Ben Roethlisberger Injury: Updates on Steelers QB's Week 17 Fantasy Status
December 26, 2011
Karl Walter/Getty Images
The Pittsburgh Steelers did just fine without Ben Roethlisberger under center in Week 16, as they thrashed the St. Louis Rams, 27-0.
But that doesn't mean the Steelers wouldn't like to have Big Ben back for their tilt at the Cleveland Browns in Week 17. He's dealing with a painful high-ankle sprain, but maybe a week of rest is just what he needs.
We're going to be keeping tabs on Big Ben's status all week. For all the latest updates and fantasy analysis, check back here periodically.
Update: Friday, Dec. 30 at 2:25 pm. EST by Brandon Galvin
The Pittsburgh Steelers need Ben Roethlisberger (ankle) to get in some playing time prior to the postseason. He is listed as probable for Sunday, according to Mercury News' Staff, but don't expect him to play most of the game as the Steelers also don't want to risk further injury.
Update: Thursday, Dec. 29 at 8:15 a.m. ET
After taking a week off to heal his ankle injury, it sounds like the Steelers are going to put Roethlisberger back in the lineup against the Browns this Sunday. 
According to Gerry Dulac of the Pittsburgh Post-Gazette, the team does expect him to be out there when they take the field in their regular season finale.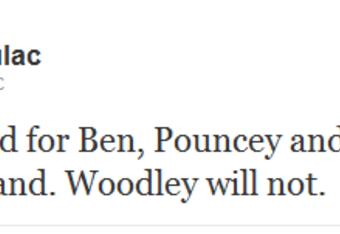 This doesn't come as a surprise considering that Roethlisberger always seems to get hurt but manages to play through injuries all the time. I think the bigger surprise was that he sat out of last week's game. 
Update: Wednesday, Dec. 28 at 5:30 p.m. ET -- David Daniels
With the divisional title and No. 1 seed in the AFC still in reach for the Pittsburgh Steelers, Ben Roethlisber is still trying to get game-ready for the Steelers matchup against the Cleveland Browns.  
According to ESPN's Jamison Hensley, Roethlisber took snaps in practice today for the first time since Pittsburgh's loss to the San Francisco 49ers.  He was not limited in the practice and Mike Tomlin told reporters that he has a "shot" to play in the last game of the regular season.
The Browns have lost five-straight games so like against the St. Louis Rams, Pittsburgh may not see the need to risk re-injuring their star quarterback without needing him to win the game.
Update: Tuesday, Dec. 27 at 11:50 a.m. ET -- Tim Daniels
Roethlisberger could return to the starting lineup on Sunday, according to Ed Bouchette of the Pittsburgh Post-Gazette. Big Ben continues to nurse an ankle injury, but is making progress toward getting back on the field.
Roethlisberger could start Sunday in Cleveland, depending on how his ankle has healed over the past week. A Bengals victory will do the Steelers no good if they do not beat the Browns. (…)

As for his decision on Roethlisberger, Tomlin said, naturally, he will wait to see how his quarterback feels when he returns to work. The Steelers had Sunday and Monday off, and today is their usual off day, although many players often report for treatment of injuries and to watch video.
More should be known about the quarterback's status once practice gets rolling this week. The Steelers are still hoping to secure a bye to get everyone an extra week of rest, so if he's deemed healthy enough to play the tough-minded QB will likely be out there.
Update: Monday, Dec. 26 at 5:40 p.m. ET
The good news for both Big Ben and the Steelers is that he was healthy enough to be used in emergency situations against the Rams on Saturday.
As for whether or not Big Ben will play against the Browns, Mike Tomlin said he and the team were going to play it by ear.
"Obviously, he's less than 100 percent, and it's our desire at this juncture to get him as close to 100 percent as we can for January football," Tomlin said in a statement, per ESPN.com.
"I felt like this week provided an opportunity to do that. We'll judge next week."
At the moment, all is quiet on the Roethlisberger front. We're not going to know how his ankle is coming along until he practices, and you have to think the Steelers are going to wait as long as they can before making a ruling one way or the other.
For what it's worth, Bob Smizik of the Pittsburgh Post-Gazette wrote on Monday that Big Ben should start if he's healthy. I think we can all agree.
If your fantasy season isn't over yet, I would be cautious about trusting Big Ben to win you a championship. He's at his best with his mobile, and it's obvious that his ankle injury has affected his mobility. Even if it has healed somewhat, he will likely still be limited.
So if you have another option, I'd stick with him.