Denver Broncos Playoff Scenarios: With AFC West in Hand, How Does Denver Proceed
December 24, 2011
Marc Piscotty/Getty Images
If the Denver Broncos win today's matchup with the Buffalo Bills, and get a little help from an Oakland loss to the Kansas City Chiefs, both the AFC West Division title and the playoff spot that goes with it will be a lock for Denver.
But if the Broncos clinch the AFC West, how should they proceed? Do they rest players to get healthy and fresh for the postseason? Or do they go full speed for the win in Week 17 against their former QB Kyle Orton and the visiting division rival Kansas City Chiefs?
Given head coach John Fox's reputation and style as an old-school smash-mouth football kind of guy, I foresee the Broncos fighting for a win in the final week of the season. Even if a Week 17 win would be meaningless in the standings, it would mean a lot personally to this coach and this current Broncos team.
"In this league it really depends upon how you finish," Broncos wide receiver Eric Decker said in an interview with Denver radio station 104.3 The Fan. The Broncos current locker room mentality is to approach every game from here on out like a playoff game, whether or not they have clinched the AFC West title.
Keep in mind also that no matter what's at stake in Week 17's game against Kansas City, the game will certainly have a playoff atmosphere to it. The game will not only showcase one of the division's most bitter rivalries between the Chiefs and Broncos, but will also mark former Broncos starting QB Kyle Orton's return to Denver, this time as skipper of the Chiefs offense.
The fans will be fired up for the game billed as Orton vs. Tebow, but Orton himself will be playing hard with a chip on his shoulder an something to prove, not unlike his performance in last week's win over Green Bay.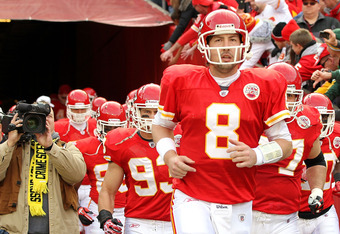 Jamie Squire/Getty Images
But even if the Broncos want to go out and compete every week, the team may still have playoff strategy lingering in their heads. The team is fiery, but not dumb, so expect to see the team's most banged up players spend at least some time on the bench.
Despite coach Fox's emphasis on maintaining momentum and remaining competitive, he is also known as a "players' coach," meaning he will probably give some veterans limited game reps in order to recharge back to 100 percent for the playoffs.
If Brian Dawkins needs an additional week to get healthy, expect him to rest for at least some part of the season finale. Because if last week's blowout loss taught us anything, it's that a healthy and productive Dawkins is a key component to the Broncos' success this season.
When healthy, Dawkins provides a veteran presence in reading plays, making tackles and defending the pass.
With today's game against Buffalo having important implications on the Broncos' playoff hopes, Willis McGahee must play. But if the team locks up the division title before next week's game, and McGahee still has a sore hamstring, it would be fair to say that he too would be given time to rest up before a first-round playoff outing.
It wouldn't be surprising to see more of Broncos running backs Lance Ball and Jeremiah Johnson in Week 17, just like the latter half of last week's outing against the Patriots.
Two players that should be expected on the field in the Broncos season finale are cornerstones Tim Tebow and Von Miller. Tebow is not banged up, and at this point every game in which he plays presents an opportunity to improve in passing, reading defenses and running this team's offense.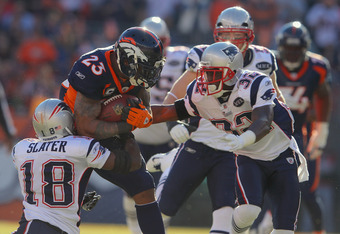 Doug Pensinger/Getty Images
Likewise, Miller will more than likely take the field in Denver's final game. Miller has shown that he can be more than effective in the pass rush with an injured thumb, and on top of that is gunning for the NFL rookie record for sack totals.
Much like Tebow, he has shown that he is a dynamic player, but still has much to learn when it comes to certain fundamentals in his game.
In summary, the Broncos' mentality with an AFC West title secured will be far from that of the 2009 14-0 Indianapolis Colts, mostly because they are a team that needs to continue fine-tuning themselves before the playoffs. But they are also a team that knows that they will need their key components to be healthy and fresh if they have any hope of making a playoff push.
So even though it's expected of them to be conservative when it comes to their currently injured players, the Denver Broncos are a team that are going to take a win-first approach in Week 17, no matter what the implications of that game will be.