NFL Week 16 Predictions: 3 Teams That Should Be on Upset Alert
December 23, 2011
Stephen Brashear/Getty Images
As hard as it is to believe, it's Week 16 in the National Football League. Before we know it, it'll be Super Bowl Sunday.
Indianapolis scored the second win of the season last night over the Houston Texans, making the Andrew Luck situation even murkier than it was before. With that, let's take a look at three teams that should be on the lookout for an upset.
Miami Dolphins (5 - 9) Over New England Patriots (11 - 3)
The Miami Dolphins have been on a tear since dismantling the K.C. Chiefs in Week 9. They've won five of their last seven games and barely lost a tough game against Dallas, 20-19.
After seemingly being another regular season doormat, the Dolphins somehow found the swagger to become a tough team to play against. Reggie Bush has become a legitimate workhorse capable of carrying the team—which many critics claimed wasn't possible. Of course, Matt Moore's contributions as of late can't be discounted either.
It's not so much what Miami has done offensively that makes this game dangerous for the Patriots, it's how poorly New England's defense has played. Granted, when the offense puts up 30-plus points, it masks some of the defensive mistakes. When their offense struggles to find the end zone, the defense is going to be a glaring issue.
New England will, most likely, focus on keeping Bush from making the big plays. In the process, they could over-commit and allow Matt Moore to take advantage of their weak defensive backfield.
In recent weeks, the Patriots have had issues making solid tackles, especially when they have a halfback trapped in the backfield. Some of that is just exceptional rushing, but it's clear that New England does have issues wrapping up ball carriers.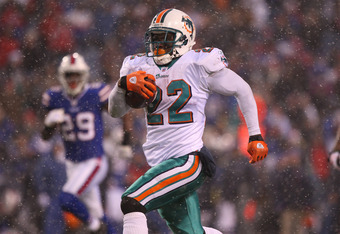 Tom Szczerbowski/Getty Images
Whether it's Reggie Bush or Matt Moore, Brandon Marshall and the rest of the receiving corps, the Dolphins have a good shot at putting up a lot of points.
St. Louis Rams (2 - 12) Over Pittsburgh Steelers (10 - 4)
I know, you must be thinking, "Are you high?"
However, big Ben Roethlisberger is sitting out this game, in favor of backup Charlie Batch, to preserve his ankle for the playoffs. That may have larger implications if they aren't careful. Obviously, this is a long-shot upset if there ever were one, but I never skip a book simply because I don't agree with the cover.
The St. Louis defense is nowhere near the level of the San Francisco 49ers, clearly, but they could find a way to knock Charlie Batch off of his rhythm early. They had a decent game against the Bengals, keeping the offense in the game without let it getting out of hand and narrowly lost late, 20-13.
Of course, the Bengals offense isn't the Steelers offense, but the Bengals defense has been outstanding this season, for the most part. That matches surprisingly well with Pittsburgh's, where a solid D-line, exceptional linebackers and a defensive backfield can cover both the run and pass.
Steven Jackson can get lost in the shuffle of other offensive woes, but he's still a hard-nosed running back who can catch fire if not properly handled. That, and as Alex Smith showed on Monday night, the Steelers can be susceptible to the pass this year too. If Kellen Clemens can avoid any costly mistakes, the Rams can take advantage of that.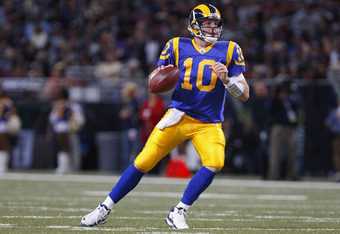 Whitney Curtis/Getty Images
Remember, nobody was giving the Chiefs much of a chance against the then-undefeated Packers on Sunday and look what happened.
Seattle Seahawks (7 - 7) Over San Francisco 49ers (11 - 3)
Jim Harbaugh entered the NFL this season to much fanfare. Following his brother John's footsteps, he has brought back a level of excitement to San Francisco football that has not been seen since the 1980s.
Alex Smith has thrived with Jim at the helm and has played the best football of his career. Frank Gore is a bulldozer in the backfield. Michael Crabtree and Vernon Davis are solid receiving options to compliment the power running game employed by the Niners.
Now they enter Seattle to face the suddenly hot Seahawks who, behind the Beast (commonly known as Marshawn Lynch), have gone from a doormat to wild-card hopeful. They won five of their last six games, starting with their win over Baltimore in Week 10 and have scored 30-plus points in their last three.
San Fran and Seattle haven't seen each other since Week 1 (a 33-17 drubbing by the Niners), but the Seahawks have seemingly righted the ship since then. Out of any team this week, they probably have the best chance to upset a playoff-bound contender.
Lynch is going to be tested this week against a defense who allows less than 75 yards on average to the run and has yet to give up a TD to an opposing halfback this season—the longest streak of any team in the Super Bowl era.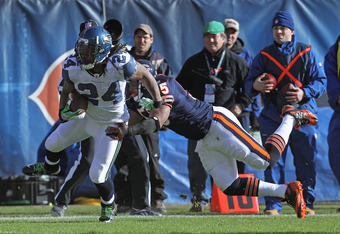 Jonathan Daniel/Getty Images
Some may not consider this exactly an upset—considering how well the Seahawks have played lately—but, given the fact that San Fran won handily in Pittsburgh Monday night and how spectacular the defense has played this season, this game is an upset waiting to happen.
The touchdown-less streak may be coming to an end. The Beast is waiting patiently for his turn to strike and one big play may put the 49ers back on their heels for the rest of the game.