Floyd Mayweather's Jail Sentence Is Good for Him and Boxing
December 23, 2011
Ethan Miller/Getty Images
There is no doubt that Floyd Mayweather Jr. is a great boxing talent.  When his career is over people might make the argument that he is one of the best boxers of all time. 
While Floyd Mayweather Jr. is an outstanding boxer, he is a despicable person.
There have been plenty of talented athletes who have been horrible human beings, and their respective sports have gone unharmed by their character flaws.  However, I make the argument that Floyd Mayweather's faults as a person have directly damaged the sport of boxing.
Other than Manny Pacquiao, Floyd Mayweather Jr. is the biggest icon in boxing.  He's not just another fighter—he is quickly becoming the face of boxing.  With that being said, Mayweather's numerous transgressions inside the ring and out, are damaging boxing's popularity and the respect afforded to it by its fanbase.
Two of Mayweather's biggest flaws as a person are his sense of hubris and his overinflated ego.  He doesn't respect anything or anyone, especially the sport of boxing. 
Mayweather's biggest concern in life is money—that's it.  He may care about being considered the best boxer of all time, but only for vanity's sake.  He wants to be considered the best boxer in history, while making the most amount of money and putting in the least amount of work.
Mayweather hasn't faced a single opponent that could legitimately pose a threat to him in the ring.  His opponents have been handpicked to yield the most amount of money with the least amount of risk to his record.  Look at all the fighters he has faced during his career, and you will see the biggest names were fought at a time when they were past their prime.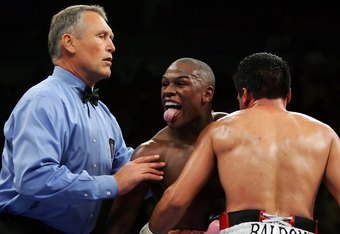 Ethan Miller/Getty Images
Mayweather cares too much about his record and not enough about the sport of boxing.  Boxing's greatests are not decided by their records, but by the challenges they have overcome in the ring.  Mayweather hasn't overcome a single obstacle in the ring because there haven't been any.  He's picked safe opposition just for that purpose—easy fights for big money. 
Floyd Mayweather Jr. has proved numerous times he is a shallow person who cares about nothing other than his own financial gain.  Over the last few years, we've seen him burning $100 bills and throwing wads of cash around to show the public he has magnificent wealth.  We get it Floyd, you're rich.
We've also seen him create lies about Manny Pacquiao using steroids to veil the fact that he was scared to face Pacquiao.
Now we've seen Mayweather plead guilty to physically abusing the mother of his children right in front of his kids' eyes.  This is the man who represents the sport of boxing—he is hurting boxing's image.
Mayweather is out of control, and jail time is exactly what he needs right now.  Maybe while he is behind bars he will realize boxing and its fans don't owe him anything.  Maybe he will realize how privileged he is to participate in the sport of boxing and to have the talents he is blessed with.
More than anything, I hope he recognizes there is more to life than just money.  This is the wake-up call Mayweather desperately needs.  Hopefully he will learn to respect something other than money.
Boxing has prospered long before Mayweather, and it will continue to do so well after he's gone.  The sooner he understands this the better—for him and for boxing.