Houston Astros: Does It Make Sense To Trade Wandy Rodriguez or Brett Myers?
December 21, 2011
Bob Levey/Getty Images
New Astros general manager Jeff Luhnow participated in his first online chat with Astros fans. For those that don't want to read the entire transcript, one fan asked whether he would be trading Wandy Rodriguez and/or Brett Myers. Luhnow gave the standard answer that most general managers give: he'll consider it if it will help the ballclub, but those two players are great players and they should help the team. I just love GM speak.
We could delve into rumors, speculation and whatever else, but that precludes the most important question this time of year: does it make sense to deal those two pitchers? Our good friend total player ratings (TPR) has the Astros in dead last. Of course, that isn't much of a revelation considering they've signed no one and made only one significant move this offseason.
Luhnow made frequent references to the need for the Astros to win in order to win back fans. They aren't winning this year. They aren't winning next year either. If we start talking about 2014 we are getting into some territory where an optimistic fan can see some chances for success. It will depend on how certain prospects develop, but you get the idea. Competitive baseball is a couple of years down the road.
On the positive end of making a deal is the obvious payroll implications. Without Rodriguez and Myers, their 2012 payroll would be under $50 million and their 2013 payroll would be under $40 million. Fans will be divided on that front. On the one hand, every fan knows full well what is happening right now with this club. Blame Drayton McLane, Ed Wade, Tim Purpura or Bud Selig, but this organization was run into the ground. 
In golf I have an expression. I don't care what you do in front of me as long as you do it fast. You can suck as long as you suck fast. In baseball you can suck, but there is nothing worse than sucking while you are shelling out a ton of money.

Dumping those contracts would allow the club to invest that money in player development and scouting. They could garner a more forceful international presence. They could give their draft choices top dollars (within new CBA rules) for bonuses. They could hire the best and brightest coaches, scouts and instructors.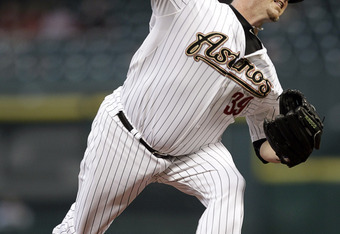 Bob Levey/Getty Images
The money will be there when this becomes competitive again. The Marlins of this year will be the best example. They made three solid signings so far and those those signings are enough to garner them third place in the AL East. If they add a fourth significant player, they may leapfrog the Braves. They may. It will cost them a pretty penny to do it. Thus, you can see the folly of simply spending your way to the top.
However, while Astros fans understand where the team is in their head, their heart hurts to watch pathetic baseball. If Wandy and Myers are traded, the product will likely go from merely awful to something below that. They could struggle to win 50 games depending on the packages that come in return. If they get zero Major League-ready prospects in return, the end game could be that scary.
It could be said that the effects of one ore two championship seasons have a residual effect in attendance. Well, what do two 100-plus loss seasons do to that same morale? A new ownership group that suddenly slashes the budget could get off on the wrong foot with the fan base. To be sure, this isn't an easy decision.
Luhnow's answer (while really a non-answer) is likely the best one. They will only consider trading them if they get a good package in return. Simply shedding salary is probably not in their long-term best interests. If Luhnow can somehow get a combined haul similar to the one Wade got for Hunter Pence, then the deal should be struck. 
All four of those prospects could be prime time players on future teams. The farm system has a desperate need for more of those players. Getting three to five excellent prospects in return would be invaluable. Getting virtually nothing but salary relief could be disastrous. The Astros will tread lightly from here on out.