NHL, Bettman Need to Take Action on Concussion Issue
December 20, 2011
Mike Stobe/Getty Images
The number keeps getting higher. 
There are 27 NHL players that currently occupy the injured reserve list with concussions or concussion-like symptoms, including several of the league's most prominent athletes.
Sidney Crosby, Claude Giroux, Chris Pronger, Milan Michalek, Jeff Skinner—the list keeps on growing. 
Now that the public understands just how serious some of these injuries are, one would think the league—who should have the players' best interest in mind—would be ready to take control of the situation.
Unfortunately, that has not been the case. 
"I don't believe it's a crisis, I don't believe it's an epidemic," said deputy commissioner Bill Daly. "...As long as we understand the nature of these injuries and we're approaching it responsibly, which I would suggest we are, there's not a whole lot more we can do about it."
In addition, Commissioner Bettman is not convinced that injuries sustained during NHL games are affecting players' long-term health. 
"They're still looking at a very limited database," he said. "There's no control element because you have to look at everything that went on in a person's life before you can make a judgment as to what a brain may show when you open it up.
"I think it's unfortunate that people use tragedies to jump to conclusions that probably at this stage aren't supported."
While there may not be enough information at this point to fully detract Bettman's comments, the evidence is mounting. 
In a study conducted in 2009, chronic traumatic encephalopathy (CTE) found in former NHL enforcer Reggie Fleming was linked to repeated head trauma, undoubtedly caused by the physical beating he took over the length of his career. 
And while Fleming lived a long life—dying at the age of 73—he suffered from "cognitive decline, behavioral abnormalities and ultimately dementia." 
Derek Boogaard was diagnosed with advanced stages of CTE postmortem. He was only 28. 
With head injuries being the hot topic these days, more studies like McKee's will be conducted in the near future. When they reveal the inevitable, the NHL will have no choice but to make some serious changes.
And when that time comes, the league—particularly commissioner Bettman—will look foolish for not acting sooner.  
That isn't to say the NHL hasn't taken some measures to increase player safety; plexiglass boards certainly help, as does the new player safety education. 
But they haven't done enough. Not by a long shot.
Because while Bettman can talk all he wants about how the NHL's concussion protocol is passable, players continue to get hurt at an alarming rate. And while Brendan Shanahan has created headlines and stirred the pot, he's been nearly powerless when it comes to preventing concussions: Only one player on IR with a head injury was struck by an illegal hit.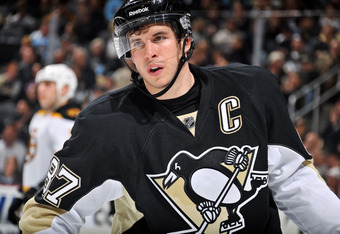 Jamie Sabau/Getty Images
Something more drastic needs to be done about this problem, and the fact that the NHL is failing to step up to the plate is not only cowardly, it's gut-wrenching.
Despite a lack of conclusive, irrefutable evidence that links head injuries to severe health problems, anyone with common sense can see the correlation. Instead of jumping ahead of the medical curve, Bettman is prepared to fall behind it. By doing that, the players will suffer. 
So what can the league to do make the game safer?
For starters, they can work towards implementing better equipment. Cascade helmets, which are endorsed by Mark Messier, are safer than the models NHL players wear. If Cascades became mandatory, the number of concussions would almost certainly drop. 
Another idea would be to eliminate—or at least reduce—fighting. While many fans enjoy this aspect of the game, its consequences may be more damaging than once previously thought.  
While this situation is discouraging to say the least, it's gaining recognition at the right time. With the collective bargaining agreement between the league and Players Association set to expire next September, the NHL has a golden opportunity to take drastic measures.
Whether or not they do so, however, has yet to be seen.