Projecting the 2012 National League West Starting Rotations
December 19, 2011
Stephen Dunn/Getty Images
There is a baseball saying that states, "Championships are won with pitching and defense."
If that's true, then you might just see the 2012 National League West championship club in the 2012 World Series. The division features some strong starting rotations based on current projections. The division features an intriguing mix of star veterans and promising young arms. Interestingly, the division has a history of strong pitching performances after hosting the NL Cy Young Award winner in five of the last six seasons.
Let's take a look and see how the NL West starting rotations currently project to break down for the 2012 season.
1. San Francisco Giants: Tim Lincecum, Matt Cain, Madison Bumgarner, Ryan Vogelsong, Barry Zito/Eric Surkamp
San Francisco continues to lead the pack in terms of starting pitching with veterans Lincecum and Cain at the top of the staff. Both are locks for 200 innings.
Bumgarner cemented his status as the most promising young arm in the division with a 200-inning season. According to FanGraphs.com's WAR rating (Wins Above Replacement), he actually provided more value (5.5 WAR) than Lincecum (4.4) and Cain (5.2). Vogelsong, 34, rose from obscurity to provide almost 180 innings with a sub-3.00 ERA, and the club will hope that he's not a one-year wonder.
The club traded Jonathan Sanchez to Kansas City for some offense (Melky Cabrera), so the fifth spot will likely fall to disappointing (and expensive) veteran Zito or rookie Surkamp.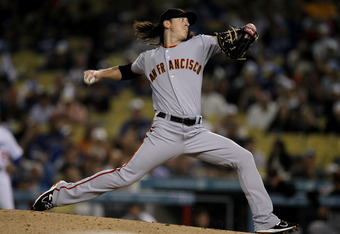 Stephen Dunn/Getty Images
2. Arizona Diamondbacks: Ian Kennedy, Daniel Hudson, Trevor Cahill, Hiroki Kuroda, Josh Collmenter
The Arizona rotation edges the Dodgers staff because of the potential upside that it possesses. Kennedy and Hudson established themselves as two of the top young pitchers in the National League in 2011, and there is no reason why their success will not continue. They each provided 222 innings in 2011.
The club recently brought in another young pitcher, Cahill, through a trade with Oakland, and he's a perfect fit for Arizona's home park as a pitcher that fills up the lower half of the strike zone and induces a ton of ground balls. Sophomore hurler Collmenter is a big, strong control pitcher with a limited ceiling, but he makes an excellent No. 5 starter.
Arizona is known to be hot and heavy after veteran pitcher Hiroki Kuroda, formerly of the Dodgers, although the Japanese native has yet to choose his 2012 address. He would be an excellent complement to the staff's young horses.
3. Los Angeles Dodgers: Clayton Kershaw, Chad Billingsley, Ted Lilly, Chris Capuano, Aaron Harang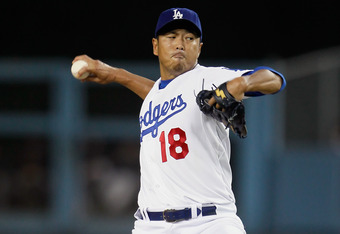 Jeff Gross/Getty Images
The Dodgers are set to field a veteran staff in 2012, led by Cy Young winner Clayton Kershaw. The first three pitchers in the rotation have a legitimate shot at throwing more than 200 innings. Newcomers Capuano and Harang will probably provide closer to 160 innings each, but the organization has some young pitchers waiting in the wings to fill in, such as Nate Eovaldi, who made six starts for the big league club in 2011.
Superstar-in-the-making Rubby De La Rosa is recovering from Tommy John surgery and could provide some late-season innings if his rehab goes well.
4. Colorado Rockies: Jorge De La Rosa, Jhoulys Chacin, Kevin Slowey, Tyler Chatwood, Alex White/Drew Pomeranz, Juan Nicasio/Christian Friedrich/Jason Hammel
The Rockies rotation has undergone a lot of change since April 2011, led by the somewhat surprising trade of staff ace Ubaldo Jimenez to the Cleveland Indians, which brought back pitching depth in the form of White and Pomeranz. It remains to be seen if either pitcher is ready for the show.
De La Rosa succumbed to Tommy John surgery in mid-2011, so he won't be back until at least June. Chacin has the best chance to provide 200 innings in 2012. The club recently brought in Chatwood after a trade with the Los Angeles Angels and also nabbed veteran Slowey, formerly of the Twins. In-house young pitchers Nicasio and Friedrich could be key players, while Hammel is likely act as a swing man.
5. San Diego Padres: Tim Stauffer, Clayton Richard, Dustin Moseley, Edinson Volquez, Cory Luebke
The Padres recently made headlines by trading promising young starter Mat Latos to the Cincinnati Reds for a collection of promising young players, as well as underperforming veteran pitcher Volquez, who will look for a new lease on life.
None of the pitchers projected to end up in the starting rotation on this club are exciting, but the spacious ballpark has the potential to turn just about any mid-level starter into a Cy Young candidate (OK, maybe not quite...but you get the idea).
After pitching 185 innings in 2011, former No. 1 draft pick Stauffer has the best chance to provide 200 innings in '12. Luebke has the highest ceiling of the quintet, and he should be a full-time starter after spending '11 bouncing back and forth between the rotation and the bullpen.