Ray Lewis: Should the Original Raven Consider Retirement?
December 19, 2011
Donald Miralle/Getty Images
I'm not saying Ray Lewis should retire. I'm also not saying he shouldn't.
The original Baltimore Raven played in his 220th game last night. His defense faced a struggling San Diego Chargers team whose quarterback was unusually erratic and whose head coach appeared to be heading toward the unemployment line.
The Ravens were lit up. They couldn't pressure Philip Rivers. They slowed down Ryan Mathews but couldn't stop him. Joe Flacco's two first-half interceptions didn't help anyone. Well, anyone but the Chargers, who won by three scores in a game that wasn't even that close. Lewis had nine tackles but was never a factor in the game, a rarity for a guy that plays (or played) so well under the spotlight.
Maybe it's too early to push Ray Lewis out the door, seeing as the Ravens actually did clinch a playoff spot yesterday with the Jets' loss. And it's not like the guy should care about what one lowly sportswriter in Atlanta thinks, anyway. Lewis is an original Raven, still very much the face of his franchise. And it's a good thing, because Joe Flacco's facial hair seems to be an ugly runaway train.
It's also true that this has been a weird season, especially for a sport that markets itself on its weirdness. It has nearly been a parody of parity, if you will.
The Kansas City Chiefs fired their coach less than a week ago. They could still make the playoffs. If KC wins out and San Diego and Denver both lose next week, they'll win the AFC West. The Philadelphia Eagles, currently 11th in the NFC, can win the NFC East with a similar scenario, one that seems far more likely when one considers how poorly the other teams in that division have been playing.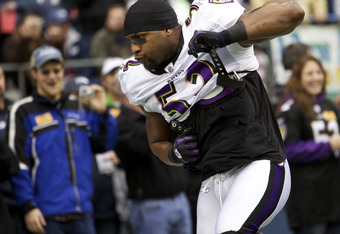 Stephen Brashear/Getty Images
Lewis and the Ravens were supposed to be positioned above this mess, and they just barely are. They were supposed to beat Pittsburgh, which they did, and then just float to the top of the AFC North. That hasn't happened. They dropped winnable games against Seattle and Jacksonville.
What the Ravens didn't do was lose without Ray Lewis, who sat out four games with...wait for it...turf toe. One of the baddest men in the game missed a quarter of a season with a toe injury. And his team beat San Francisco and won two divisional games without him.
What Lewis does provide, unequivocally, is presence. No other highlights of NFL players screaming in the huddle terrify me the way that Ray Lewis can. No other defensive player is as popular with his community or the media. While his early travails have been well-documented, his recovery from them has been impressive. But his on-field career seems far less recoverable.  
We've seen what can happen when teams get rid of their star defenders too soon. The Patriots had a notable purge before their 2009 season with the departures of Tedy Bruschi, Rodney Harrison, Mike Vrabel, Richard Seymour and cornerback Ellis Hobbs in the offseason. The Patriots still rode Tom Brady's arm to a 10-6 record, but were dropped in the first round of the playoffs (against the Ravens, no less) when their defense didn't show up. Almost two years later, they still haven't.
Lewis will finish his 16th NFL season in January. That's a jaw-dropping tenure for a middle linebacker in this era. Maybe that will be enough for him. Either way, once Ray does decide to hang it up for good, we can enjoy his enshrinement ceremony in Canton that much sooner.