B/R Interview: Kyle Petty Participating in a Contest to Fulfill Fans' Dreams
December 19, 2011
Mike Stobe/Getty Images
The Contest:
Former NASCAR driver and current co-host of NASCAR Raceday on the Speed channel Kyle Petty is again slated to be a member of the "Speed Dream Ride" contest.
This unique contest, which is accepting entries up until January 1st, 2012, will afford the winners the opportunity to spend five days and four nights in Monterey, CA.  Further, the winners will get to ride with famous drivers in various types of vehicles at the Laguna Seca Raceway.
Petty will represent stock cars, while Mario Andretti will drive an open-wheel car. Also included will be the famous monster truck "Grave Digger," a motorcycle, a supercar and a drift ride.
The opportunity is considered by Petty to be "phenomenal," though he described himself as "not a rider." He elaborated, "I don't know, maybe I'm just a control freak, but I just don't know how these people get in the car with the drivers."
One reason, among many, is probably related to the fact that most winners will never again have the chance to experience this thrill within their lifetime!
Looking Towards 2012:
Turning specifically to NASCAR, Petty stated, when asked about what he thought the biggest surprise of the offseason so far, "I think you have to rate Kurt Busch at the top." This was in reference to Busch's recent departure from the Penske Dodge team.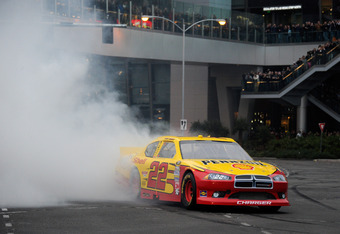 Ethan Miller/Getty Images
More generally, he has also been surprised by the amount of layoffs that nearly every team has had to make. Simply put, he "thought that the sport was a little bit healthier."
The surprise of Kurt Busch's situation may also make an impression on his brother Kyle Busch next year. Kyle Busch will be off of probation in 2012, but there may be a bit of hangover.
About that, Petty noted, "The thing with Kurt has caught all of these drivers off guard. It's not necessarily about just winning races. You can be a champion and win races, and you're still going to get fired if you don't handle yourself in the proper way."
Specifically as that related to Kyle Busch, Petty thought that he will probably "start the year with a tad different mindset and attitude."
Changes:
Thankfully, he sees no difference in what the average fan will experience when the 2012 season debuts the use of fuel-injection engines vice carburetors.
The only real difference is the cost for owners, per car, but "a fan who buys a ticket in the third row or someone watching at home will not see any difference."
One minor difference that Petty noted will be in relation to the restrictor plate racing and its tandem drafting by-product. NASCAR has recently reduced the size of the radiators and the location of the grilles.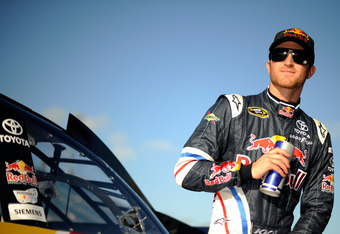 Jared C. Tilton/Getty Images
Though the two-car drafting will still be prevalent, the technical changes "will break up the racing a little bit, but if they get down to a five or six lap shootout, or a green-white-checkered finish, you will see the same kind of stuff."
When asked about any "dark horses" for 2012, Petty had nothing shocking to offer but did note that with Kasey Kahne at Hendrick Motorsports, "The sky is the limit." He extended that statement by opining that he "does not think Kahne is a dark horse for the Chase, but only for the championship."
Petty pointed out that, historically, drivers who go from owning their own to teams to being able to focus specifically on racing have performed well. Kevin Harvick, certainly not a "dark horse" based on his past two seasons, was the specific driver in question.
In his summation, when asked directly about Harvick, he thought that Harvick has a good chance to improve his performance from the past two seasons based on the fact that his team is able to make cars finish better than they normally should.
To enter for your chance to win a wonderful weekend for you and a guest to ride a full garage of sleek automobiles in beautiful Monterey, California, go to speedtv.com/dreamride.
It is quite quick and easy to enter, and you can enter every day until the new year to win a prize that is truly the chance of a lifetime.
David DeNenno is a Featured Columnist with Bleacher Report. All quotes were obtained first-hand by the author.