Nick Punto Signing Shows Boston Red Sox's Commitment To Improve
December 15, 2011
Christian Petersen/Getty Images
The Nick Punto signing isn't exactly the type of move that dominates headlines. It's not going to be the move that nets Ben Cherington the "GM of The Year" award. Sometimes teams make huge splashy offseason moves that have dramatic results and are instantly successful, sometimes they don't. 
Often in baseball little moves can offer clues to a team's direction. Yesterday's Nick Punto signing is one such move. The signing was announced hours after a trade involving utility man Jed Lowrie had been completed. 
Moving Lowrie and getting back Nick Punto in return sends a signal and that signal is that the team is placing added value on steady defense and experience and a little less on potential offense and youth with regards to the 2012 season. 
The Punto deal is only two-years and $3 million, so it's not as if the team is making some sort of long-term commitment or sinking a ton of money into him.
Jed Lowrie could become a pretty good offensive player. The final book on his career has yet to be written and he's still only 27 years old. On the other hand, Nick Punto most certainly won't be known as an offensive force in Boston but that's okay.
That being said, it's worth noting that the Red Sox have an organizational philosophy that places a premium on plate discipline and drawing walks. This is something that Punto does better than Lowrie. It's not the reason why Nick Punto has consistently found himself on major league rosters for the better part of his 11 year major league career but I'm certain it wasn't overlooked when the Red Sox chose to sign him. 
Nick Punto is known for a number of things, solid defense and being a generally good guy to have in the clubhouse. Lowrie was not known to be any sort of clubhouse cancer nor was he known as a leader. Lowrie did display plenty of problems on defense, though. His glove has consistently been inconsistent as has his health.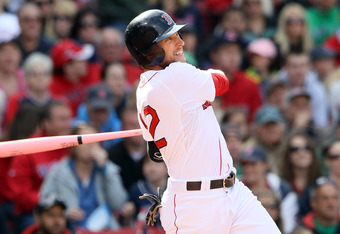 Elsa/Getty Images
Punto was also a part of two different Twins playoff teams in both 2006 and 2009 and he also got some decent playing time on the 2011 St. Louis Cardinals team that won the World Series. Punto has played for both Ron Gardenhire and Tony LaRussa, so he knows about being in various types of clubhouses. Like Lowrie, Punto is a switch-hitter which is always nice to have in a utility type of player. 
The Punto signing also may also be a clue that another trade is in the works as well. Lowrie is gone but the current 40 man roster still features a number of players who can play either third base or shortstop. The first and second base positions are set barring something totally shocking as they are occupied by Dustin Pedroia and Adrian Gonzalez.
So having Punto, Marco Scutaro, Kevin Youklis and  Mike Aviles would seem to be possible overkill. Especially when you factor in the presence of up coming shortstop Jose Iglesias as well as third base prospect Will Middlebrooks. 
Scutaro and Youklis could both be movable parts in a trade as could Iglesias or Middlebrooks, although Middlebrooks in particular seems to be very highly valued by Red Sox brass.
Either way the 2012 Red Sox will be a touch better defensively as well as a bit more patient at the plate—there's nothing wrong with that.