NFL Playoffs: Could the Green Bay Packers Cope Without Greg Jennings?
December 14, 2011
Jonathan Daniel/Getty Images
As impressive as it was, the Packers 46-16 victory on Sunday against a disappointing Oakland Raiders side was overshadowed just ever so slightly by the sight of Greg Jennings having to leave the game in the third quarter.
The wide receiver was forced off after spraining his left knee, and although early indications suggest that he will be fit in time for the start of the playoffs after missing the end of the regular season, it's still perhaps a little too close to the postseason for Packers fans to feel altogether comfortable with the situation.
Of course, the chances are that he will make a full recovery and that he will be fit and ready to go for the conference semi-finals in mid-January. But all the same, with Jennings being such an integral part of the Packers offense, you start wondering – would they be the same team in the playoffs without him? Would they be quite as formidable an opponent?
Now as anyone who's been following the NFL at all this season will know, Greg Jennings has been on top form. After 14 weeks, the sixth-year wide receiver has 67 receptions to his name for a total of 949 yards and nine touchdowns, which is tied for fourth-most in the league.
On average, that's over 70 yards receiving per week and it's here that you start to understand what it is that makes Jennings such an effective and dangerous player—his consistency. Having him on my fantasy team this year, it's been a relief to know that every weekend, regardless of whatever else your players have been doing and whatever undeserved faith you've placed in overrated players, Jennings will be coming up with the goods, catching for solid yards and scoring touchdowns more often than not. And that's just what the Packers get.
You take away Jennings and you take away that consistency, that reliable target that's always available for a pass and can always be relied upon to put up big numbers. You weaken the team. Right?
Well, not quite.
As good as Jennings has been this season, it's important to add here that ahead of him on the list for receiving touchdowns is another Green Bay Packer—his teammate, Jordy Nelson.
Nelson has caught 10 touchdown passes so far this season, one more than Jennings, and has racked up more yards receiving as well, 957 compared to Jennings' 949. To take it a little further, Nelson averages 18.8 yards per catch compared to Jennings' 14.2, has 344 yards after the catch compared to Jennings' 296 and has a longest reception of 93 yards, 14 more than Jennings' 79.
Now of course, you have to take into consideration that many defenses still regard Jennings as the No. 1 threat, meaning that occasionally Nelson has had more space. But numbers like those don't lie—Nelson is a top quality receiver.
Then when you look elsewhere in the Packers arsenal, you realize that he's far from being alone.
Jermichael Finley at tight end? Six receiving touchdowns and 600 total receiving yards, averaging 14.2 yards per catch.
James Jones? He's caught for 479 yards and five touchdowns, and averages an impressive 18.4 yards per reception, second only to Nelson. When called upon, Jones is a potent weapon.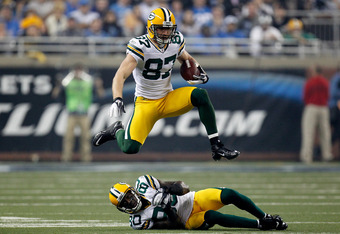 Gregory Shamus/Getty Images
The Packers are also able to call upon the likes of Randall Cobb and Donald Driver, who, despite having had a rather disappointing season, remains a dangerous player for opposing defenses to think about, especially when the postseason rolls around.
In short—you can take away Greg Jennings, but the Packers will still be an incredibly well-tuned offensive machine.
Although it might be a little hard to believe, we've gotten this far through an article about the Green Bay Packers without mentioning Aaron Rodgers' name once. Not once! Now obviously, having such quality wide receivers at his disposal makes Rodgers' job a whole lot easier, but this takes nothing whatsoever away from his ability to make big plays again, and again...and again. Basically, all of the time.
Sure it would be a blow if he were to be without Jennings come the playoffs, but when he's under center and he's able to look up and see the likes of Nelson, Finley and Jones all looking for the ball—not having Jennings is going to be the last thing on his mind. Rodgers will be focused on making the pass, and when those players are involved, you can bet that most of the time he's going to succeed.
Which brings us to one of the most important aspects of this whole discussion—the Packers game plan. Were any other team to lose a player of Jennings' calibre—were the Detroit Lions to lose Calvin Johnson for example—it would either be necessary or highly tempting to change the style of play entirely in order to compensate for the loss and to try to plug any holes left by such a key player's absence.
Not with the Packers.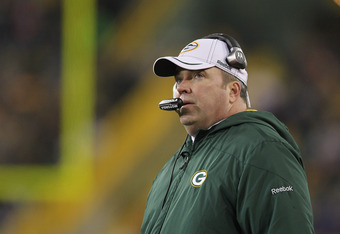 Jonathan Daniel/Getty Images
Yes the Packers would be without one of their star players and yes they would in many respects be slightly less explosive, but they would be anything but a weak side and would still be capable of scoring touchdowns seemingly at will the way they have been doing all season.
Also, given the deficiencies in the Green Bay running game, Mike McCarthy wouldn't even consider favoring a gameplan which focused more on keeping the ball on the ground. It just wouldn't make any sense.
To be honest, it's this perceived weakness in their ability to really make a difference running the ball on the ground that's providing the only real question mark for the Packers at the moment, especially given that in the postseason, the defenses they're going to come up against will prove an even sterner test than what they're used to. But as everyone knows, this is really neither here nor there, as we saw last postseason.
Beating the Packers has nothing to do with stopping them from running the ball and has everything to do with stopping Aaron Rodgers' passing game.
Without Greg Jennings this might just be a little bit easier, but take a look again at that list of targets the Packers have.
It's not going to make it easy.