Tebow-Mania: Why Tim Tebow Knocks off the Patriots Next Week
December 12, 2011
Doug Pensinger/Getty Images
We've all heard of Tebow-Mania. We're all still wondering how he manages to win week in and week out, whether the defense has a solid outing, or he needs to throw touchdown passes to put his team ahead in the fourth quarter. We're wondering how he has developed so fast as a quarterback, and what comes next in this fairytale like season for the Denver Broncos.
Next week, the Broncos will play in arguably their toughest home game all year against the New England Patriots. Brady and co., as we know, are capable of putting up points on anyone, and obliterating teams that think they might have an outside chance at winning. But regardless of the Patriots 10-3 record, or their near-insurmountable offense, they'll be taken down by the Broncos next week at Mile High Stadium.
This is obviously a bold statement. Any Patriot team lead by Tom Brady is a threat to win, regardless of the circumstances. He always makes sure to put his team in a position to win, and is amongst the most clutch signal-callers of all time. But as we know, the Patriots' defense has been very suspect this year, leading to a few crucial losses as well as some extremely close calls. In Week 3 on the road, the Pats D allowed the Bills now-stagnant offense to drop 34 points on them. Both the Steelers and Giants in consecutive weeks rang up 25 and 24 points respectively, with the loss to the Giants coming at home. And in recent weeks, the defense has been absolutely depleted, with players like Julian Edelman—a wide receiver—coming in to play cornerback. This has led to scares like the 31-24 victory against the winless, Manning-less Colts, and the nail-biting 34-27 win over the lowly Redskins. They've given up huge passing numbers to quarterbacks like Jason Campbell (344 yards) and Dan Orlovsky (353 yards), a trend that's likely to continue. We've seen Tebow adjust to NFL defenses quickly, and change his playing style accordingly; after the infamous two-for-eight-game, Tebow has thrown for 104, 143, 202, and 236 yards. If you can't already tell, he's developing fast, knocking out a few of the league's top defenses along the way (San Diego, NY Jets).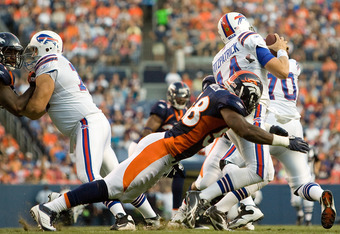 Justin Edmonds/Getty Images
Brady's worst games come against teams with an athletic front seven that can get their hands up and disrupt passes as well as they can lower a shoulder and get to the quarterback. In his four interception game against the Bills, he was hit four times and had nine passes defensed, courtesy of great safety play, as well as a ferocious defensive line. Although he was never sacked, they were in his face all day, forcing him to make errant throws. The same goes for Brady's games against the Giants and against the Cowboys, NFC East teams with athletic defensive linemen and linebackers like DeMarcus Ware (2 sacks, 2 QB hits against the Pats). This is excellent news for the Broncos, who have played good defense as of late and a boast ferocious front seven that include Rookie of the Year candidate Von Miller, as well as All-Pro Elvis Dumervil, and the ever consistent D.J. Williams. The Broncos will have no problem getting to the quarterback and allowing their secondary to make plays, a la Week 3 Bills.
So what can you expect from Sunday's afternoon tilt between two of the hottest teams in the league? Well, you can expect to see a lot of points on the board, and you can expect that I'll have my money on Tebow and the Broncos to pull out a miracle victory and upset the Patriots.
Let me know what you think in the comments—can he pull it off? Or do the Patriots slaughter him shamelessly?