Philadelphia Eagles Fans: A Plea to Show Your Colors, Support Change
December 12, 2011
Rob Carr/Getty Images
So, the Philadelphia Eagles won a game today. A small minority of people are probably on board and have some hope the season can be salvaged. A vast majority, though, likely still believe the season is over.
With the 26-10 win over the Dolphins, public vitriol toward the organization, the beleaguered coach and the mediocre group of players may have waned a bit. People aren't happy, but they're not as outraged as last Thursday's game in Seattle left them.
Despite winning the game rather comfortably, this team really didn't play much better than in previous games. The defensive line dominated an offensive line that was down two starters, but win or lose, defensive ends Trent Cole and Jason Babin have always brought pressure.
Offensively, they looked bogged down and out of sync. All 24 offensive points came in the second quarter when they had to go a total of 67 yards for the first 17. In the second half they were shut out on seven possessions, punting six times and turning it over once. They managed just 87 yards on 29 plays.
The linebackers had a couple quarterback sacks. A safety picked off a pass and returned it to the 1-yard line. They still aren't starting quality players in the NFL.
Don't let this win fool you. Don't let your guard down. Whether you believe they have a shot at the playoffs or not, do not let your guard down. Do not ease up. Now is not the time to do it.
Making the playoffs is fun. It gives you at least one more weekend to watch with friends and family, have some delicious food and enjoy an adult beverage or two. However, making the playoffs cannot be the goal in Philadelphia anymore.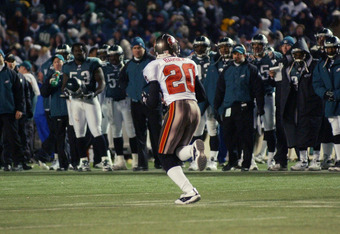 Doug Pensinger/Getty Images
They've made the playoffs the last three seasons and are no closer to a Super Bowl than they were four years ago. In fact, they are further from it. The best chance they had in team history was 2002, but they let that opportunity slip away. The front office failed to add properly to that team—the same people who are in charge now.
Enough should be enough.
In 2008, it took a tidal wave of good fortune to get them into the playoffs. They came within a game of Super Bowl XLIII, but came up short nonetheless. Philadelphians ultimately had to watch that other team in Pennsylvania win its sixth championship.
In 2009 their season ended with two crushing losses to the Cowboys. Last year it took a second "Miracle at the Meadowlands" to even make the playoffs. The Eagles haven't survived the postseason's first weekend in three years, about to be four. It isn't good enough.
You may be asking, how do I show my colors? How do I support change? People have discussed ways of protesting this team, this management, this ownership for years. It's always been the same ideas.
The most common thought is, "Don't go to the games!" That is just not going to happen. These games have been sold out since tickets went on sale. People spent their hard-earned money on those tickets. At the very least they will sell them.
You also hear, "Take public transportation so they don't make money on parking!" And last but not least, "Don't buy any concessions!"
Those are also implausible because if no one parked, how would anyone tailgate? That is one of the joys of attending an NFL game. The same applies to concessions. Who doesn't love an order of crab fries from Chickie's and Pete's with an extra cheese cup? And who doesn't like to wash them down with a tall, cold drink?
That leaves one option. Since the signing of Jim Thome in late 2002, the Phillies have slowly been building popularity. It increased with the emergence of Jimmy Rollins, Chase Utley and Ryan Howard. It swelled with the rise of Cole Hamels, peaking with a five-year run to the playoffs, including a 2008 World Series Championship.
The Eagles brass are increasingly "midnight-green" with envy over Philadelphia's love affair with its baseball team. So how do you show your colors? How do you support the idea of change for your beloved football team?
Wear red. At the next Eagles home game on Dec. 18, wear Phillies red. Wear your hat. Wear your plastic batting helmet. Wear your Cliff Lee jersey. Wear your Mike Schmidt or Tug McGraw throwback. Let the only specks of green in Lincoln Financial Field be from the few Jets fans that will be in attendance.
You paid good money for your Eagles jersey or your Eagles parka, and you will wear it again. But for now, show your colors. Let them know you are not in support of this current regime. Let them know you are tired of the way things are. You need to show your colors, and for now that color is red.
It's time for a change in the city of Philadelphia. They seem unwilling to do it because they think they have you no matter what they do. Let them know that they don't. It is a matter of civic pride.
Eagles fans, stand up and let your voices be heard in a way that 70,000 boos never could. All of the fans that bleed Eagles green, please, come out and wear your Phillies red. Wear red for your city. Wear red for your football team. Wear red for yourselves because you want a Super Bowl parade. Just wear red and let your voices finally be heard.