Ryan Braun Positive Banned Substance Test: Huge Step Backwards for Baseball
December 11, 2011
Pool/Getty Images
Mark McGwire, Rafael Palmeiro, Barry Bonds, Sammy Sosa, Roger Clemens, Manny Ramirez, Alex Rodriguez and Ryan Braun. Wait, am I talking about the same Ryan Braun you think I'm talking about? 
The Brewers? The 2007 National League Rookie of the Year? The 2011 National League Most Valuable Player? That very same Ryan Braun? 
Unless the unprecedented happens and a positive PED test is overturned in arbitration, Braun is going to join that long list of prominent names who have tested positive for PEDs.
How bad is this? 
It might not be "Miller Time" in Milwaukee for quite some time. 
This positive test would immediately bring baseball right back where it doesn't want to be. Right back into the "steroid era." A confirmed positive for Braun would be a devastating blow to a sport that was having all things considered a great year when compared to its two biggest competitors. 
The NFL had suffered through a rough lockout and is still continually dealing with the issues surrounding head injuries and how best to prevent them. 
The NBA went through an even worse lockout and then less than two weeks removed from the work stoppage commissioner David Stern vetoed a three-team trade for no apparent reason other than "basketball reasons."
This, in some ways, is worse. While work stoppages and injuries may call into question the integrity of the people involved in the sport, performance enhancing drugs call into question the integrity of the sport itself.
After all, if Braun's positive test holds up then should he have been the National League MVP? Should the Brewers have beaten the Diamondbacks in the NLDS? Maybe the Brewers should have extended the contract of Prince Fielder and let Braun walk via free agency?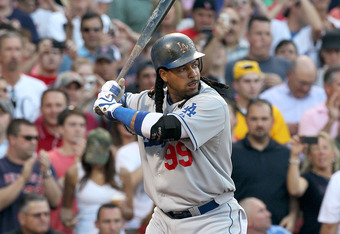 Jim Rogash/Getty Images
This type of positive test means that next season if a player hits four home runs, every opposing fan or cynic will just mutter "steroids" and seek to immediately discredit it. It means if a player works hard all offseason and shows up to Spring Training looking like he's in great shape, he'll be instantly under the microscope.
Your star player is injured or slumping? "He must be off the juice."
Your star player is having an MVP-type of season? "He must be juicing."
It's everything you don't want associated with your sport and worse, still it's exactly where baseball was just a few years back. Baseball didn't want to go back to that era, but this positive test may be the most effective form of time travel since Doc Brown conjured up the flux capacitor and plugged it into a DeLorean.
The overall decline in power numbers and production seems to suggest that the testing in baseball is having an impact. Braun's positive test would mean that baseball still has to get its act in order. The reality is probably somewhere in between.
One thing is for sure. Red Sox fans no longer need to be embarrassed about their players eating chicken and drinking beer, it could be worse—much worse.