Ryan Braun Tests Positive: Why Story Hurts MLB, Jewish Athlete
December 11, 2011
Jamie Squire/Getty Images
2011 National League MVP Ryan Braun, 28, has tested positive for a banned substance under the MLB's drug policy, and will face a 50-game suspension to start the MLB season.
News broke that Braun, who just came off of winning the NL MVP award, had elevated testosterone in his system and is looking at a tarnished reputation for the remainder of his career after ESPN broke the story.
For Braun—and the rest of Major League Baseball—this is terribly unfortunate news as any time the decided best player in baseball is accused of cheating, repercussions would peak at an all-time high.
After signing a contract extension this April (worth $105 million over five years), Braun went on to lead the Milwaukee Brewers to their first division title in almost 30 years on the heels of a season in which he hit 33 home runs, drove in 111 runs, scored 109 and hit .332 with a .597 slugging percentage. He went on to narrowly beat out Matt Kemp for the NL MVP Award, by a close vote of 388 to 322.
At the time, many felt like the trophy should have been awarded to Matt Kemp due to the fact that he played 161 games for a god-awful Dodgers team that only won 82 games, while he put up 39 home runs, stole 40 bases, hit .324 and led the league in runs and RBIs (115, 126).
Braun, on the other hand, had Prince Fielder (the third-place winner for the NL MVP Award) in his starting roster, which inevitably helped his season significantly.
For winning the award, Braun received a $100,000 bonus to his contract. Such a bonus is certainly not a bad cushion for an alleged user of a banned substance, but much of it will have to help fund the $1.63 million dollars that he will lose by missing the first fifty games of the season.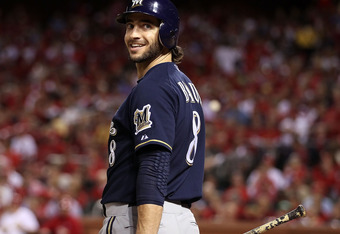 Christian Petersen/Getty Images
Following the news, Ryan Braun's agent has announced that Braun will submit a urine sample in hopes of appealing the suspension, attributing the fluke to "highly unusual circumstances." Braun, however, has once been quoted as saying that, "The best thing [A-Rod] can do is come out, admit to everything, and be completely honest."
There is a very interesting precedent set with Ryan Braun, however.
Unlike high-profile PED (performance enhancing drug) users (most notably: Barry Bonds, Roger Clemens, Alex Rodriguez, Jose Canseco and Manny Ramirez), Ryan Braun was previously regarded as one of the most beloved and well-liked players in the game.
Braun, a versatile athlete who has won the Rookie of the Year Award and has played third base as well as left field, had no previous allegations and stigmas attached to his name. This is the first time anything negative has been associated with Braun at all.
Unlike Bonds, who was a speculated juicer long before officials began officially testing, Braun was a standout celebrity endorsement for advertisements and online videos for companies like Nike, Wilson, Dick's Sporting Goods and Muscle Milk.
So why does this one hurt so much?
As Buster Olney points out in his column published this evening, "the past three months felt like a renaissance for baseball." With many of the proven juicers that formerly stacked headlines in sports papers and websites across the country out of the picture, fans were able to watch the 2011 World Series without worrying about the questioning of certain players.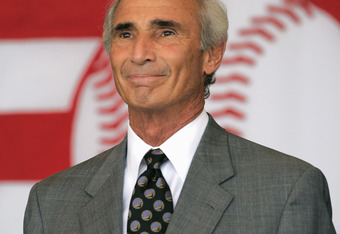 Ezra Shaw/Getty Images
For the first time in the last decade or so, the image of baseball was starting to look cleaner. At the forefront of this image was a young superstar named Ryan Braun.
As a young Jewish sportswriter, I remained especially sympathetic towards Braun's rapid success.
As a child, watching Shawn Green, playing Little League baseball and hearing my grandfather's stories of Sandy Koufax meant as much to me as being American as apple pie and Thanksgiving do to many others.
In this age, it has become increasingly difficult to find such a role model for young Jewish athletes as well. What made Sandy Koufax so special to Jewish baseball players across the country (especially in Los Angeles, where Ryan Braun is from) is that he provided an inspiration and hope that they, too, can become that if they work hard enough.
Braun, whose father Joe was born in Tel Aviv, had apparently embraced that role. "I am Jewish," he said. "And I'm extremely proud to be a role model for young Jewish kids."
In 2011, Braun became the first Jewish baseball player in half of a century to win the MVP Award and became the fourth Jewish baseball player to ever win the award (previous winners include: Hank Greenberg in 1935 and 1940, Al Rosen in 1953 and Sandy Koufax in 1963).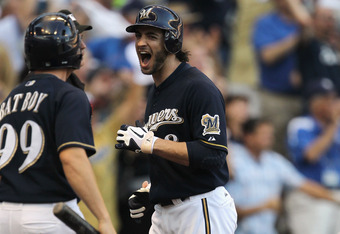 Jonathan Daniel/Getty Images
The catch about becoming a role model, however, is that one has to fill those shoes.
When Kemp found out that he lost the MVP Award to Braun this season, he took his dedication elsewhere. "I'm going to go 50-50 next year," he said. I'm telling you, y'all created a monster. I'm about to get back in the weight room super tough so I can be as strong as I was last year….I'm serious. If I don't [get there], it means I let y'all down and lied to you, and I don't like being a liar."
As a matter of principle, that kind of quote is a much bigger way to prove your worth as a role model.
In 2010, Peter Miller directed a documentary entitled "Jews and Baseball: An American Love Story". You can watch the trailer here.
The documentary, which featured Shawn Green, Sandy Koufax, Dustin Hoffman, Ron Howard, Larry King, and the family of Hank Greenberg, focuses on the "special meaning that baseball has had in the lives of American Jews."
It's difficult for me to not watch that trailer and get goose bumps all of the way down my spine. I know that the same "special meaning" that the film discusses plays deeply into my own life.
Even more so, I know how much it hurts to see a role model's reputation plummet in flames.
It's certainly my hope that Braun, who has come out today and called the allegations BS, is an innocent man.
For the sport of baseball, however, I know that they do not take these testings lightly. For public relations and the media, it would make virtually no sense to make a fictitious report on their MVP. In a twisted way, it's almost encouraging to learn that even Braun could get caught.
Meanwhile, I can only pray that the situation clears its way and that young children follow the example that Kemp set—with hard work as the primary pillar of success.
Click here to Follow @BryanKalbrosky.