Should Ryan Braun Lose His 2011 NL MVP After Positive Steroid Test?
December 11, 2011
Jamie Squire/Getty Images
Baseball's biggest hitters haven't had a dramatic enough week, what with Albert Pujols setting the market for Prince Fielder by setting sail for Anaheim, plus Manny Ramirez's reinstatement. So of course, breaking news on ESPN states that sources now claim that Ryan Braun has tested positive for not only elevated testosterone, but according to no less an authority than the World Doping Agency Lab in Montreal, "[the extra testosterone] came from outside his body."
Well, this comes at a great time.
Braun is largely viewed as a key player in the Brewers' run to the NLCS this year, and one of the game's brightest young stars. He hit .332 with 33 homers and 111 RBI, and was the only 30/30 player in the big leagues besides Matt Kemp. Before the 2011 season, he signed a five-year extension for $105 million, so the Brewers obviously see him as a key cog in their lineup for years to come.
Braun's camp has already told everyone asking that, no, thank you, Braun hasn't touched the stuff, and yes, they will be appealing. Which is probably right about the time everyone looked up all the appeals baseball's listened to on the topic, and immediately noted that nobody has ever won their appeal. Not Palmiero, not Manny, not Neifi Perez, not JC Romero...nobody. So his outlook for Opening Day looks grim right now, as he'll likely be busy serving the first game of a 50-game suspension.
If he misses the first 50 games, there isn't a doubt in the world that it'll put the Brewers in a bad position, especially if Fielder signs elsewhere as expected. Then, the key bat in the Brewers' order misses a third of the season. If the Brewers can even stay at .500—a possibility with that pitching staff—then they might have a shot at defending their division crown when Braun returns. But none of that's a sure thing.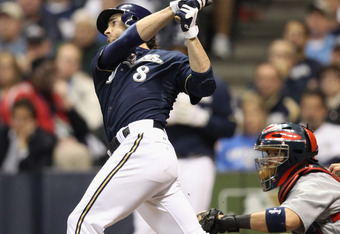 Christian Petersen/Getty Images
Every bit as important than these issues, however, is a question everyone in Los Angeles has already answered, but everyone else has to think about: If Braun did use performance enhancing drugs, should be be stripped of his MVP?
I can almost guarantee that if you ask any Dodgers fan the answer would be a loud, unequivocal yes. And that when you strip it, you give it to the guy second in the voting—Matt Kemp, who had his own phenomenal season at .324, 39 HR, 126 RBI and 40 SB. But that's just Dodgers fans.
First of all, this entire line of thought is based on one assumption: that MLB decides that, yes, Braun is guilty. He used, he gets suspended, discussion over. Fortunately for Braun, it's not that simple. There are appeals to be had; as soon as Braun was informed of the positive test, he demanded a second test, which has apparently returned not positive. The disparity between the two may be what MLB bases its decision on. So innocent until proven guilty, first and foremost.
Obviously, if not guilty, this whole thing blows over and that is a possibility. But if he's deemed guilty... suspension, no pay, possibly costs Milwaukee a shot at the playoffs, or at least the division crown, in 2012.
And then the MVP issue will come into play.
No one, anywhere, has ever had an MVP publicly revoked for steroid use. Usually, if a user is in contention for a major award, the results come out before the voters cast their ballots, and said policy violator is nowhere near first. So should MLB be the first to take such an action?
Yes, for two reasons.
Steroids' rampant use in the 1990s and early 2000s were decried by any fan who had a "clean" player passed over for MVP, once we all knew. I know I'd love to see Ken Caminiti's 1996 MVP hanging neatly on Mike Piazza's wall, and to see Bonds and Clemens lose three or four awards apiece. Fans bemoaned the system that promoted the use that led to the 102-mph heaters and the 50 to 70 bombs a year from leading juicers, even when it wasn't against the rules.
So what do you think is going to happen if Braun turns up guilty on this one? How much of a black eye would it be for all of baseball to let him keep it, as opposed to the individual (and perhaps organizational) black eye of taking it away?
To let Braun keep the MVP award after a confirmed "you juiced, now sit down" verdict would fly squarely in the face of the entire baseball community's charge to get needles out of our locker rooms and dugouts around the country. Bud Selig fought tooth and nail to install one of the toughest anti-steroid lines of any major sport in the US, and should lean very hard on the BBWAA to revoke the award.
By the way, you read that last sentence right: this one's not on Selig. It's not his call. Major League Baseball doesn't present the MVP Award; the writers of the BBWAA do.

As such, Selig has no legitimate power, but as the leader of the sport these people make their livings following, he's got a solid say. So he should call on BBWAA to show that they meant it when they called for all the 'roids to be banned—that people like Bonds and Clemens make the sport "dirty," and shouldn't be rewarded for "cheating" (even though it wasn't technically against the rules at the time).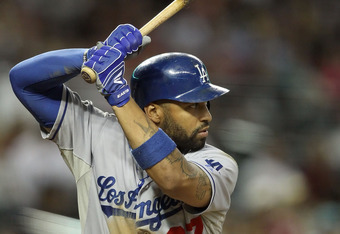 Christian Petersen/Getty Images
Now, the BBWAA has a chance to right the record, for at least one year. How many sportswriters have cried out that such-and-such a player should give back their MVPs, because we know they cheated?

Alex Rodriguez, Mark McGwire, Sammy Sosa, Eric Gagne...none of them have returned a single award. And why should they? It wasn't against the rules, and at this point, you can't prove they did conclusively without getting into a big game of he-said, she-said with Jose Canseco. Fact is, those awards probably shouldn't be stripped.
You need proof for something like that, and in these cases, MLB doesn't have it. A-Rod isn't about to give back his 2003 AL MVP just because he got caught in spring training '05, before it was illegal anyway. Same with Gagne's 2003 NL Cy Young.
But what if Braun loses the appeal? The writers would have a positive test from late in the 2011 season in their hands, right in front of them. Evidence that the just-chosen NL MVP was juicing, and the chance to do something about it. This is a chance for the writers to back up their convictions on steroid use, and actually serve some consequences of their own.
Furthermore, this would set a new standard: Use steroids, and you'll never get those all-important words etched on your Baseball Reference page again. Those words mean everything to a player, from a personal perspective, from a legacy perspective (especially if you're in the running for multiple MVPs), and of course, from a salary perspective. A ruling that Braun is now ineligible for the award he received would do a lot of damage to the juicing industry, and keep the playing field fair as a result.
To be completely honest, I don't think it's going to happen, because then you will get the swamping of writers' email inboxes with cries of "Well, what about Bonds/A-Rod/Sosa/McGwire/Giambi/Clemens/Gagne? When are you going to properly reassign those awards?", whether or not it's as legitimate a question as Braun, since his test is the same year. And besides, who wants to be the ray of sunshine who sets that precedent?
Cheaters never prosper, eh, guys? Prove it.